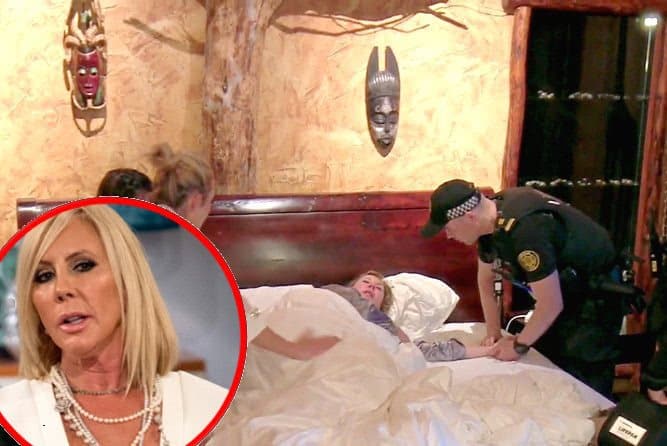 Many fans of the Real Housewives of Orange County are wondering if Vicki Gunvalson is okay following the latest episode of the series which showed the Bravo OG being rushed to the hospital in an ambulance.
So what actually happened with Vicki? Did she really suffer a heart attack in Iceland? And how is she feeling today? Well we have those answers for you below plus more details on the status of her health issues today.
Sources close to Vicki reveal the 55-yr-old housewife did NOT suffer a heart attack during the cast trip to Iceland.
"She did not have a heart attack but it was definitely a huge health scare and wake up call," an insider told Radar Online.  "Her doctors advised her to relax and minimize stress in her life but those who know Vicki know how hard that is for her. She is always on the go."
The sources add that Vicki is however battling other health issues including high blood pressure.
"She is battling high blood pressure and everyone is genuinely worried about her. But she is staying on top of it and is continuing tests with her doctor to determine what is really going on," adds the source.
Vicki's health has reportedly "gone up and down" since her return from Iceland.
Meanwhile Vicki herself joked about her emergency trip to the hospital in an earlier interview with ET Online this summer.
"They tried to kill me," she joked back in July. "That's my story. They literally tried to kill me."
"They all asked me, do you want us to go to the hospital with you or what do you want us to do?" Vicki recalled.  "I was like, 'I don't need to go to the hospital! I'm good!'" she added. "And they were like, 'You're not good. We're taking you to the hospital.'"
Viewers will get to see the conclusion of Vicki's health scare on the next episode of the RHOC.
TELL US – DID YOU THINK VICKI SUFFERED A HEART ATTACK?