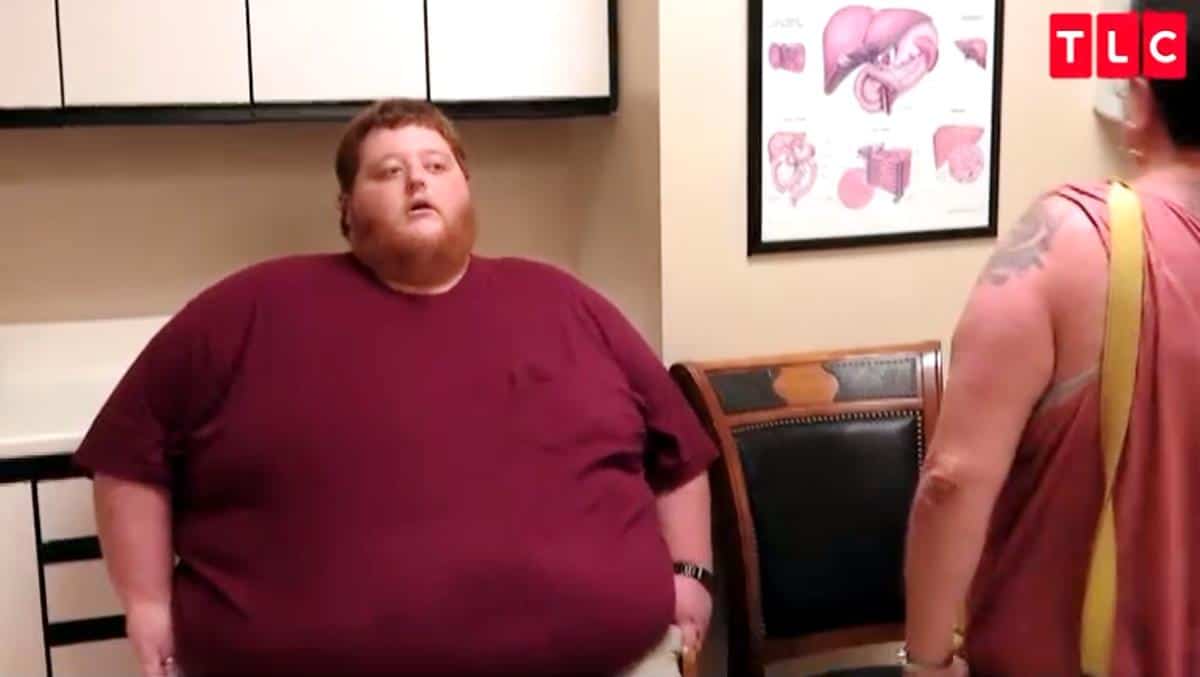 The latest episode of TLC's My 600-Lb Life featured Justin McSwain, a 27-yr-old college graduate from Rock Hill, SC who was seeking weight loss surgery after tipping the scales at 687 pounds.
Justin, who once had a promising career, had become a hermit as he barely left his home anymore, other than to get food for himself. On the show, he opened up about the difficulties he faced each day due to his extreme obesity.
"When I wake up in the mornings, I'm in disbelief about how bad I've let things get because of how out of control my weight's gotten," said Justin. "I've gotten so big now, doing just about everything is difficult. Every day it gets harder to move, harder to stand, harder to walk, and harder to breathe. It takes just about everything in me to finally convince myself to get up because I know how bad it's going to be. It's a struggle and I have a lot of anxiety."
As with most patients featured on the series, Justin opened up about his "hard" childhood, revealing his addiction to food started when he was young.
According to Justin, his mom got addicted to painkillers after hurting her back. That pain pill addiction ultimately turned into a heroin addiction which led to an "unreliable" mom. Justin's dad Johnny finally got fed up, and divorced Justin's mom. He also got full custody of Justin. His dad remarried when he was 5, and Justin said he never felt like he fit in with his new family which included step-siblings.
When Justin turned 10, his mom Tara got clean and came back into his life, beginning their rituals of always going out to eat whenever she would pick him up. Things got bad again when Tara relapsed when Justin was 11, and that pain led to more overeating.
By the time he was 14, Justin weighed over 200 pounds. By age 18, he weighed over 320 pounds and started gaining about 50 pounds every year after that. By the time he graduated college, he weighed over 500 pounds. Unable to get a regular job due to his weight, he started working from home as a web designer, which however led to a more reclusive life and additional weight gain. He also developed really bad anxiety and agoraphobia.
After reaching out to popular weight loss surgeon Dr. Younan Nowzaradan, Justin decided to make the trip to Houston, TX to get the gastric bypass weight loss surgery. Upon losing close to 200 pounds on his own, Dr. Now approved him for his weight loss surgery.
Justin had tremendous success by the end of the episode, he had lost an incredible 334 pounds and weighed 354 pounds. In fact, Dr. Now referred to him as one of his 'most hardworking' patients of all time. Justin was also offered skin removal surgery.
As for the latest update on Justin and where he's at today, he has been sharing some recent photos of himself on his social media pages including his public Twitter and Instagram pages.
Below are the latest weight loss photos update of My 600 Lb Life's Justin.
Below are photos of Justin from last year –
We did notice that Justin is yet to share any full body photos showing off his weight loss so it's more than likely that he's currently filming for the TLC spin-off – My 600 Lb Life Where Are They Now. The network prefers the show participants not share images of their updates online.
UPDATE: Following the episode, Justin shared a post on Instagram featuring a photo of himself and his dad from when they got their matching tattoos on the series.
It also appears Justin is still living in Houston, TX as he spoke about his favorite thing to do in the city in an Instagram post from January 20, 2019. "Downtown Houston has some really incredible places. One of my favorite things to do now is just walking around and exploring them," he wrote as he shared a photo of the city.
Photos Credit: TLC, Facebook, Twitter, Instagram
TELL US – THOUGHTS ON JUSTIN'S MY 600 LB LIFE EPISODE?