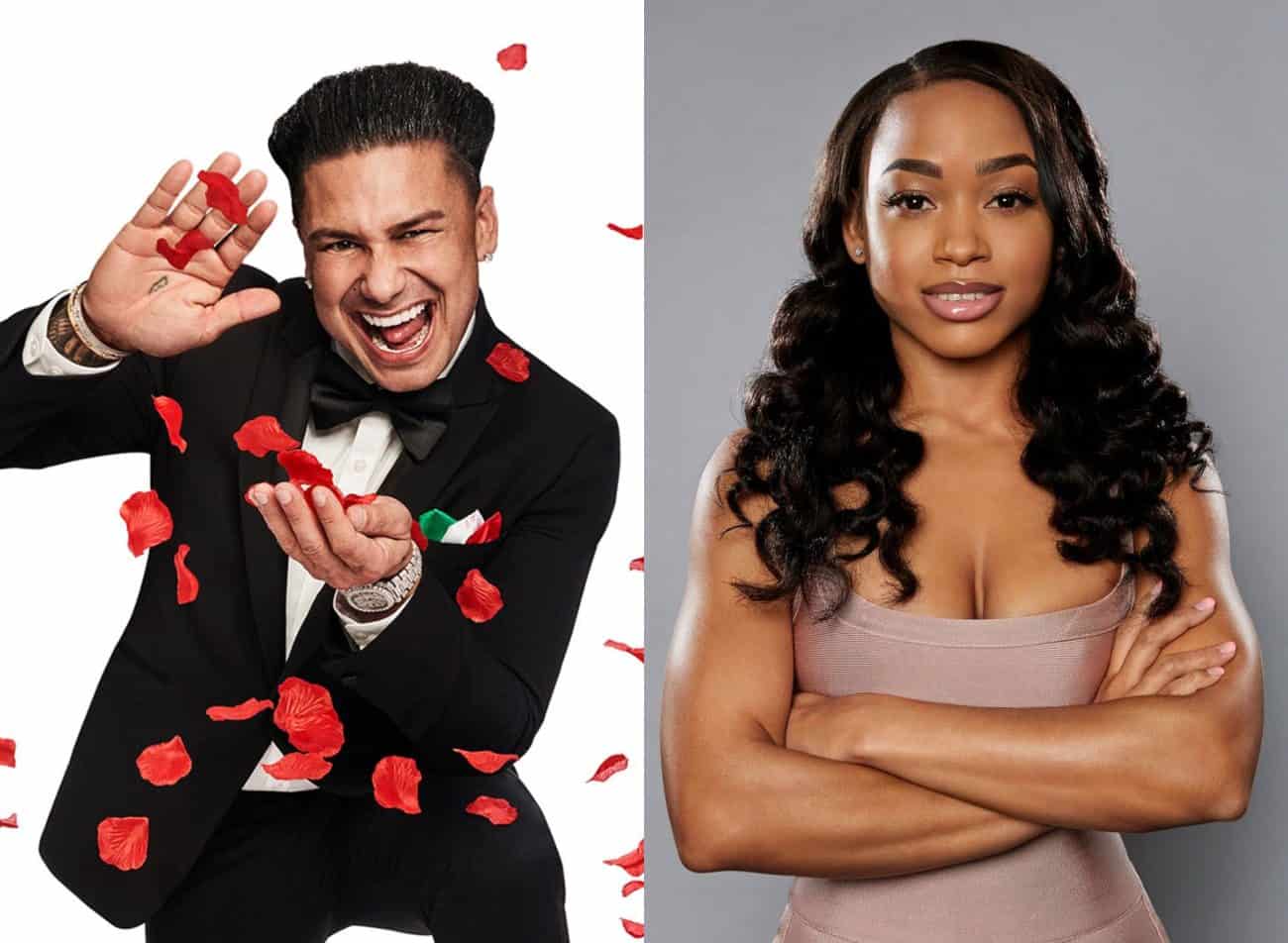 The season finale of A Double Shot at Love aired last night and it did not disappoint as both Jersey Shore stars Pauly "DJ Pauly D" DelVecchio and Vinny Guadagnino ended up single by the end of the reunion, which also aired last night.
Just as our spoilers predicted, Vinny ended up picking Alysse Joyner at the end of the show, but the two are no longer together after Alysse claimed Vinny pretty much ghosted her weeks after filming ended. As for Pauly, he simply didn't pick anyone after sending both of his final two women, Nikki Hall and Derynn Scine, packing.
Fast forward to today and Nikki is now calling out Pauly on Twitter as during the reunion show, Pauly revealed he had blocked Nikki on social media, claiming she was simply too intense for him. Nikki however fired back and claimed that Pauly was actually interested in her and only became upset after she declined to meet up with him in Las Vegas due to work.
Many viewers doubted Nikki's version of events, which might explain her decision to leak text messages that she says are from Pauly.
And the texts are quite shocking as they appear to show Pauly being just as into Nikki as she was into him. In fact, in one of the messages, he even professes his love for her, writing: "You don't have to change a single cell in ur mind or body. I love u just the way u are."
In another series of messages, Pauly teases Nikki and jokingly threatens to hurt any man she cheats on him with. Nikki has since deleted her messages from her Twitter page but below are screenshots. You can click on the images to make it bigger.
Before sharing the texts, Nikki tweeted: "This is completely outside of my character but for someone to sit there and act like this s–t was one-sided… I did nothing to this man but love him and he was OK with it. And I'm crazy? Give me a f–king break! I've had it!!"
In another round of texts, Nikki tells Pauly how much she can't stop thinking about him and he responds by writing: "There ain't nobody in this world better for u. I PROMISE U THAT."
Pauly also writes "I love you" to Nikki in a different text message.
And while some fans are questioning if these texts are really from Pauly, one person who is vouching for Nikki is Alysse who says she saw the text messages in person.
"Everything Nikki said is true, I seen the text messages @DJPaulyD ????," tweeted Alyssa.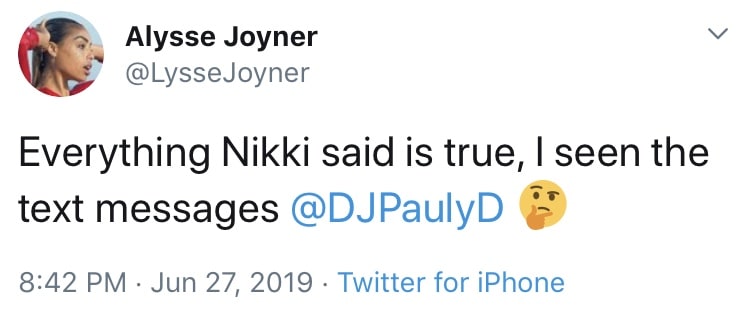 After sharing the texts, Nikki later tweeted: "This entire season I took jabs and shots! People calling me out of my character and my name, yelling "Red Flags!" and I took it! Because "the end will be worth it!" He said. And not once did this man have my back, THAT should've been my only red flag."
As for Pauly, he has yet to respond to Nikki's posts.
Photos Credit: MTV
TELL US – THOUGHTS ON THESE TEXT MESSAGES?