Dorit Kemsley is showing off a whole new set of veneers!
The Real Housewives of Beverly Hills star took to her Instagram on July 8 to debut her sparkling pearly whites, courtesy of Dr. Sam Saleh, who apparently transformed her husband, Paul "PK" Kemsley's teeth, back in March.
"I've only ever known what [it's] like to have straight teeth. I was so fortunate my whole life, I never needed braces and I took good care of my teeth so didn't have many cavities. I was warned by my dentists all growing up that I would need to wear a night guard because of excessive grinding at night but the thought didn't appeal to me so I never did anything about it ????????‍♀️," Dorit wrote in her post.
She continued, "As the years went on I would notice my teeth looked smaller and smaller and I started to have sensitivity which became increasingly more uncomfortable over time. Each dentist I saw over the last few years said the same to me that I had grinded [sic] my teeth down to point where veneers were inevitable."
"A dear friend of ours introduced PK and I to Dr Sam Saleh who splits his time between his Beverly Hills office and his London office," Dorit continued in the post. "Our friend had just done veneers with Dr Saleh and I was amazed at how good and natural they looked so I knew I wanted to have a consultation with him."
"I was so immediately impressed with Dr Saleh's office, his professional and warm staff, and ultimately his ability to make me feel like I was in the absolute best hands. PK and I both decided to do vaneers [sic] with Dr Saleh and I couldn't be more excited and impressed with my new smile," she wrote, detailing her "temporary" veneers in a video shot and another video of her going through the procedure.
"Thank you @drsamsaleh and the team @drsamsaleh_aesthetics for making me feel so comfortable every step of the way and for giving me back my smile that I've missed for a while," she added, with a clip of her final transformation.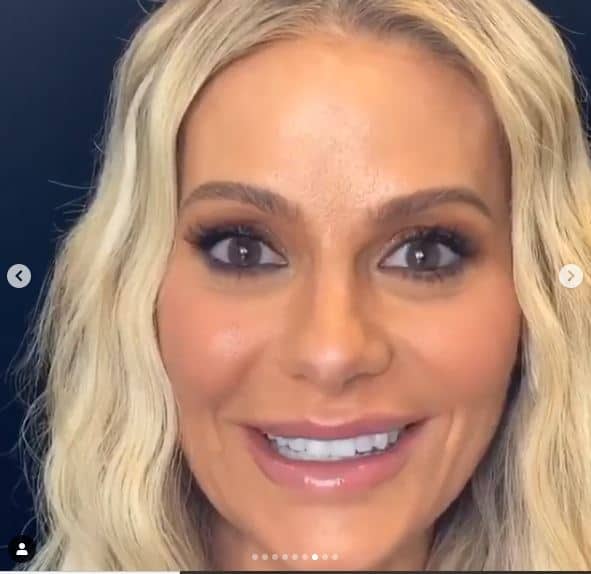 "PK and I are both so grateful and couldn't be happier with the results!!! If you're in LA or the UK and looking for the right cosmetic dentist- I recommend Dr Saleh whom I hold in the highest regard. #drsamsaleh ????????????????⭐️," she concluded the post, with a video of her completed set of new teeth and a shot with Dr. Saleh in his office.
Watch The Real Housewives of Beverly Hills every Wednesday at 9 p.m. ET on Bravo.
Photos Credit: MediaPunch Inc/Alamy Stock Photo, Instagram