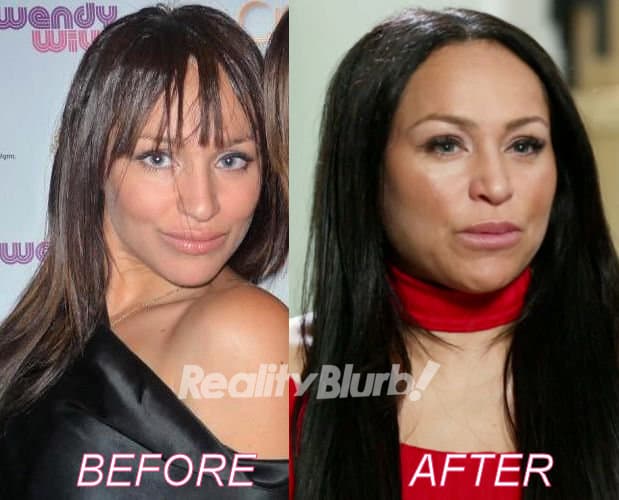 Bringing you some before and after photos of 90 Day Fiance: Before the 90 Days star Darcey Silva!
Believe it or not, this isn't Darcey's first go around on reality TV as the TLC reality star has also previously appeared on other reality shows such as Millionaire Matchmaker and she filmed a pilot for another show titled The Twin Life back in 2010 with her twin sister Stacey Silva (a photo of her twin is below).
As for the 43-yr-old's relationship status with her younger beau Jesse Meester, 24, you will have to click here to find out if they are still together or not!
But back to Darcey as while the before and after shots above are what she looked like on the show, she looks much different these days! In fact Darcey herself took to her Instagram page recently to share some new photos of herself with fans, and we must say she looks quite amazing!
See What Darcey Looks Like Today Below!
Darcey shared with above before and after shot on her Instagram with the caption: "Wow! Thank God I can humble myself and no self judgement or insecurities here! I Am Me and love me! Feeling beautiful and like a million bucks! Got the D-Glow look! ❤️?#Darcey #[email protected] #transformation#beauty #tlc #beforethe90days ❤️[email protected]"
Quite an amazing transformation there! While we don't know for certain that she has had plastic surgery, it does appear that she decided to lay off the fillers and perhaps botox as her face looks noticeably slimmer and more youthful & natural in the after photo!
But Darcey wasn't done sharing pics as just a few days ago she shared another before and after (posted below) with the caption: "My Be-You-tiful inner and outer body & soul transformation. #Darcey#beforeandafter #tlc #beforethe90days#loveyou #beautiful transformation #journey #grateful #inspire ❤️?"
TELL US – WHAT DO YOU THINK OF DARCEY'S NEW LOOK?