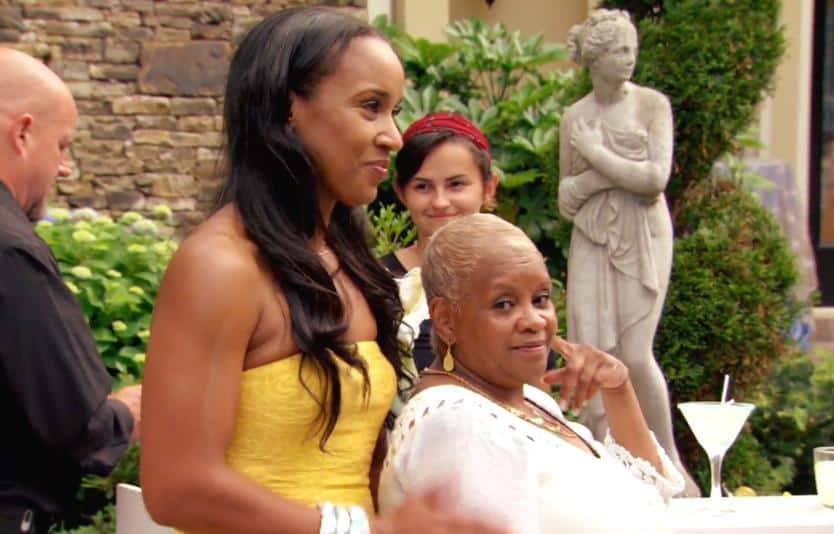 Married to Medicine star Miss Renee aka Renee Byrd aka the mother of R&B singer Donell Jones is breaking her silence!
The infamous nanny, who has been shown on the show cursing and throwing things at her boss Dr. Contessa Metcalfe, is spilling all the tea when it comes to the show and slamming her former boss in the process. In a series of online posts, Miss Renee calls Dr. Contessa "ratchet" and accuses her of being a liar. She also makes it clear that she is the reason Contessa even got picked to do the show stating she IS Contessa's story-line. Ouch.
Following the airing of last week's episode during which Contessa kicked Miss Renee out of her home after she got angry and appeared to throw something at her, Miss Renee took to her Twitter to tell her side of the story.
First Miss Renee states that Married to Medicine producers had turned down Contessa in the past for being too boring, and only decided to hire her for the show once she came in the picture. A screenshot of that tweet is below.
The tea gets juicier when Miss Renee also states she had actually quit working for Contessa and only came back to "work" for her for filming purposes. Apparently this is part of what led to her anger as she wanted to be treated more as a friend of Contessa's rather than just her fake nanny.
Another reason she's upset is the fact that she wasn't paid for doing the show and feels she "got played" by Contessa. Miss Renee tweeted, "Not true I'm not her nanny. I [stopped] working for her long before the show. I did the show for her and got played didn't get a [dime] from her."
She also asked that people leave her famous son out of this as some were calling on him to 'keep her in check.'  Screenshots of those tweets are below –
Finally she reiterates once again that she gave Contessa a story-line for the show while calling her Dr. Ratchet! Plus she completely denies being jealous of Contessa after some fans accused of just that.
Meanwhile Dr. Contessa is defending Miss Renee as she shared a post on her Instagram page following the last episode. She posted a photo of the both of them with the caption: "Let any one of you who is without sin be the first to throw a stone at her." John 8:7 #marriedtomedicine#marriedtomed".
Contessa's post however came before Miss Renee went on her rant. Contessa has yet to respond to her claims.
https://www.instagram.com/p/BdjgAbRHUrc/?taken-by=drcontessa
Must say reading Miss Renee's tweets bring some form of understanding as to why she felt angry and acted out while hanging out with the other ladies during Mariah Huq's mother's day event. It seems she drank too much to bury her own insecurities as perhaps she felt out of place and hurt that she was brought on the show to be the 'crazy nanny' rather than a friend of Contessa's.
However does that excuse her actions and behavior? I'll let you be the judge of that. More photos of Miss Renee are below.
TELL US – WHAT ARE YOUR THOUGHTS ON MISS RENEE'S COMMENTS? DOES THAT CHANGE YOUR OPINION OF HER?