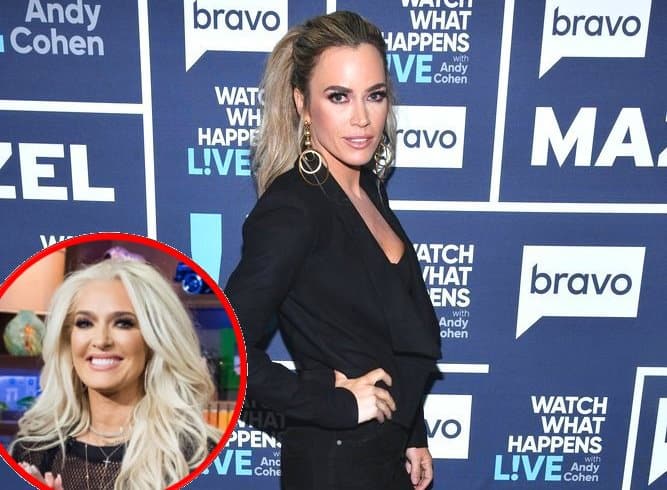 Teddi Jo Mellencamp, the newest addition to the Real Housewives of Beverly Hills, is a hit with the fans of the show thus far due to her care free and tell it like it is attitude.
So it's no surprise that Teddi is being frank when it comes to the drama involving Erika Jayne on the latest episode of the show. Teddi invited the Beverly Hills ladies to her beach house for an overnight stay and Erika ended up spending the night in a hotel room with her assistant, while the other ladies slept in Teddi's home. Erika claimed she got a hotel room because she wasn't feeling well but Teddi is having none of it in her latest blog.
Teddi accuses Erika of being phony in front of the Bravo cameras and essentially not being truthful about the situation. According to Teddi, Erika never had plans to spend the night in her home and had already arranged to stay in a hotel with her assistant before the trip. Wowzers.
Below are excerpts from Teddi's Bravo blog –
"Now—the beach house and the mysterious disappearance of Erika Jayne. It was weird; I stand by that. I completely empathize with Erika as I'm sure women everywhere watching do; I can see why she'd prefer to not stay up until 2AM getting tipsy and humping my picnic table. What we later discovered that night— and what you didn't see—was that her assistant had already driven to Dana Point separately and got a hotel room for her. Again, I didn't have a problem with her leaving to stay in a hotel—I offered that option when I invited everyone. The issue is why spend the day pretending you're going to stay over, but as soon as the camera crew leaves you have your assistant come pick you up? It's not like Erika came to us at the end of the night to say she wasn't feeling well and thought she'd feel better sleeping in a hotel. No. She asked me to call in a pass for her assistant who then arrived at my security gate. Erika then left so abruptly—and without explanation—that it was clear she had planned to stay at the hotel all along. I don't think you can use the "I was embarrassed" excuse when the previous day you were explaining your situation in great detail to everyone but me apparently.
Wanting to be the best host possible, I try and console her, and her reaction is not something I was expecting, brushing me off like I'm worthless. So now I'm crying out of frustration—and I'm kicking these ladies out. And, really, I'm not even mad about Dorit telling Erika; she's like that Kristen Wiig character from SNL who just can't help herself. It was just, as you saw, we had a blast the night before and things got tense the moment Erika arrived back, before Dorit even mentioned our conversation. I'm not being insecure, I'm just not into hanging out with this group anymore in the moment. It was time to go."
Very interesting blog there by Teddi. Definitely won't help Erika when it comes to the rumors and reports that she behaves like a diva off screen.
Photos Credit: Charles Sykes/Bravo
TELL US – DO YOU BELIEVE TEDDI? IS ERIKA BEHAVING LIKE A DIVA?