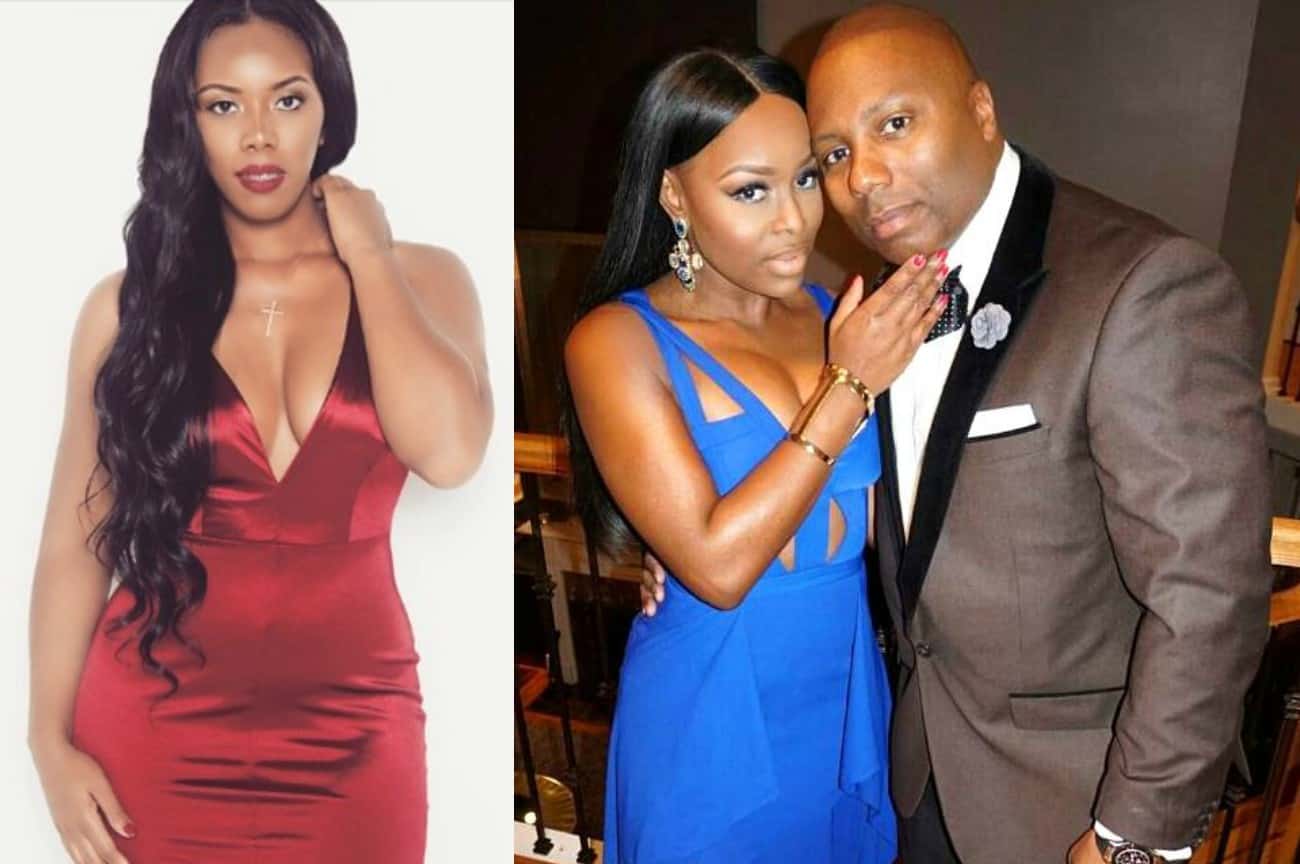 On this season of Married to Medicine, viewers watched as Quad Webb-Lunceford and Greg Lunceford's marriage seemed to disintegrate before their very eyes.
The reason behind the discontent was unclear until hour two of the reunion, when the couple revealed that Greg had found himself in a compromising position with a woman in a hotel room. To add insult to injury, Quad claims to have found out about Greg's indiscretion when the woman involved began trying to extort money from them in exchange for her silence.
Now, the woman at the center of the scandal, Atlanta native, Jackie Presley, is telling her side of the story, and let's just say her version of events is a little different than Greg's.
For starters, Greg claimed that he was out with friends when they just happened to meet a couple of women, whom they "ended up going to a hotel" with. Well, it may have been a little more premeditated than that.
"My friend was dating a guy who is Dr. Greg's friend. She kept insisting she had the perfect guy for me, a guy who she really wanted me to meet. After a lot of persuasion, I reluctantly agreed to meet this guy. We met up at a diner. He told me he likes to spoil women, and that he needed a lot of attention because he wasn't getting that. We exchanged numbers." Jackie recalled during an interview with All About The Tea.
She went on to reveal that their time together went beyond the one night encounter Greg described, and that he wasn't exactly forthcoming about his marital status.
"He said it (his relationship) was complicated. My girl told me he was single. No ring on. He would talk in code, like 'have you ever felt unwanted?' He was nice, just seemed like he needed  attention," she said. "We stayed in communication, and decided to go out again. He took me to nice, luxurious places for dinner, clubbing etc."
Hmm, that sounds complicated. But, at least Greg claimed that their time in the hotel room was innocent, right? Well, according to Presley, not so much.
"After the club one night, he said we should get a room. When we got to the room, we started doing stuff. We didn't have sexual intercourse, but we did stuff," she claimed.
Do tell! Because whatever "stuff" is, it sounds like it's a far cry from the "nothing" that Greg said happened. And here's where it gets a little delicate. Greg, if you're reading this, it'll only hurt for a second (but it WILL hurt).
"I gave him h*** (oral s*x), and he gave me h*** too," Jackie confided. "He tried to get on me, and I'm like 'where is your condom'. He went to the store, then he changed his mind when he got back. He seemed nervous, and told me to enjoy the hotel..he had to leave."
According to Jackie, it wasn't until the following morning, that she realized Greg's true identity and circumstances.
"The next day the bill came, and I saw his whole name. I googled him and saw that he wasn't single, and on Married to Medicine. I was appalled and upset that the guy I was seeing wasn't available."
Well, who wouldn't be appalled upset?! In fact, there are some women who would even seek revenge over something like that. But Jackie insists that she was never out to blackmail the prominent couple.
"I immediately contact Quad and him, as well. I blasted both of them. I let her know he never once said he was married. I did not ask for money, or threaten him for extortion. He told me he spoils women, so that's not what I do. I told him, I'm telling his wife, and I did."
ARE QUAD AND DR. GREG SEPARATED AND HEADED FOR DIVORCE?
But that doesn't mean Jackie wanted to walk away empty handed…just that she didn't actually break the law according to her.
"I did not try I extort him. He said he likes to spoil women, so I simply asked him for $1500…not as extortion, but as  a gift," she explained.
Oh… a gift! I suppose if you look really, really closely, there's a distinction there. Jackie went on to say that in the 1.5 years since their tryst, she has had no further contact with Greg or Quad.
Wow!  I don't know about you, but I'm not sure who to believe at this point.  But stay tuned…the drama concludes when the final installment of the reunion airs tonight at 9 on Bravo!
Photos Credit: Instagram
TELL US – DO YOU BELIEVE JACKIE'S VERSION OR DR. GREG'S VERSION?