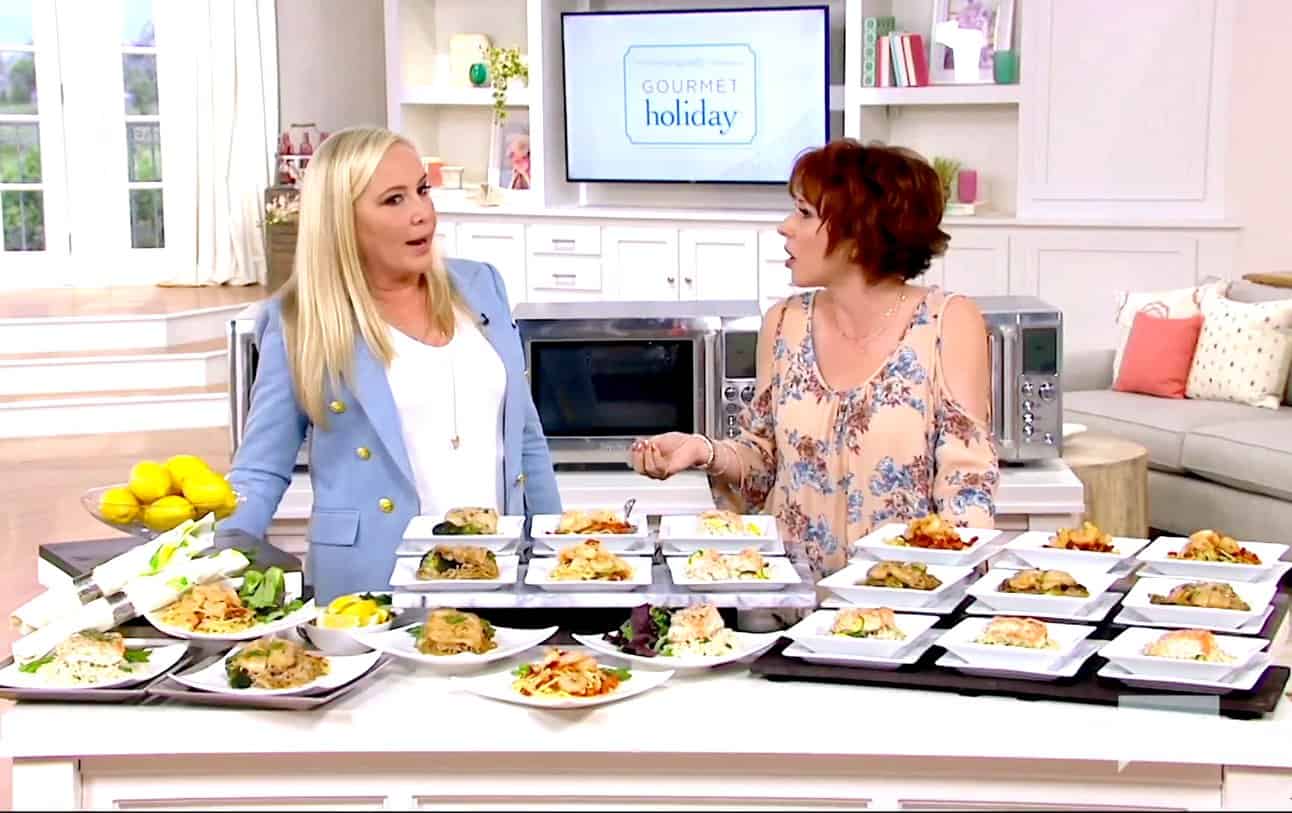 When one thing ends, something new begins. That couldn't be truer than in this episode of The Real Housewives of Orange County. A marriage is over and a QVC line is born! It's the circle of life!
Vicki on the back of a motorcycle might be the most ridiculous thing I have ever seen. She is totally dressed the part in her Harley t-shirt and ripped jeans. Her boyfriend Steve looks like he is enjoying himself thoroughly…that is until he has Vicki shrieking in his ear the ENTIRE ride. If that isn't symbolic of their relationship, then I don't know what is.
Over at casa de Shannon, there's pill packing going on and a whole lot of concerned faces from Shan's daughters. Shannon is heading to Philadelphia to launch her food line for QVC. Two of her three girls are heading to David's, her ex-husband, while her eldest child is joining her for her big debut.
After a quick ride, Steve instructs Vicki to "get off" the bike upon reaching their destination. Vicki does as he says because, "There's only one b*tch on the back of his motorcycle and it's me." Not if you keep screaming like that, Vic. Just when Steve-O thinks he can escape the drama that follows Vicki around, Vicki begins going on and on about the Italian night debacle over some burgers at a biker bar. She is rambling about Gina's impending divorce and Steve looks like he did when Kelly accosted him at Tamra' s event: bored and over it all.
Gina's parents are here from Long Island and they are offering some moral support for their daughter. Gina makes it clear that "…right now I just have to keep the kids comfortable" and her parents agree. Gina talks about how great it would be to have grandma and grandpa nearby in California and her dad nods along emphatically. Her father then shares his reaction to the divorce news: "Mom and I were shocked." Add them to the list of confused, surprised humans. Gina eventually tells her parents about Vicki's Italian night and explains that she's been hanging with Tamra because she has a lot of mutual friends with her soon-to-be-ex. Gina thought she was getting a change in scenery and a new group of friends, but alas, she chose incorrectly. She explains, "I'm just trying to hang out with these women," but she had NO idea what she was getting herself into with this group of crazies.
Pary's in the house! Everyone's favorite mother-in-law is back this episode and Emily sits down with Pary to talk babies. Emily is seriously considering having another child all in the name of wanting a sister for her daughter. Based on Emily's medical history, it would be dangerous and difficult for her to navigate the journey. Plus, "Shane is not on board. He says no." This looks like an uphill battle for Emily, but I have a feeling the thought will pass once she is signed up for next season of this show.
Tamra joins Shannon and her daughter, Sophie, in Philly to support her girl Shannon's QVC launch. I like that Shannon and Tamra are friends, mainly because that means less screen time with Vicki. Tamra does a fabulous job of pumping Shannon up for the big day…please note my sarcasm. What is up with these rude women? In the meantime, Kelly takes Jolie to the Musical Theater Company of Orange County for some sort of "audition." (Let's be real. Kelly will make out with anyone necessary to land her kid a part in the play…) Kelly is on track to be the world's meanest mom as she sits giggling whilst watching Jolie sing and dance. Kelly does her best to try and talk up her musical theater kid, but you know she is dying inside and just wants to check how many notifications she has on her Tinder app.
Welp, didn't see this one coming! Vicki has decided to set up a meeting with Gina so she can "encourage her and help her and open her eyes a little bit." GINA DOES NOT WANT HER EYES OPENED UP. Her mind is made up and she is ready to throw in the towel with her soon-to-be- ex. Gina even states, "I don't look at divorce like it's so terrible." I am proud of Gina for telling Vicki her feelings were hurt when she said Gina did not have a moral compass. Vicki insinuates that Gina is being selfish and it looks like we are heading right down the path of "poor Vicki, here's my sob story." Vicki continues on and after beating herself up about her divorces for an uncomfortable amount of time, she apologizes to Gina. Get the girl a casserole!
The night before the QVC launch, Sophie, Shannon, and Tamra sit around in the hotel chatting about things. Tamra brings up some news. "David sent Eddie a picture of his new ride!" Sophie stifles a giggle and Shannon full out laughs. Turns out that Sophie took the Porsche out for a ride and then she proceeded to knock the rearview mirror on the wall of the garage. Parenting at it's finest. The next morning, it's Shannon's time to show she "can stand on her own two feet." Shan sounds like a bad motivational speaker and she awkwardly moves around the set. Awkwardly and badly. The QVC women are pulling things from Shannon's "script" and look outwardly concerned about Shannon's segment. Off to a good start!
In the meantime, Kelly is hosting a QVC viewing party over at her love shack. That's adorable. It's also baffling that Vicki AND Emily, the only two "working" housewives, are attending this event right smack in the middle of a work-day. There's insurance to be sold, parties to be planned, and laws to be lawyered. Or something like that. While those ladies are boozing on a balcony, Shannon is sweating and hollering more loudly than usual. And before you know it, Shannon is up on stage. It's sort of like watching a train wreck. I'm cringing and hoping that she can turn it around ASAP. And I'm gonna go with a no. No, she did not turn the segment around…in fact, Shannon grabs at her belly fat and before you know it, it's all over. 8 minutes and done. I think Shannon did ok considering she's never done anything like that before. Plus, Shannon is now able to be her own woman, a woman who can support herself (minus the $556,359,076.00 of alimony from her ex).
The girls at Kelly's house are making prank calls to QVC (real mature) and they call Shan to congratulate her. "I lost a marriage, but I found myself." Yea, ya did girl! Caught up in the FaceTiming moment, Shannon suggests they all do a girls trip to celebrate her new found success and everyone agrees. I just hope this time no one comes home with a broken bone and they all shy away from skinny dipping late night.