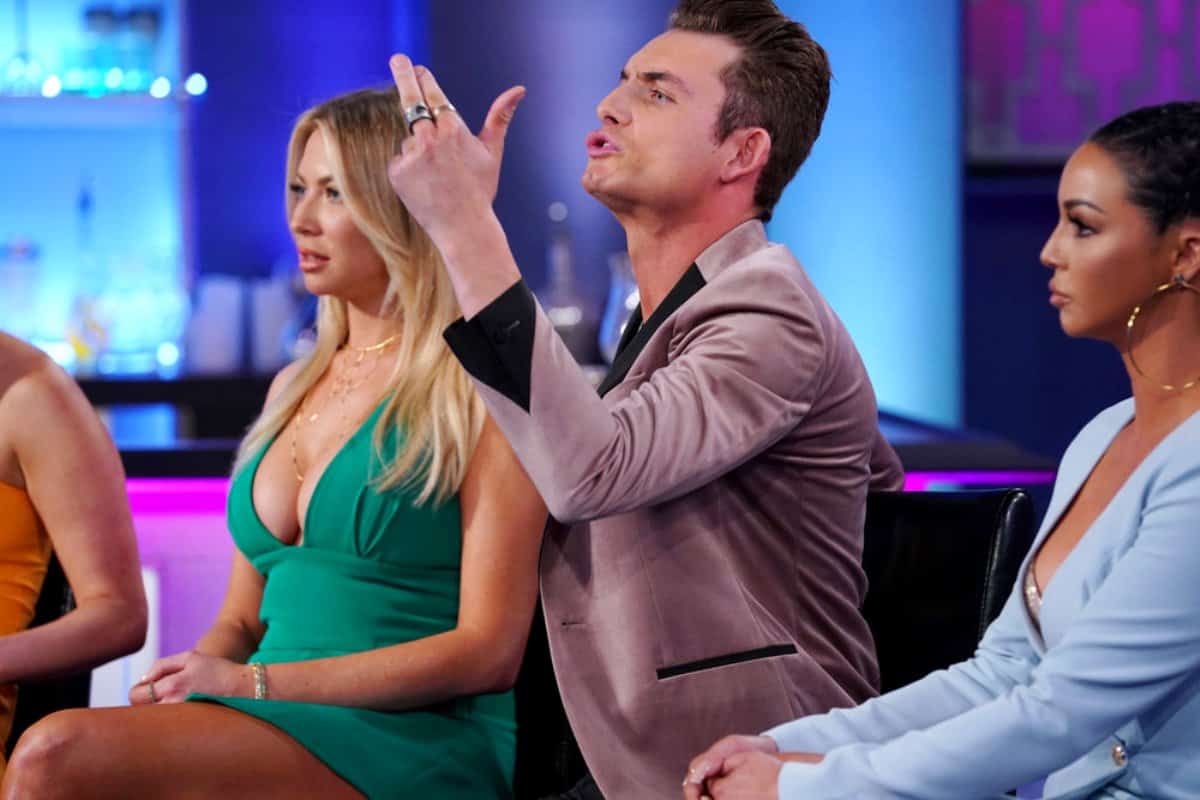 I'm surprised that no one has a black eye at this point in the Vanderpump Rules Reunion. Part II might be the breaking point for this crew…
After Andy hollers for them to "shut the f*ck up," he suggests a break. James breaks down to LVP and sweats all the booze out that he doesn't drink while every cast member attacks Sandoval for sticking up for James. Naturally, Jax takes the dramatic road and tells Sandoval he doesn't have to be his best man anymore. When everyone makes their way back to set, Andy wants Jax to explain how he has changed from his old ways.
Sandoval gets called out for saying that Jax is a "recovering sociopath" (ouch-will that be included in his best man speech?!) and LVP steps in to state that although Jax is self-serving, he really is the best version of himself with Brittany. Maybe all that couples therapy paid off? JK. James mumbles that Jax is a "victim of sex," but even he believes that Jax has turned his life around. Sounds sarcastic to me…
Onto the next awkward subject- the old LaLa and Ariana hook up. Sandoval tells more of the details and Ariana explains that, "I obviously wanted Tom involved." Evidently, LaLa asked Sandoval's permission to hook up with Ariana (how sweet of her?) and even admits that she told her mom "I ate Ariana's cookie last night." What kind of mother-daughter relationship is this?! Sandoval tries to play the victim since he couldn't get in on the action. "I just kept driving around, driving around. Are you gonna give me five stars?" LOL. While on the topic, Brittany does admit that she DID hook up with Kristen, but doesn't remember any further activity. Mmhmm. Speaking of lady relationships, Ariana claims that she got wore down by Stassi begging for friendship and now the rest is history. The two girls are the new unlikely besties.
Andy wants to hear all about TomTom's recent successes. LVP rattles off a list of celebs who have visited the restaurant since the opening and it seems as though the business is doing well. Regarding the Daily Mail party at TomTom, LVP delicately explains that it wasn't HER party to invite guests and she didn't feel as though Kristen belonged. We have to hear all about Sandoval surprising his "lover" with the motorcycle and side-car to make a classic entrance. The funny part is that Sandoval doesn't actually realize how dumb he is, especially when he brings Andy out to the motorcycle side-car parked in the handicap spot. Andy and Sandoval take a spin for all of 11 seconds because Sandoval doesn't know how to start his own ride/there's an issue with the starter. "The problem with a motorcycle is the battery dies if the engine's not really warmed up" and thus Andy has to walk back to the set.
Stassi dishes on how she was able to get a holiday made: OOTD. LVP claps back by letting Stassi know she isn't the only biatch on this show that has a holiday- all praise LVP on March 1…as if we need another reason to celebrate this woman.
Andy questions Katie on why she gave LVP an ultimatum this season: either fire James for his disrespectful comments or she would quit SUR. Katie reminds James that he has done horrible things to people over and over again. Ariana makes it clear that James's apologies are like water, as he is too quick to say he is sorry and thus cannot actually mean what he is saying. Katie takes a moment to get serious about body image, but then calls James, "You little piece of sh*t." Aw, these two are at it again! Many people see Katie as the bad guy this season, but she tries to defend herself and her decisions.
Oh dear…"brunchmaster general" Billie Lee has entered the building. Hold onto your hats…homegirl has some new extensions and has had her final surgery. A bombshell comes out when we hear that Billie Lee had a little fling with LVP's son, Max. Now THAT would be an amazing wedding! Could you imagine LVP's party planner Ken dealing with Billie Lee? Unfortunately, Billie stopped seeing Max, and instead got wrapped up in SUR drama, especially with Katie.
LVP takes offense to Billie Lee's claims that the girls are transphobic. Billie shrieks that the girls should, "Get your head out of your a*s and include the trans woman" in planning Girls Night, the See You Next Tuesday replacement party. To that, LaLa retorts, "It's really exhausting to school people on life" and states that she doesn't take back any of her actions or statements made to Billie this season. Ariana does her best to backtrack on some of the things she said about LaLa's grieving process, but then Billie Lee calls LaLa "the Donald Trump of SUR." She even goes as far as calling LaLa a "high class prostitute." These girls…
Tom and Ariana have some news to share…and no, Ariana is not expecting a child, come on guys, we all know she has no interest in that… they bought a house together! And in this house, the AC and microwave can be on at the SAME time. Following this big purchase, Katie and Schwartzie, Jax and Brittany, and even Kristen have decided to buy in the same neighborhood. Brittany exclaims that she cannot wait to be a momma, hence the new big house. Remind me not to move there…
LaLa explains her relationship with alcohol and states that she is an alcoholic who has reached out and has gotten help. Now if only James would jump on that wagon, literally. James lets everyone know he is not sober, but he's not going as hard as he used to. When Sandoval tries to explain that James is only bad when he mixes booze and uppers, James retorts, "That's not my thing, so shut your mouth." Everyone jumps on James for his anger issues and he just makes his case worse by calling Stassi's extensions ugly. This is the way it goes with James. Someone says something about him, so he bites back, but harder. James believes that his job is to be "on," so after a "whiskey or two" plus a few hundred bumps of coke or something like that, he feels more like himself.
The question is why does Kristen have to chime in every time someone talks about James? Schwartzie tries to make a point that James uses his family situation as an excuse, but the reality is that every single cast member has helped out their parents at one point or another. Here comes Kristen again…chiming in when Katie demands sympathy for the rocky patches she has gone through. Kristen takes it a step too far with James when she yells out, "We feel awful for him that he was raised by a bunch of f*cking a*sholes." With that James storms off the set. I mean, that was a low blow, but is it wrong if I don't care if he comes back on for the final part of the reunion??
Photo Credit: Nicole Weingart/Bravo
TELL US – THOUGHTS ON THE VANDERPUMP RULES REUNION PART 2?