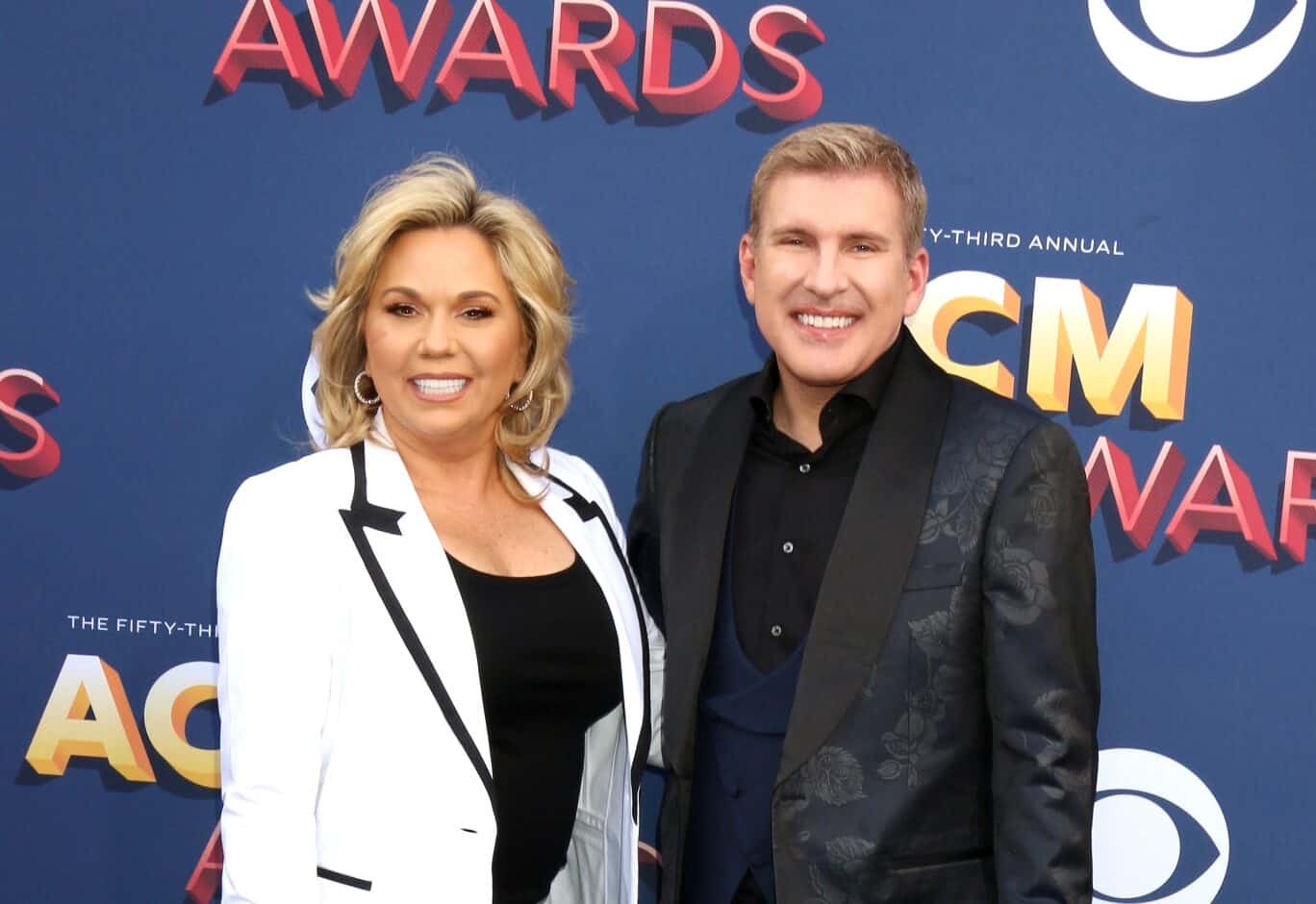 Todd Chrisley and his wife Julie Chrisley of Chrisley Knows Best have been officially indicted for bank fraud and tax evasion, putting them at risk of spending up to 30 years behind bars. Meanwhile, a 2017 interview Todd did has some asking if the reality star might have incriminated himself.
News of the indictment came a day after Todd claimed he was being set up by a disgruntled former employee, who was fired for allegedly stealing from them. Todd alleged this man went to the U.S. Attorney's Office in an attempt to convince investigators that Todd and Julie were committing financial fraud.
The ex-employee successfully convinced officials to look further into the couple's financials, and things did indeed look fishy. According to court documents, an indictment was filed in the Northern District of Georgia on Tuesday charging Todd and Julie with 11 counts of tax evasion and bank fraud. If convicted, the reality stars could face up to a whopping 30 years in prison.
Officials allege Todd and Julie set up a production company known as 7C's Productions that served as a loan-out company for the income they earned from their popular reality show, Chrisley Knows Best, which airs on the USA network.
The Blast reports that officials are claiming millions of dollars were deposited into the company account, yet the couple failed to file their tax returns for the years 2014, 2015, and 2016 on time. And when the taxes were eventually filed, the numbers that were recorded reportedly made no sense. Officials suspect the couple was falsifying the amount of money recorded in order to hide how much money they actually owed. Julie is even being accused of physically cutting and pasting figures on different documents.
According to officials, Todd and Julie frivolously spent thousands of dollars at electronic stores, high-end retail stores, and more. However, in their paperwork, the couple claimed they couldn't afford to fork up enough cash to pay off their outstanding tax debt.
Additionally, the Chrisleys are being charged "with defrauding a number of banks by fraudulently obtaining millions of dollars in loans" via fabricated documents, according to a GMA report.
The indictment also included comments Todd made during a 2017 interview on The Domenick Nati Show. During his appearance, Todd told the host he had paid "$750,000 to a million dollars every year in taxes," but prosecutors are stating that was a total fabrication.
Todd also addressed claims that were hanging around back then that accused him of being a Georgia resident while never filing income taxes with the state.
"I have been a Florida resident for over 15 years and if I don't make money in Georgia I don't pay taxes in Georgia," said Todd back then. As most people are aware, Florida doesn't have any state income taxes while Georgia does.
While Todd has recently stated his ex-employee was trying to frame him and that he is innocent of committing any financial fraud on his Instagram, officials have gathered evidence that they believe proves otherwise.
Investigators in the case have collected text messages between Todd and his now-fired employee, alleging the reality star was instructing the man to commit financial fraud.
In one message, Todd allegedly wrote to his employee, "you are a f***ing genius!" after texting back and forth about fabricating documents for a massive loan.
And in another, more damning text exchange, Todd allegedly expressed his disappointment in his employee's inability to commit financial fraud correctly.
According to documents, Todd allegedly wrote, "giving me an excuse as to why you can not [sic] figure this out does not move it off your plate., this is not what we discussed, passing it back and forth is not getting the results requested, if you do not know how to do this then find a crooked accountant to do it. Ask [redacted] who her guy uses for his crooked s***."
As for these text messages, the reality TV dad is claiming they were fabricated to make him look guilty and is currently denying all allegations.
Photo Credit: Kathy Hutchins/Shutterstock.com