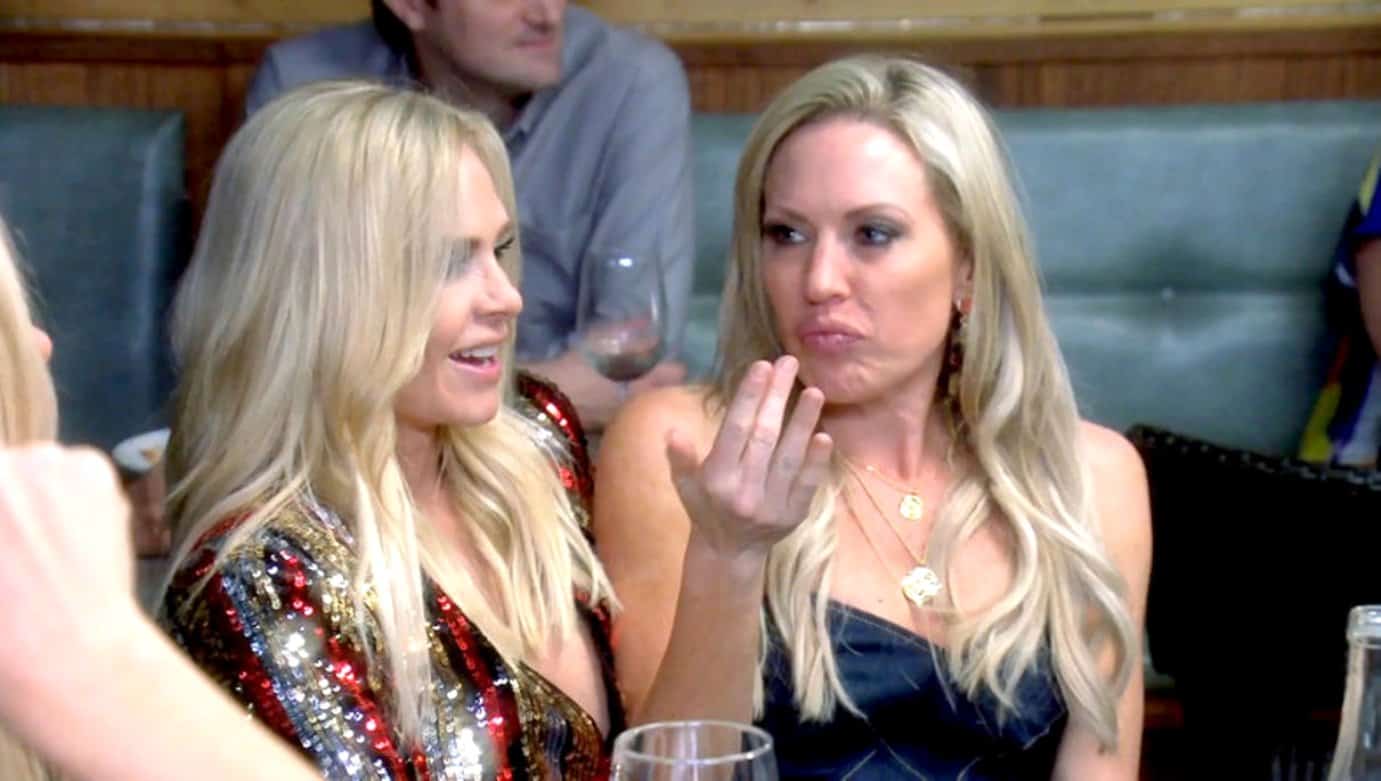 It's Shannon's birthday on this episode of the Real Housewives of Orange County!  All aboard the Hot Mess Express…
Because these women are incredibly immature, Tamra insists that since the girls are going on a train, there MUST be fake penises involved. Tamra believes that the best way to get over the awkwardness of the whole "Kelly pulled a train" rumor is to address it head-on. Ya know, behave as though they are at a bachelorette party (not just a birthday party) and supply everyone with some penis favors. Riiiight. Tamra just LOVES a good sh*t talking fest and fills Vicki in on why Gina is p*ssed at Emily. Gina has iced out Emily ever since she attempted to set Gina up with Shane's cousin…who has a girlfriend. #Awkward.
All of the ladies are preparing to "get down with the get down" for Shannon's birthday. There's a blast from the past when Meghan King Edmonds emerges to join in on the bday fun. Talk about an awkward introduction between her and party pooper Emily. Obvi Meghan can "sense" something's wrong with Emily (thanks for that heads up, Bravo!) and it's a good thing the rest of the group arrives. Otherwise, poor Meghan would be stuck hearing Emily's sob story about Gina.
The tension between Gina and Emily is as thick as Gina's weave, but luckily, Braunwyn is prepping for a good time with some thematic clothing for Shannon. Tamra, not to be outdone, supplies some dildos for the hot mess express, and off the ladies go to San Diego. They try to outdo each other by showing how to properly give a blowjob. Please note: there are other guests on this train who, unfortunately, are witnessing this sh*tshow. Imagine just minding your own business and then looking over and seeing Kelly Dowd going to TOWN on a red candy wiener?
Kelly starts asking for some advice from the girls about Dr. Brian. She is annoyed that he hasn't checked in…for five hours… The topic then turns to Gina's dating life (naturally) and Gina has to remind the world that she got stood up by the cousin. Luckily, they've arrived in San Diego, and they head directly for a cocktail. It's pretty incredible to watch as Kelly and Vicki snuggle up next to each other. People CAN change! Someone should remind Gina and Emily of that.
The women cannot get enough of this whole "Gina getting stood up" thing, and although Gina doesn't wanna talk about it, homegirl's talking about it…to anyone with ears. The only one she's not talking about it to is Emily. I love how Emily's new bestie is Meghan. Like, they literally just met and she is ranting and raving to her after leaving the table. It is HILARIOUS that the fight gets taken into the ladies' room. There are actual restaurant patrons in there listening to Gina and Emily go at it. Emily is screaming and crying and wants to leave (typical). Poor Meghan. The girl just had to go to the bathroom, and now she is trapped in the middle of the drama between those two clowns.
"I'm gonna f*cking fight someone so be careful." Well, that's a heck of a greeting to Kelly from Emily. Emily has some serious aggression and something tells me it's misdirected. Gina finds her way outside to tell Emily "she's done." Let's hope it's actually done because, to be honest, this is all a bit much. Once they get themselves together enough to head back to the table, Braunwyn invites the girls to her daughter's fashion show. COOL. And, for double the excitement, Shannon's kid is modeling in it. Woo!
The group is getting rowdier and rowdier. They are onto bar number two and Shannon won't stop talking about getting a birthday kiss for her 55th birthday. Tamra and Shan do a "bar sweep" to try and poach a single guy for the bday girl. They come up empty-handed, but that isn't stopping Tamra. She's on a roll. She is hitting on Braunwyn and comparing threesome stories with her. Holy attention-seeking behavior!
After a few more shots of tequila, Emily whispers to Gina that she loves her and they begin to mend their friendship again. In the meantime, there's some action happening between Tamra and Braunwyn at the other end of the table… The women look on in shock and can hardly believe what they are seeing. "I'm bisexual. Buy me something, then I'll be sexual." LOL. What a line out of Kelly. That's not stopping Tamra and Braunwyn. Those two start playing tonsil hockey while Emily and Gina continue to hash out their issues. The juxtaposition of behavior is like next level. Tamra goes as far as telling the table, "When I had sex with Eddie last night I thought about Braunwyn!" Girl crush!
OMG. Tamra falling out of her chair is absolutely classic. They are rowdy, drunk, and loud. Imagine being a restaurant-goer and being a witness to this disaster?! Check PLEASE. When the cake comes out and they start singing the birthday song, an emotional Shannon thanks all of the women for coming and supporting her and making her happy. Then she demands they head out to dance because she is still hoping for that birthday smooch, and not one from Tamra or Braunwyn.
Apparently, they are a little early to the party in da club because no one is there yet. It's so bad that Kelly is legit trying to bribe the bouncer into giving Shannon a kiss so she can STFU about it already. Meanwhile, Vicki, the nun, thinks Braunwyn is trashy (aka she is jealous that Tamra is too busy tonguing Braunwyn to notice Vicki isn't having fun) and leaves the party.
GAH. The kiss between Shannon and Marcos is cringeworthy, especially because all of the ladies are standing around cheering it on as though they are in middle school. Also, Braunwyn and Tamra are essential in a porno together. Like, Braunwyn is straddling Tamra. Tamra is letting her boobs hang out. Let me just remind you, dear reader, that Tamra is a GRANDMOTHER and Braunwyn is a mother to, like, 15 children. Can you imagine their faces when those kids sneak a peek of that footage? And! Can you imagine the UNSEEN footage of those two?! Stay relevant, Braunwyn…
The next day, Kelly and Brian sit out on the balcony and have some real talk. Brian is trying to figure out why Kelly was so mad at him for not checking in, and this convo sounds like it's heading down break-up alley. He tells Kelly that essentially, her daughter Jolie is spoiled, but somehow things turn around for this couple. Guess wearing his embroidered scrubs in every scene hasn't gotten him enough business, so it seems like Dr. Brian is gonna stick around…at least until filming is over…
 TELL US – THOUGHTS ON THE RHOC EPISODE?