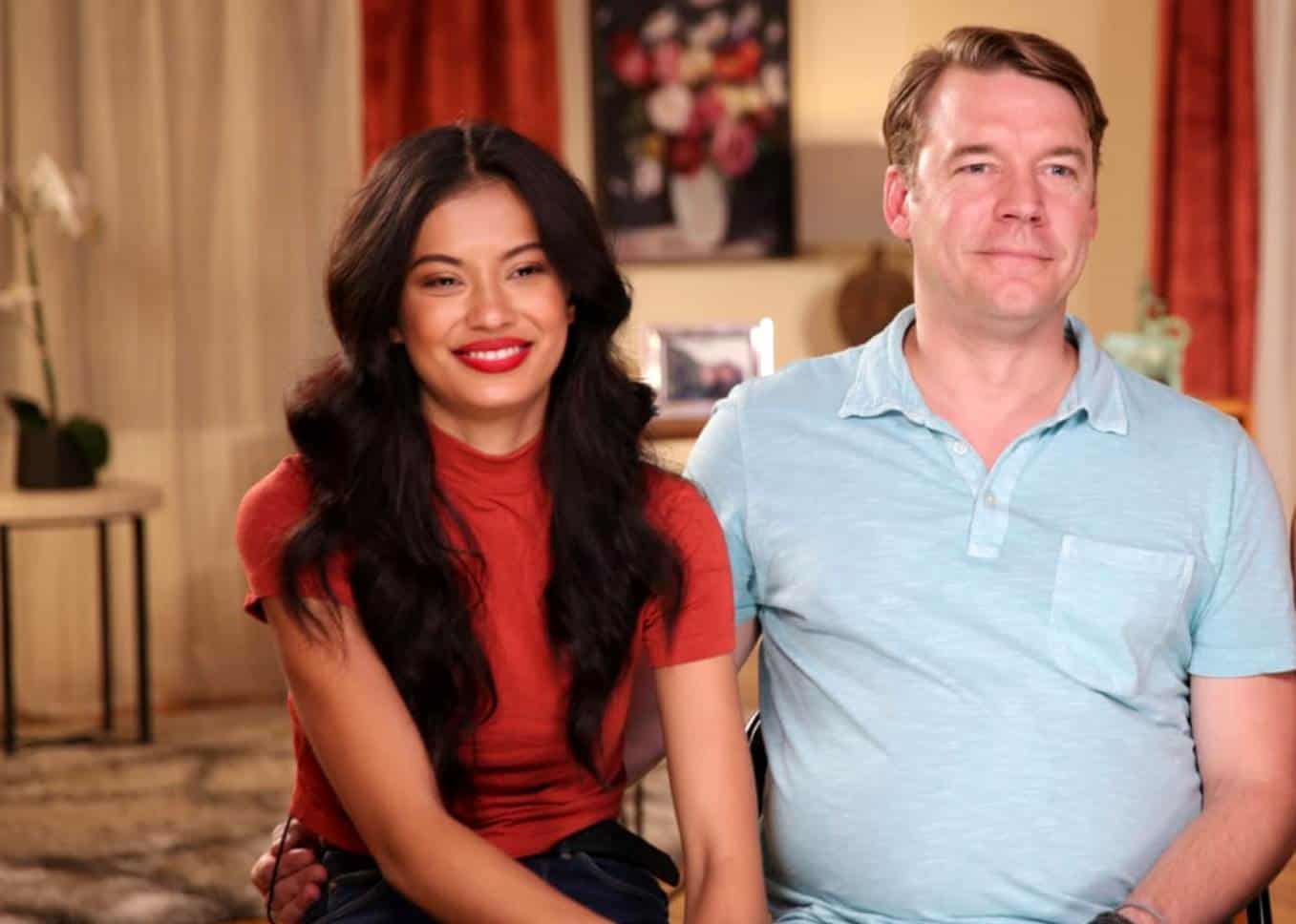 Find out if one of TLC's newest couples, 90 Day Fiancé stars Michael Jessen and Juliana Custodio are still together and if they have gotten married.
Among the many new couples the hit TLC show dished out in season 7, Michael and Juliana are likely the most controversial, given their massive age gap of nearly 20 years. But after six or so episodes into the season, viewers have to admit there is some chemistry between the two lovebirds — even if it seems somewhat fueled by money.
As fans learned early on in the new season, Juliana, a 23-year-old born and raised in Brazil, met her suitor, Michael, a 41-year-old from Connecticut, by chance on a swanky yacht party in Croatia. And according to Michael, it was basically love at first sight.
"I remember when I first saw [Juliana]," Michael told People in an interview back in November. "She's beautiful, amazing body — I don't necessarily believe in love at first sight, but it's like we were kindred spirits."
After experiencing an undeniable connection, the two quickly became a couple, leading Juliana to start the process of making her way to the states to live with Michael.
While her first attempt at a tourist visa was unsuccessful, that didn't stop Michael from sending her money. On the show, Juliana expressed that she and her family basically lived in squalor in Brazil, a far cry from the lifestyle she'd eventually grow accustomed to in the States with Michael. In episode 5 of this season, Michael explained that he was a bit concerned about Juliana's access to his money, given that she bought a car on his credit card in Brazil without his permission, and gave it to her sister to use as a cab to make money.
Eventually, as was seen on the show, Juliana was successful at obtaining a K-1 visa after Michael proposed to her. Once she moved to the U.S., she landed directly into the lap of luxury, which came in the form of a fancy car, champagne, expensive jewelry and more. Michael soon introduced her to his two children, Max and CeCe, (both of whom are closer in age to Juliana than she is to Michael's) and luckily, they really seemed to hit it off. The new family-of-four then moved into a brand new home together as we saw in a recent episode of the show.
While the couple does seem to be in love on-screen, not many viewers think their love can last. In recent episodes, we've seen Michael's ex-wife, Sarah Jessen express concerns about the controversial couple, asking if they're planning on getting a prenuptial agreement and warning Juliana not to parent her children.
And while Micheal insists that the two are very much in love, we learned that government officials questioned Juliana's intent to come to the states, asking her if she was, in fact, a prostitute in one of her visa interviews. Michael, who was offended after learning Juliana was asked such a question, denied that it was true.
"There are certainly a lot of people that may pass judgment, may think I'm just an old sleazy, rich guy going after a young hot woman," Michael reportedly explained of his relationship with Juliana in the same People interview. "It doesn't bother me at all. I don't really care."
But despite the challenges they face, the reality stars still feel strongly about moving forward with marriage. In the most recent episode, we watched as the couple met with wedding planners to talk about the details of their upcoming wedding that they'd hold at their home. Sadly, Juliana explained that aside from a few friends, her family wouldn't be invited to the wedding since she didn't want to make them think she was rolling in money. Juliana also revealed that she had been married once before in a relationship arranged by her family. However, she left her first husband, explaining that it was a bad marriage.
While we still have most of the season to learn more about this interesting couple, one question remains: do they have what it takes to last?
According to a recent report, the TLC couple has made things official! The two allegedly tied the knot in October, according to an obtained marriage certificate.
"The wedding took place at Michael's house in Greenwich on Saturday, October 12th," a source revealed to In Touch. "It was a fairly big ceremony that was filmed and will air in the coming episodes. His ex-wife, Sarah, officiated the wedding."
While neither Michael or Juliana posted pictures from their wedding on Instagram, a fan account reposted something a supposed high school friend of Mike's shared online after attending the wedding.
"Here's a spoiler for you.. Mike and Juliana from 90 Day Fiancé upcoming season are already married and his ex-wife is the one who married them.." the fan account wrote alongside the blurb from the initial Facebook post.
https://www.instagram.com/p/B4ZhVacHGig/
While many viewers still question the marriage, assuming Juliana only married Michael for her green card, the reality stars' Instagrams prove otherwise.
As recently as just two weeks ago, Juliana posted a series of selfies of her in the States, referring to it as her home, accompanied by a sweet comment from her one and only.
"At home in the USA ????????????????" the 23-year-old wrote alongside her pictures just a couple of weeks ago. "Love you ♥️" Michael wrote in the comments.
Michael's Instagram is also filled with pictures of him and Juliana. In a more recent post, the TLC star shared a bunch of pictures of him and Juliana looking happy at a formal charity event.
"Wonderful event helping the @tjmartellfoundation raise $500k for cancer research." Michael wrote in a long-winded caption before thanking various contributors.
And while viewers are left questioning if Michael has his ex-wife Sarah's blessing in all of this, she seems to fully support the couple today. In addition to the aforementioned insider revealing that Sarah officiated the TLC couple's wedding in October (which was her idea, as was revealed in a recent episode of the show), just three weeks ago, on her own Instagram account, she reposted a telling blurb alongside a picture of Juliana, revealing the young woman's grim past.
"One of the most inspirational stories we have ever heard posted on the blog today," Sarah's re-posted blurb from the account @themodelmanifesto read. "Brazilian model @julian.custodio worked in a sweatshop from the age of 8, was sent to model in China without speaking a word of English, was kidnapped by her agency to lose weight and despite working three jobs per day for a month, never received any of the money she earned."
The text continued to reveal the details of Juliana's life as a model in Europe, warning others of the dangers modeling abroad can pose.
While it seems Juliana and Michael are currently living happily together, viewers will likely explore more about the challenges they'll face, as well as their costars, in upcoming episodes.
New episodes of 90 Day Fiancé air Sundays at 8 p.m. on TLC.