Are 90 Day Fiancé: The Other Way stars Deavan Clegg and Jihoon Lee still together?
The couple, who have documented their love story on the TLC spinoff, have endured somewhat of a rocky road, facing issues as they prepared for a life together with their son, Taeyang, and Deavan's daughter, Drascilla.
In real life, however, the couple ended up confirming their split in August (via InTouch), and Deavan reported she was seeing someone new.
"So I can't tell everything because the show [is] not finished. They will be happy and I need to be happy. Just, I will live my own life," Jihoon shared on an August 22 Instagram live. "We are living our own life, that's our future," he continued. "So just keep watching. Just keep [supporting me] getting [a] better life and please pray for Deavan and Taeyang, [for] their family life."
As the drama between the two continued to play out on screen, fans were speculating about Deavan's status, as she began posting photos from Utah in May, reported InTouch. Then, in August, she confirmed she had moved back to the United States.
Then, following their split, Deavan confirmed she filed for divorce from Jihoon in September, posting an Instagram story about the situation.
"Woke up to a lot of hate mail. I want to say this once: I've tried to get the divorce finished. Jihoon has not yet signed," Deavan wrote on September 22. "I've been trying, so everyone leave me alone about that situation."
Moreover, after their split, Deavan started dating actor Christopher "Topher" Park, explaining how the two met while Deavan was still in a relationship with her estranged husband Jihoon.
"The way I met Topher was I was flying to [South] Korea the first time back in November, it was the first time I was filming. It would be the first time I met Jihoon's family," Deavan revealed during a YouTube interview with blogger John Yates.
"When we got off the plane, it was just like, 'K, bye. Great talk.' You know?" the 23-year-old added. "He was going to go see his ex-girlfriend and I was seeing my ex. So nothing there, we didn't swap numbers. Nothing like that."
Deavan went on the explain how she and Topher realized they were from the same California town and ultimately had a mutual friend in common. They began communicating via social media and had their first date in Los Angeles.
"He's a great person, he's really kind. I don't want people to think anything weird. It was just a coincidence and it's really funny cause we found out he was in New York the same time as me, which was crazy," she shared. "And we didn't even know this, that we're from the same hometown, that we were on these flights at the same time, and we just think it's super crazy how the world works. We just like to think that the world was trying to give us the chance to meet but we just kept like, walking past each other."
Deavan and Topher seem to still be going strong, as Deavan shared a few sweet videos of the two to her Instagram stories on Friday.
In the stories, she and Topher were driving together in the car, both looking happy as they posed for the camera with a sparkly filter.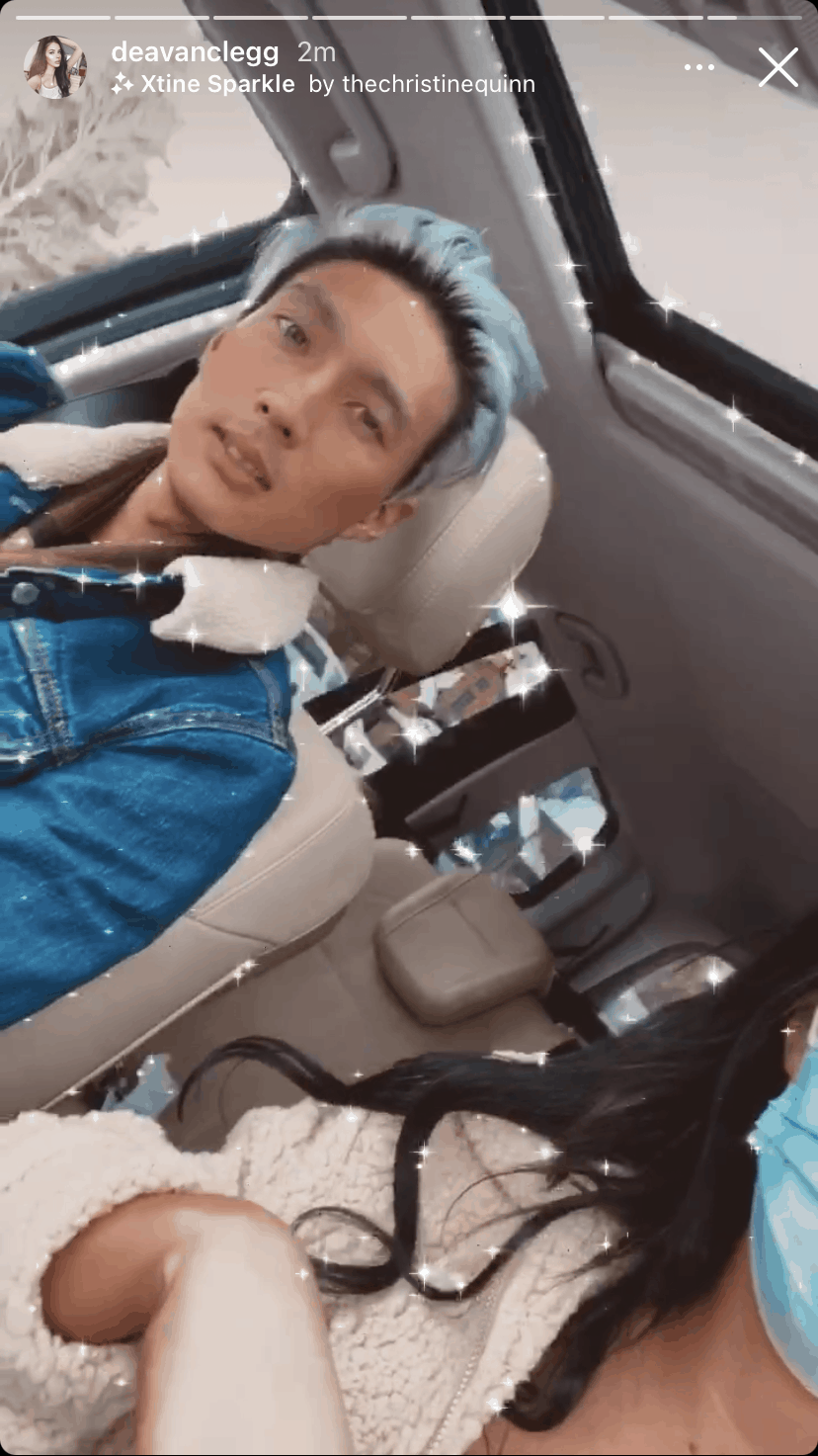 Catch new episodes of 90 Day Fiancé: The Other Way every Sunday at 8 p.m. ET on TLC to find out what happens with Deavan and Jihoon plus all the other couples.