Real Housewives of Beverly Hills star Lisa Rinna has been on a roll lately when it comes to leaking DMs and providing receipts calling out people's alleged lies.
This time, she's allegedly got the proof that she, in fact, reached out to former friend and RHOBH alum Denise Richards following their iconic feud. Rinna shared these receipts after she was repeatedly questioned by Garcelle Beauvais — who just can't leave the situation well enough alone — after Lisa told her that she and Denise had made up on this week's episode of RHOBH. She went so far as to even call Denise for confirmation.
Viewers will remember that Lisa went hard on Denise over Denise's alleged affair with RHOBH alum Brandi Glanville, which led to some vile behavior from Lisa and resulted in the breakdown of their friendship.
Now, Lisa is setting the record straight, and she posted text messages that Lisa says she wrote to Denise apologizing for being a bad friend after being accused of not doing so.
In the posted message captured by @QueensofBravo, Lisa wrote Denise, "Denise, I am deeply sorry for the way I treated you on and around the show. I hope you are doing well, and I wish you and your family nothing but the very best." This was followed by a heart emoji.
Denise, for her part, seemed very accepting of Lisa's apology.  "Thank you so much for your text. It means a lot. I hope you and your family is good," she said, and her message was also followed by a heart emoji along with praying hands.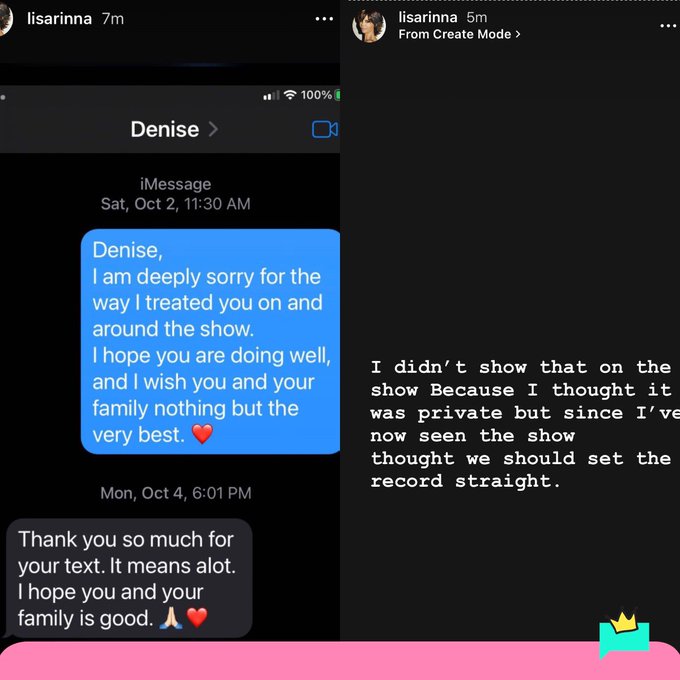 As for why she's just now revealing their seemingly mutual messages of letting bygones be bygones, Lisa wrote that she didn't mention it on RHOBH because thought it was going to be a private matter.
"I didn't show that on the show because I thought it was private. But since I've seen the show, [I] thought we should set the record straight," she wrote over the messages.
However, some fans are not buying Lisa's motives, saying that the message could have been altered and that she is only now posting them to save face.
One fan tweeted, "She removed the contact photo option [because] she sent it to a different Denise on her contact list. That simple."
Another posted two screenshots of Lisa's messages side by side, saying the two layouts and phone models don't line up.
In contrast, some fans are siding with Lisa, saying that Garcelle is stirring the pot as well as the producers.
Another added that Garcelle is "hellbent on taking down Lisa."
A third user called out the producers for pulling the strings and making the situation look "shady."
Thoughts? Whose side are you on?
The Real Housewives of Beverly Hills currently airs on Wednesday nights at 8 p.m. EST on Bravo.