90 Day Fiance Happily Ever After star Jorge Nava set tongues wagging yesterday when he put his wife Anfisa Nava on blast on the final part of the 3-part reunion of the show!
Jorge who is currently separated from Anfisa seemed very angry with her and appeared to be wanting to expose her. He kept telling host Shaun Robinson that she should ask Anfisa what she does for a living, referring to it as "degrading".   And despite multiple attempts by the host to get Jorge to reveal Anfisa's new job, he wouldn't.
Well fret not as we can now tell you what Anfisa does for a living and what Jorge was referencing during last night's reunion show!
So what does Anfisa do for a living? Let's just say it's alleged she became a stripper following her sepration from Jorge. Even more, Anfisa appears to have also been a web cam girl at some point.
How do we know this? Anfisa, 22, was put on blast by the now deceased comedian Stevie Ryan (RIP) on Twitter back in late May of this year. Stevie was apparently upset with Jorge and decided to start revealing things Jorge had told her about Anfisa.
Stevie tweeted on May 30, 2017: "Got all the Anfisa gossip from Jorge before he made me wait 7 hours to get some weed he never came through with #90DayFinance #90DayFiance". A screenshot is below.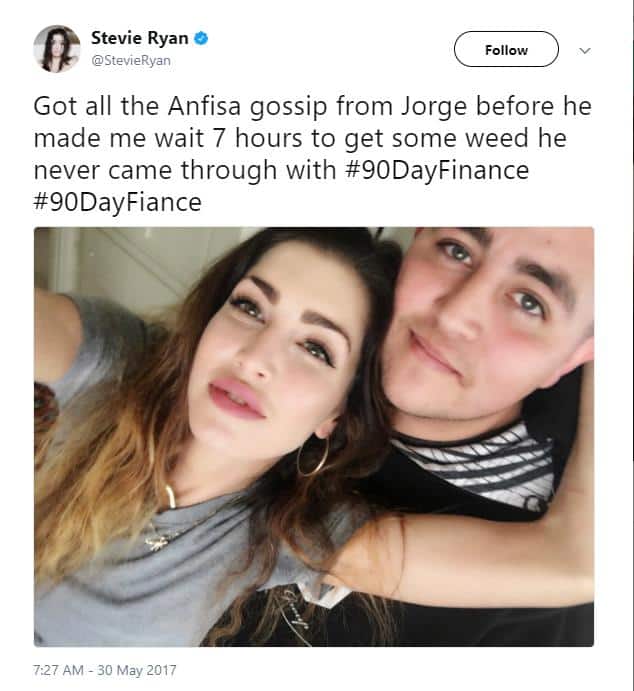 Stevie then went on to reveal that Anfisa had become a stripper following her split from Jorge.  Stevie tweeted, "He led her on & made her think he was rich. They are broken up, she's stripping, has a new man," adding "He grows [weed] but lives at home & pays all the bills for Anfisa's apartment. He said she started treating him differently after he bought her boobs & a nose job. DUH HOMIE! He's also paying for her new chin she's getting Friday."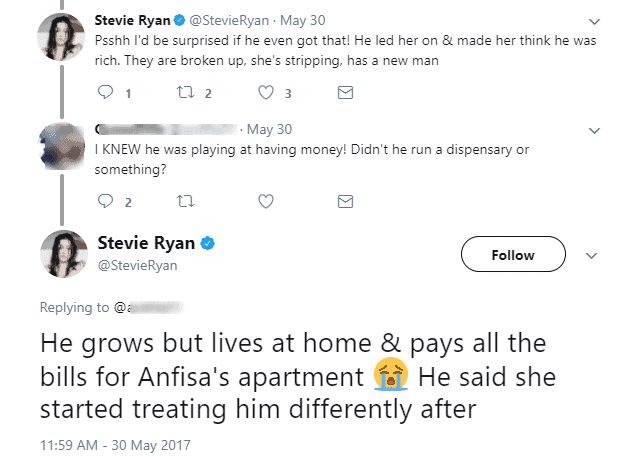 Stevie even claimed Anfisa had started dating the manager at the strip club she works at.
"If she actually liked him she wouldn't be currently dating the manager @ the strip club she works at. And yes, Jorge is a pusher," tweeted Stevie who later added that the couple is in talks for their own spinoff with TLC.
Unfortunately there's more. Stevie's most shocking claim was that Anfisa and Jorge didn't meet on Facebook like they had previously claimed but rather he met her while she was working as a web cam girl. Wowzers.
Stevie tweeted, "Jorge told me him & Anfisa didn't meet on Facebook. They met on a cam girl site! Here's pics or you can just google… #90DayFiance".  You can see the screenshot she attached below and on her Twitter.  The girl definitely looks like Anfisa!
So there you go, Anfisa Nava's job was that she started working as a stripper. No word yet on whether or not she has quit that gig.
TELL US – ARE YOU SHOCKED TO FIND OUT WHAT ANFISA WAS DOING FOR A LIVING?