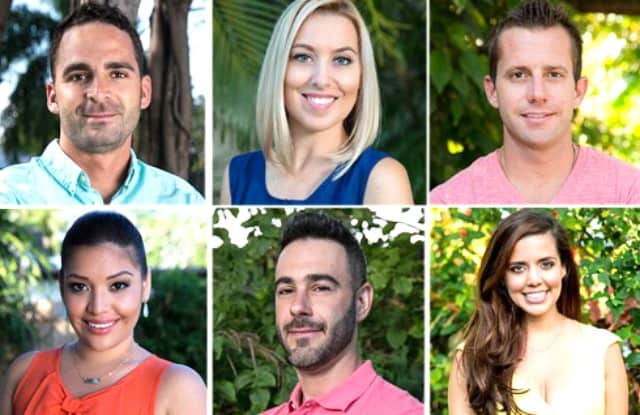 Season 4 of Married at First Sight premiered July 26, 2016 with 6 strangers tying the knot. This time it was in Miami, Florida.
Dr Pepper Schwartz was joined with two new experts, communication and relationship expert Rachel DeAlto and marriage counselor Pastor Calvin Roberson. Out of the three couples, one couple — Derek Schwartz and Heather Seidel — barely made it through the honeymoon before breaking up, setting a new record for the show.  The other two couples,  Lillian Vilchez and Tom Wilson plus Sonia Granados and Nick Pendergrast stayed married at the end of the show but ultimately all three couples are now divorced.
So what are they up to these days? Well you can find out below!
Heather & Derek
Both Heather and Derek were the first couple on the show to separate barely two weeks into the experiment. They seemed to be attracted to one another when they first met but things turned sour during the honeymoon. Apparently the experts missed a key point for Heather, smoking was a "deal breaker" when it comes to marriage with her partner so during the honeymoon she confronted Derek about his smoking habits. Derek didn't seem to take it well and they argued back and forth saying some not so nice things to each other. Not surprisingly, they separated before the show ended and got a divorce.
Heather Seidel Update: We couldn't find much information on Heather as she has all of her social media pages on private. But we do know she is still working as a flight attendant and we were able to find the above photo of her from her personal Facebook page. The picture is from January 2018, and as you can see she looks quite different with her new hair color.
Derek Schwartz Update: While he is very active on his social media pages, posting photos of himself and dog, we don't see any love interest at the moment. In fact he recently poked fun at himself when he posted a meme on his Instagram page that read, "Next time I get married I think I'll try it with someone who likes me."  Derek continues to work as an account executive, and still resides in Florida.
---
Sonia & Nick
This match seemed awkward from the start as they seemed to struggle with intimacy throughout the season. One of the challenges they encountered and worked through was that Nick, who owned a dog, was a pet lover while Sonia wasn't but that didn't deter them. Sonia moved out during the taping when Nick snapped and screamed to the producers that he didn't like Sonia. With the help of the experts, they continued to work on their marriage and surprised fans by staying together. Both Nick and Sonia separated in January and eventually got divorced in April of 2017.
Sonia Granados Update: During the show, Sonia showed her philanthropic side as she and Nick provided food for the homeless, so it's no surprise that she has continued to use her platform to promote her charity work through her organization – The Broke Philanthropist. She also hosts her own podcast show according to her website soniagranados.com. As for her love life, Sonia is still single. You can also keep up with her via her Instagram page.
Nick Pendergrast Update:  Nick didn't waste time in moving on as a few months later, it was announced that Nick was expecting twins (a boy and girl) with new girlfriend Heather Yerrid. "We are shocked, excited and feeling blessed all at the same time," said Nick. The lovebirds announced they were pregnant two months after Nick's divorce. Apparently Nick felt like a failure following his divorce and reached out to Heather (a love coach and relationship expert) to seek some advice. The two met in May for the first time at Universal studios in California and the rest they say is history. According to the People magazine, Nick has since relocated to California.
The lovebirds are expecting their babies any day now. Heather recently tweeted that she is on maternity leave. The above photo, taken from Nick's Instagram page, shows the couple at their baby shower in October 2017. You can also keep up with Nick on his Twitter page. He is currently still active with his real estate and AirBnB business.
---
Lillian & Tom –
For Lillian and Tom, it was absolutely love at first sight. They both clicked and seemed to have it all until their differences started rearing its ugly head. Not exactly the best match since they differed significantly in the way they lived their lives. Despite some of the issues they encountered, this couple decided to stay married at the end of the season.
The duo were married for 14 months before they finally called it quits. "Yes our marriage has ended. But a beautiful friendship has started," Tom confirmed in May 2017. The couple, though divorced, seem to have maintained a friendship.
Lillian Vilchez Update: Lillian still works as a realtor in the Miami area and seems to be having the best time of her life posting photos with friends. Though she is divorced from Tom, the exes have maintained a friendship and comment on each other's social media pages. Above is a recent photo of Lillian from her Instagram page. She is also quite active on Twitter. For the time being, she is still single.
Tom Wilson Update: Tom still works as a boat/yacht interior designer in Miami. He finally sold his bus (the one he refused to sell while he was married) and may have swapped it for a van. A few months ago he posted on his Instagram that he wasn't fully ready to date yet post MAFS but he might have since had a change of heart! Tom is also active on his Twitter page.
TELL US – WHAT ARE YOUR THOUGHTS ON THE MAFS SEASON 4 UPDATES?