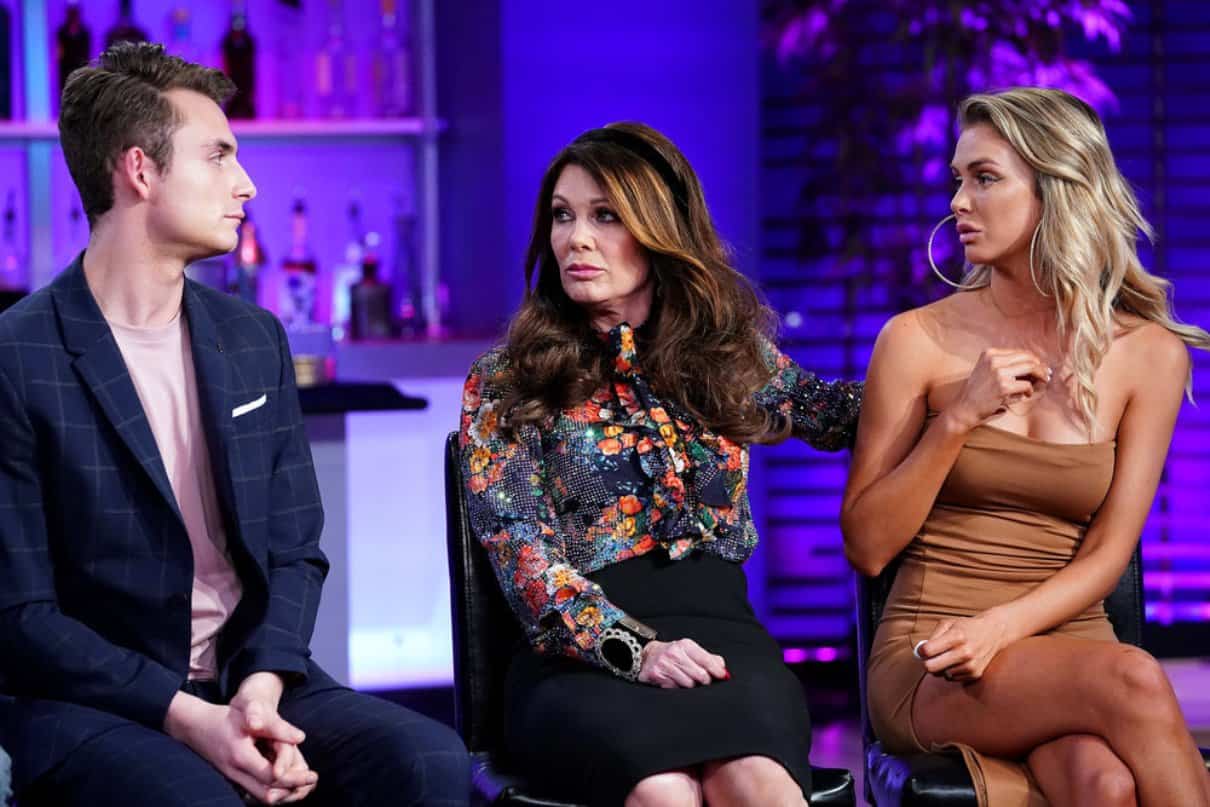 Part 2 of the Vanderpump Rules reunion…a lot of name calling, a lot of pointing fingers, and a lot of "adults" behaving like children. Nothing new here…
Reunion round II opens up just where we left off: Jax hollering at Scheana because she didn't call him when his father died (and texts don't count). It's very dramatic- Scheana storms off, Ariana follows, Jax loses his mind. While Scheana is off stage, Jax starts making low blows to Scheana like, "You can't even keep a boyfriend." Uh, Jax. I'm sorry. Scheana's relationship is not the focal point of this conversation. Scheana reenters after her lashes get glued back in place and states she is not alright, "but I'm a professional." Dying.
Now onto LaLa's mystery man. Does anyone else wish he would just pop out like a surprise guest? I'm getting reallllllllly tired of him only showing half of his face on LaLa's Instagram. Sigh. LaLa lets everyone know that her man loves the show and so does Martin Scorsese. This is an extremely outrageous segment as LaLa continues to explain her non-sugar daddy relationship by stating, "I have [a car] for a few months just to like, dink around." Yea. That's not helping your point, LaLa.
Lala also denies she was ever a mistress even though she's forced to admit "MyMan" was still married when they started dating. She however feels she did nothing wrong since he was legally separated. The ex-wife of "MyMan" aka Randall, actress Ambyr Childers, however begs to differ as she called out Lala for being her ex's mistress last month!
Turns out, James ALSO has a sugar daddy! Hilarious. Wonder if Raquel knows about this? I mean, have you SEEN Paul, James's roomie??? Get a load of those chainzzzzz. Seems to me that James certainly DOES have a sugar daddy- I mean, he pays James's rent. It appears as though LaLa and James have a lot in common. Later, James gets screamed at and "dismissed" by LaLa for calling her man old and fat. I mean, sometimes the truth hurts, LaLa.
Despite Jax's earlier meltdown, that doesn't stop the ladies from bashing him for his cheating ways. As for Arianna's claim that Jax has slept with Faith multiple times, Jax debunks that rumor and makes it clear that it only happened one time. One time too many, Jax. For some reason, LVP jumps in to Jax's rescue and makes it clear that Faith made a premeditated move by sleeping with him. James actually shares that he saved the video from Faith to keep in his back pocket. Everyone seems to understand this (??), but Sandoval believes that it wasn't "the right time" to show Brittany THE video. Um, excuse me. Is there EVER a good time to listen to something like that?!
We then hear about LaLa and Katie's new-found-friendship. Scheana gets salty because she and LaLa are no longer as close as they used to be. She states, "I felt like it wasn't genuine" and that Katie is just "trying to save face." Scheana is a pot stirrer who does whatever she can to stay relevant. She also doesn't open her mouth when she speaks and that's super weird, so there's that.
Speaking of relationships, Katie actually believes that Schwartzie doesn't remember smooching another girl and everyone else just rolls their eyes and smirks. Katie shares that she tried to see "the bigger picture" about the whole situation and Schwartzie tells the group he felt "like a possom's prick." What? Who? I have to say I think Schwartzie could lighten up a bit on the booze…I mean, blacking out and taking shot after shot gets old fast, especially when you wind up making out with other girls WHO ARE NOT YOUR WIFE. LVP makes it clear that that type of behavior is not going to fly at TomTom, cuz ya know 2.5% partners.
Andy Cohen addresses Stassi's ex-boyfriend Patrick and how he really put a damper on her whole birthday party. Number 1: he didn't even bother to dress up. Number 2: Stassi acted like a total weirdo any time he was around. I mean, the whole situation caused Stassi to up and leave her very own party and her friends didn't even try to stop her. "I miss the days when people used to run after me." Kristen and Katie explain that they are grown-ups now and they have a new "strategy" to handle Stassi. Right. LVP is asked, "What made you give James another chance?" She explains that James's See You Next Tuesday party as the "white Kanye" is apparently a hot hit, as is his "Thirsty Sursday." The guy's bringing in that money. James also has strange connections to LVP, although I think the only connection is that they both have British accents.
The conversation switches to Scheana's evil matchmaking ways. Scheana claims she was just trying to get Adam into the group. Everyone calls BS on the story Scheana spins, but LaLa makes it clear that the reason Scheana brought Adam around was to prove to Brittany that she could still get dudes. Either way, it's pretty shady. Billie Lee makes her appearance on the sofa. She shares how she had difficulty getting jobs as she transitioned, but Billie Lee was able to snag a job at Sur and even made fast friends with the girls of the restaurant.
Billie Lee explains how she "shopped" for her vagina: she used porn as her reference (naturally). Anyone else tired of hearing about Billie's vjay?! When asked about her first impression about Stassi, Billie Lee said she was "nice." But then Billie Lee heard about Stassi through Ariana who stated, "This b*tch actually takes pride in being ignorant." Now, Ariana does not believe that Stassi is a bigot and that Billie Lee handled Stassi perfectly during the pod cast.
Ariana's brother, Jeremy, and Billie Lee still "kick it…" whatever that means. Kristen gets heat from asking if Billie Lee and Jeremy were going out in public and Stassi gets an earful for calling Jeremy "creepy." Billie Lee made it clear that he is certainly not creepy and that she is single and ready to mingle. Who needs a dating website when you're on a Bravo reality TV show?
Ah, Jax—I mean, Jason- and the reiki master. "The things she said to you were so inappropriate." Stassi states that she changed her voice to a "sex operator" and they hugged for way too long. Jax also got called out for saying "love you" to the reiki master. I mean, the guy put croissants and "incest" out when she came to his apartment. While Jax was getting heart emoji-eyes every time he talked about reiki, Kristen flew Brittany's mom and sister to LA for Brittany. Jax explains that he "felt like he would never get a say in anything" yet Brittany's mom forgave Jax right away. Maybe even too fast…
Andy addresses LaLa's definition of feminism. She explains that "the female body is beautiful, and if you wanna bring your t*ts out…you just do you, boo." LVP clarifies what it means to be a "feminist" and Andy reminds LaLa that she likes to body shame and drives a car that her man pays for. LaLa's "girl power" is her "brand" of feminism…ya know, where she gives "power to the p*ssy." Someone please punch Jax in the face when he states, "#metoo." What an absolute dope.
Finally, Katie shares how she "took inventory" in her life and Schwartzie's "d*ck works better this season." Schwartzie explains that "for a long time, she was a nightmare of a human being," but now the couple is in a much better place. Katie reminds everyone about her accident back in 2009 and it gets a little emotional watching, particularly because the accident affected her anger issues greatly. Katie is proud of "accepting herself" again and I gotta be honest, watching Schwartzie and Katie happy together is pretty nice. Despite the fact that he blacks out and smooches other women…
Photo Credit: Nicole Weingart/Bravo
TELL US – THOUGHTS ON THE VANDERPUMP RULES REUNION PART 2?