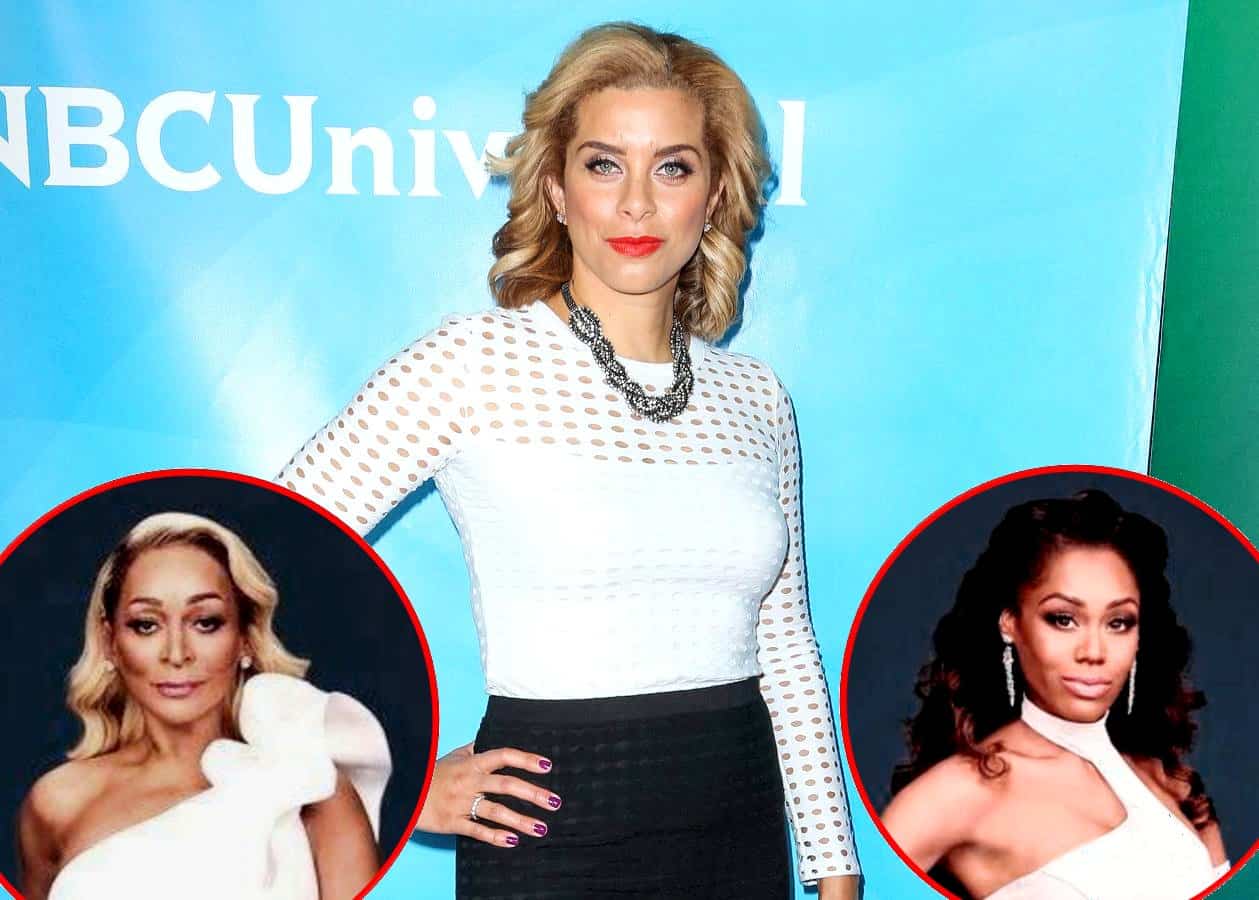 Real Housewives of Potomac star, Robyn Dixon has been pretty laid back this season, but her cast mates have been as outrageous as ever! She opened up about some of  their more dramatic (and problematic) moments during a new interview.
First, she addressed Karen Huger's utterly bizarre behavior during "that dinner" on the first night of their recent trip to Pennsylvania. She'd gone off on an unprovoked tirade, calling Robyn "Gizelle's puppet" and  "the dizziest b*tch at the table".
But despite all that crazy, Robyn managed to take the high road, and laughingly chalk the whole incident up to too much champagne.
"That whole exchange at that table was  baffling, to say the least. I really found it comical that, out of nowhere, Karen started bringing up old issues and calling names. But the champagne was clearly flowing, and talking, that night, so I wasn't fazed at all by what Karen said, and was actually quite entertained," Robyn said to Bravo.
And speaking of being over served, Robyn and the other ladies have become increasingly concerned about Monique's drinking throughout the season—especially after the grisly looking car accident she had, following a boozy outing with Ashley Darby.
"Wow! Total shock!" Robyn said of her reaction to hearing about the crash. "The thought of not only crashing your car, but waking up in a ditch, is terrifying, and gives me chills just thinking about it. I truly was grateful that Monique was safe, and no one was injured, but I was also concerned about the circumstances that lead to the crash."
Robyn explained that, as Monique's friend, she'd felt it was her duty to confront her about those 'circumstances' head on, and to ensure that she understood the full weight of what she'd done.
"Driving under the influence is not something that should just be brushed off lightly, and not taken seriously. If Monique had a serious problem, then it would have been wrong for all of us not to address it," she explained.
But unfortunately, Monique did seem pretty nonchalant about the whole thing. She'd insisted that she'd just been "tired" that day, and couldn't possibly have been drunk after "only" two martinis, although Ashley maintained that she'd had at least twice that many.
"It didn't sound like she wanted to take responsibility for the situation. 'I can usually go five martinis before I throw up'. Say what?! We aren't talking about being black out wasted, we are talking about being impaired just enough to fall asleep and crash your car. And being tired is definitely a side effect of drinking too much," Robyn said.
But despite her breezy attitude, Robyn remains hopeful that, deep down, Monique heard her.
"Although Monique talked herself out of this (as she does everything else), I do hope and believe that she has been able to look back, and process what happened, and vows to make better choices in the future," Robyn said.
Well, we certainly hope so! Monique's basically a good person, with a family who needs her, and we'd hate to see anyone get hurt. Besides, driving drunk is just plain selfish—especially when you have the money to hire a driver. Perhaps she should ask Karen for a referral? Word on the street is that  "Blue Eyes" is always willing to go above and beyond the call of duty!
Well, viewers, there's plenty more drama where this came from. So, be sure to tune in to Bravo tonight at 8/7c to see how it all unfolds!
Photos Credit: Splash News/Alamy Stock Photo, Bravo.