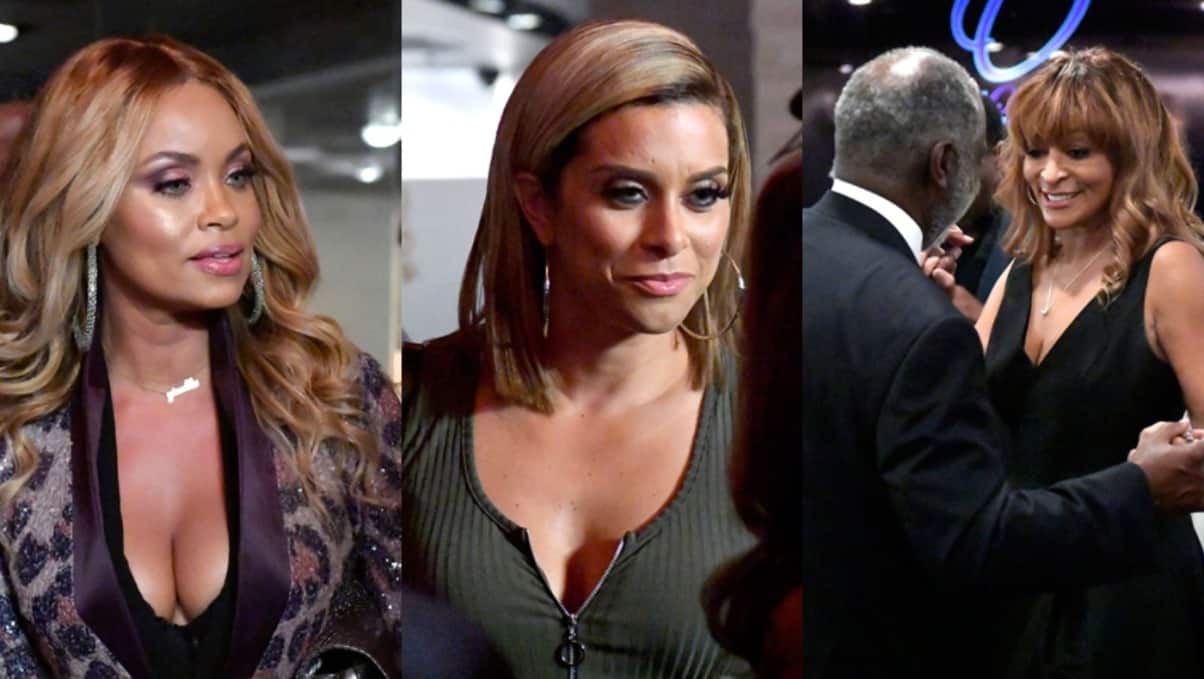 The ladies of The Real Housewives of Potomac love a good confrontation, and the pettier, and more public the better. They'll yell, call names…the whole nine yards, and they simply don't care who sees or hears it. It's very odd behavior for socialites, but it's also why we watch, right?!
When we picked up with the ladies in last night's episode, Robyn and Gizelle were just walking into Karen's Gala to deliver their "message", that was absolutely "not an ambush," to the hostess.
This particular confrontation stemmed from the fact that Karen had attended a charity event with Monique, rather than attending Robyn's "She Is Empowered" workshop, which was being held on the same day. Now, Karen already tried to explain that it had been a simple mixup, and that she hadn't actually meant to accept both invitations, but Robyn insisted she was lying, and intended to tell her about it….AGAIN…this time backed up by her bestie, and fellow "Green eyed Bandit."
Of course, this wasn't Karen's only offense.  She'd also invited Kyndall, Gizelle's now ex boyfriend, Sherman's ex wife, to the gala, knowing Gizelle would be there. But since, Gizelle and Sherman broke up, Gizelle was unbothered, and stood within inches of the other woman, giving air kisses to the other guests, and never once acknowledging her. But she did feel that it was a supremely shady move on Karen's part.
As turned out, Robyn and Gizelle never got to deliver their "message," because as soon as they approached Karen, and asked her to come talk with them in the "situation room," (Yes, I said situation room) Karen refused, and promptly called for security to have them removed, saying she knew "their hearts weren't in the right place" as soon as she saw them coming in their "raggedy jeans."
***And here's a juicy little tid bit: Robyn was a guest on Watch What Happens Live last night, and explained that Karen had told her ahead of time that she would be setting up a "situation room" for the women to use "in case anything came up." So, The Grande Dame expected, and even welcomed confrontations, she just didn't think she'd be the one getting confronted. Talk about messy!
Robyn and Gizelle left the O Gala without incident, but when Ashley and Charrisse  followed them outside, they turned on Charrisse, asking her…AGAIN…why she, too, had attended Monique's event instead of Robyn's.
Charrisse explained…AGAIN…that she had accepted Monique's invitation long before she even knew about Robyn's event, and simply couldn't have just blown off her commitment to Monique because Robyn had invited her to something else. This seems perfectly reasonable, just as it did the first two times Charrisse explained it, but Robyn and Gizelle continued to insist she was "wrong" and that Robyn's event was more important, and reminded her…AGAIN….that she's been friends with Robyn for 14 years, blah, blah, blah!
Charrisse said she wasn't going to continue the conversation, (who can blame her?) and walked back inside. She said during her interview that Robyn's usually a "pretty positive person", and that she was disappointed to see her "bringing herself down several notches" by following Gizelle's lead, and insisting on "keeping things going."
Back inside the event, Monique and Ashley began to discuss the donations they were making to Karen's supposed charity. The gala was supposed to benefit Alzheimer's research, and both women thought it was odd, to say the least, that Karen had instructed them to make their checks out to Icon Enterprises, her for-profit hair care line, and not to the charity, itself.
Ashley's husband, Michael, said he wouldn't be writing any checks to Icon, which he thought was an awfully ironic name for what was starting to look like a Ponzi scheme, and that perhaps it was inadvertently giving away Karen's true intentions. Get it? I con.  He joked that the donations were going to fund Karen's new mansion.
And the whole thing does sound a little suspect, and someone may want to check out those books, because Karen was pretty cagey about answering any questions about how much of the money actually went to Alzheimer's research. When Monique asked her later, she simply said that they'd "reached their goal, even if it was a dollar," and when producers asked the same question during her interview, she said it was "successful", but refused to "quote an amount," saying it was a matter of public record, and people could just "dig around," if they really wanted to know.
Although Ashley and Michael appeared, for all the world, like a happy and fun loving couple at the gala, they're recent spat was still weighing heavily on her mind.
In case you missed it, Ashley has had babies on the brain, and when she broached the subject with Michael, he said,  "I wouldn't want you looking after my children the way your mother looked after you." Ashley was crushed, and felt like Michael had disrespected her whole family with that remark. She called her Uncle Lump, who's  like a father to her, to get some advice, and as it turns out Michael's negative feelings about Ashley's family are completely mutual!
Uncle Lump said that Michael was "full of s***," and that he probably really "enjoys having a trophy wife," but would likely never agree to having children with Ashley because he had already raised kids, and why would he want to "go back?"
Uncle Lump makes a good point. Babies are wonderful, but once you're finally done with the diapers and kindergarten registrations and braces…you're done! But Ashley made it clear from the beginning that children were a non negotiable, and if Michael refuses, she's prepared to move on without him!
In other relationship news, Candiace's fiancé, Chris, had his hands full…literally! First of all, I'll just say it, Candiace is a spoiled child. She wants to hear nothing about the budget for her wedding, despite both Chris and her mother, who's paying for most of the grand event, telling her that she needs to "reel in" her expectations.
But Candiace finds talk of finances "irritating," and fights with Chris every time he brings it up. Last night, he suggested that she call her father to ask for more money to accommodate her growing guest list and the lavish flowers and expensive menu she wants for her big day.
But despite her eyelash batting and hair tossing during their face time chat,  Candiace's father told her that he thought a guest list of 400 people was "pretty extravagant", and that he wouldn't be giving any more than the $20k he was already contributing, but Candiace was undeterred, and continued to insist that her vision would ultimately be realized.
Even Ashley tried to reason with Candiace, when the two met for lunch. She explained that no one would remember the flowers or the size of the venue,  and that even if she walked down the aisle with a single tulip, it wouldn't matter, because all anyone would be thinking about was  how much fun they'd had and how beautiful a bride Candiace was, but Candiace disagreed, and said she'd DEFINITELY remember if she saw a bride with one flower.
Later, Candiace dramatically removed  her engagement ring, and left it sitting on the table, a ploy she's apparently used before, after an off-camera argument she had with Chris. Apparently, after asking Chris to hold all of her stuff, she'd  asked him to call them an Uber. His hands full, Chris didn't understand why she couldn't call the Uber, herself, and called her a "spoiled princess," which is absolutely true, but Candiace didn't like it. She said that it made her "not trust him" because "everybody always says that," but it hurt hearing it from someone "who's supposed to love her."
Candiace had also sent Chris a scathing text comparing him to his "deadbeat" father, and telling him to "get the f*** out of" her life. She eventually apologized for "bringing up his sperm donor," and reluctantly admitted that is hadn't been "cool." She pouted a little longer, but Chris picked up the ring, and jokingly re-proposed, and she promised not to take the ring off again, but Chris, be warned:you're marrying a petulant six year old. Good Luck!
A few days after Karen's gala, she met Candiace and Monique at the gym for a workout, and as fate would have it, Robyn, Gizelle, and Ashley were working out at a gym across town. But the activity that really got their endorphins flowing was the gossip sessions  afterwards.
The ladies discussed the drama at the gala, and there were still plenty of hard feelings on both sides. Karen said that Gizelle and Robyn didn't know how to act, and that she'd  thrown them out because her charity event was too important to be overshadowed by their nonsense. She was also completely unapologetic about inviting Kyndall, whom she said was legitimately a good friend, and insisted that her intentions had been "innocent." Okay, Karen, whatever you say!
Gizelle, Robyn, and Ashley talked about Karen's "shady" charity, and all three agreed that she couldn't be trusted. Ashley likened her to a "Stephen King novel," because you never know what the next chapter will bring…and you're not sure you really want to know. Ashley was also interested in how Gizelle felt about  Kyndall being there, but Gizelle insisted that she didn't care about Sherman's "horse faced" ex wife, but admitted to being  hurt that Karen would go to such lengths just to get under her skin.
Just as they were wrapping up, Charrisse called Robyn, and asked to meet up and talk. Robyn informed her that that she was lucky she'd even taken her call, because she didn't appreciate the way Charrisse had "cussed her out" outside the gala, but she accepted, and told Ashley and Gizelle that she really did want to be in a good place with Charrisse.
When the two women met at a local eatery, Charrisse apologized for not attending Robyn's workshop, and said that she hadn't realized that it was so important to her. Robyn accepted, but went on to explain that her hurt was really about how "quickly" she'd said she was going to Monique's event instead, and that it had made her feel as though Charrisse had chosen Monique over her. She added that she felt that Monique was "thirsty" to become a socialite in Potomac, and was using Charrisse and her many friends and contacts to climb her way to the top.
Surprisingly, Charrisse agreed with Robyn, and said she'd had similar concerns about Monique, and added that she'd recently taken a step back from their friendship, and intended to discuss these issues with Monique.
Finally, it was time for The Congretional Black Caucus' annual business expo, an event that highlights up and coming local black-owned businesses, and this year, Gizelle's booth showcasing her cosmetic line, EveryHue, was front and center. Like, really front and center. When entering the venue, the very first thing you saw was an enormous photo of Gizelle's face.
Gizelle was pleased with her prime location…until she, Robyn, and Ashley looked up and saw Karen and Monique  leaving the expo without ever stopping at Gizelle's booth. Of course, this called for yet another public confrontation.
The ladies approached Karen and Monique and they claimed they "hadn't seen them," which they all knew couldn't possibly have been true. Monique then said they had another event to attend, and needed to leave, but no one was buying that either.
Robyn asked Karen why she was "running away," and Karen assured her she wasn't running, so Robyn asked,  "what about all the lying you do, Karen?" Karen continued walking away without dignifying Robyn's last question with a response, so Robyn yelled, "liar," at Karen's back as she and Monique continued their hasty retreat.
Whew…what a mess! And the drama continues next week, when Gizelle and Karen have a sit down and Charrisse addresses Monique's social climbing. Stay tuned!
TELL US – THOUGHTS ON THE LATEST RHOP EPISODE?