We have some very sad news to report today as My 600 Lb Life star James LB Bonner has passed away.
Even more devastating, James' death appears to have been from an apparent suicide.
Moments before his passing, James, 30, actually took to his official Facebook Page on August 2 to leave what now appears to have been a good-bye message.
James wrote, "I just want to say thank you to everyone who has shown me love and support throughout my journey…I've realized a few things over the last few days and its time that, I face my demons head on.. No matter what you change or the efforts you put forth in life, sometimes you just have to take it on the chin and deal with things your own way…Again, thank y'all so much…"
He added, "Please don't ever let people you care about not know how you feel."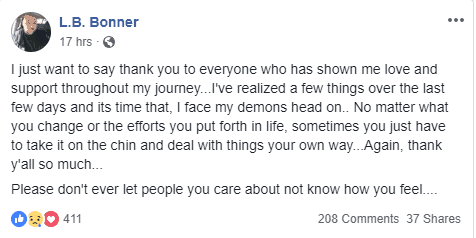 Radar Online obtained the police report which reveals James passed away from a gunshot wound, and was found in a ditch. The officer who found his body was responding to a welfare check.
The Starcasm site reports that James' death was first confirmed by his sister, Angela Bonner Lown, who posted the following message to a private Facebook group – "Hi, I'm LB's sister Angela. It is true, LB has taken his life. We are all shocked at the moment and trying to figure this out. LB was adored by many people and I would like to thank all of you for supporting him through this journey."
Other family members have also taken to his public and private Facebook pages to share their condolences.
James' death is shocking as he was one of the more memorable success stories from the TLC series which chronicles the struggles people who are extremely obese face as they try to lose weight with the help of surgery.
The 6'4″ Lexington, South Carolina native, who was also an amputee having lost one of this legs during an accident, appeared on the February 14 episode of My 600-Lb Life earlier this year.
He was open about his life struggles on the show, revealing that the loss of his leg due to an ATV accident at age 25, in addition to his obesity, made getting around difficult for him due to knee and back pains. James also struggled with the fact that he was adopted as a baby, stating he felt inadequate despite having a loving family.
"I was adopted as a newborn because, after having three girls, my parents decided to adopt a boy, and so they got me," he said.
He started the show weighing in at 642 pounds, and had lost over 300 pounds by the end of his episode, as he weighed 316 pounds.
Following his episode, James created a Facebook page that he used to chronicle his continued weight loss, while also posting regular motivational messages to encourage others. In fact, he posted the message below just two days before his death.
RIP to James, and condolences to his loved ones.
Photos Credit: Facebook