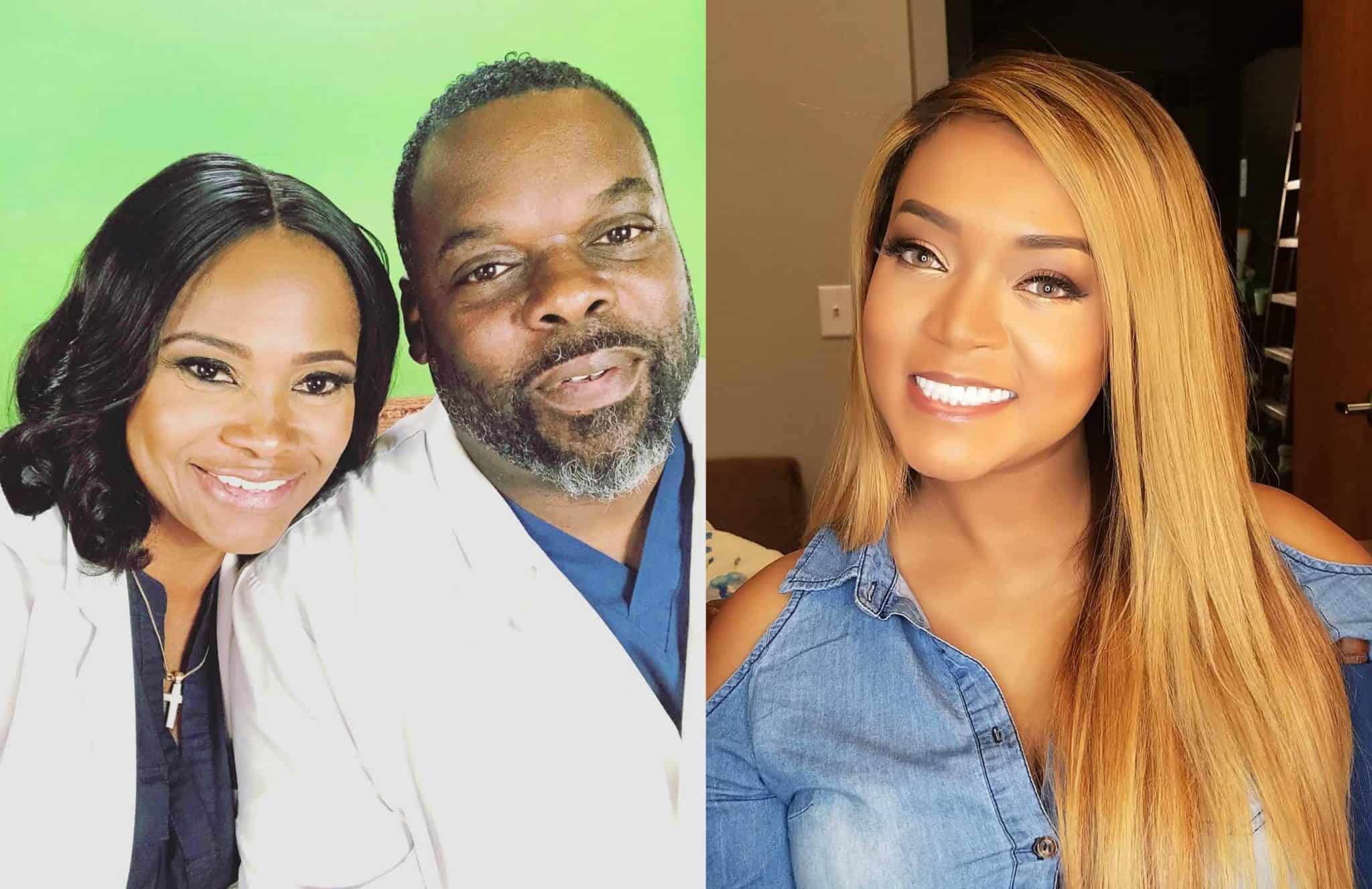 Is Married to Medicine star Dr. Heavenly Kimes desperate to keep her husband's alleged cheating a secret?
If you caught last week's premiere of the show, you know that series star Mariah Huq dropped a bombshell about her co-star Heavenly's husband, Dr. Damon.  According to Mariah, "Daddy" has been stepping out on Heavenly, and she claimed to have the "receipts" to prove it!
"I can tell you a lot of people that have slept with Damon!" Mariah stated on the season premiere. "Do you want me to bring the receipts? Do I need to bring the receipts, baby girl? Because I got receipts!"
Heavenly reacted to Mariah's allegation with stunned disbelief, but sources are now saying she knew about her husband's alleged infidelity, and is simply desperate to keep it under wraps!  So desperate, in fact, that she's willing to fake a friendship with Mariah to keep her from talking.
"Heavenly is well aware that Mariah knows the truth about Damon. And she's desperate to hide Damon's cheating, so she's keeping her enemy [Mariah] close." a local Atlanta snitch revealed to AllAboutTheTea.com, adding that Mariah even knows the identity of Damon's alleged mistress!
Knowing about Damon's alleged infidelity is one thing, but having it revealed to the world is another, and a source close to Heavenly says maintaining the facade of a perfect marriage is very important to the dentist.
"Heavenly pretends to have a perfect husband and perfect marriage. She looks down on the other couples falling apart on her show. But behind closed doors, she's lonely because Damon pays her little attention and they're distant," the source claimed.
And following that episode, Heavenly took to her Instagram page to issue some sort of a public truce to Mariah.
"Say what you want about this young lady…you have to admit she is great TV! #Creator  #Producer and Star of #Married2Med ( not to mention great wife and mother) @iluvmariah is breaking barriers! #FaceTheTruth  #marriedtomedicine  #married2medicine #shematters  #IAintMadNoMore  #JesusFixedIt" Heavenly posted on Tuesday, September 4, and tagged Mariah in the post to ensure she sees it.
Despite the chummy post, a source close to the show says it's all for show…and driven out of fear!
"Heavenly and Mariah are not friends. They have not put their current drama behind them. Bravo made them do press together in L.A. last week and that's the extent of their interactions. Heavenly was being shady with her Instagram post today by using an edited photo of Mariah," shared the source.
Another insider further revealed that things get pretty ugly between the two women this season, with Heavenly accusing Mariah of spreading baseless lies about Damon, and the tension between them will soon carry over to their husbands.
"After Mariah spilled the tea about Damon, Heavenly spends a portion of the season calling Mariah a liar. The tension between Mariah and Heavenly turns ugly and boils over to their husbands, who almost come to blows," the insider added.
We've also learned that Mariah will end up apologizing to Damon to quell the tension, despite knowing she was telling the truth.
"While Mariah was being truthful about Damon stepping out on his wife — she does not want to be the cause of breaking up a marriage," added the source.
As for Heavenly, she is publicly denying Mariah's claims that Damon stepped out on their marriage – calling it "lies from the depths of hell" on her Instagram page.
She also denied Mariah had any proof of infidelity, writing: "If she did, I'd probably be in jail by now! #Truetea."
This is just getting good, viewers.  Be sure to keep up with all the drama every Sunday night at 8/7c!
Photos Credit: Instagram