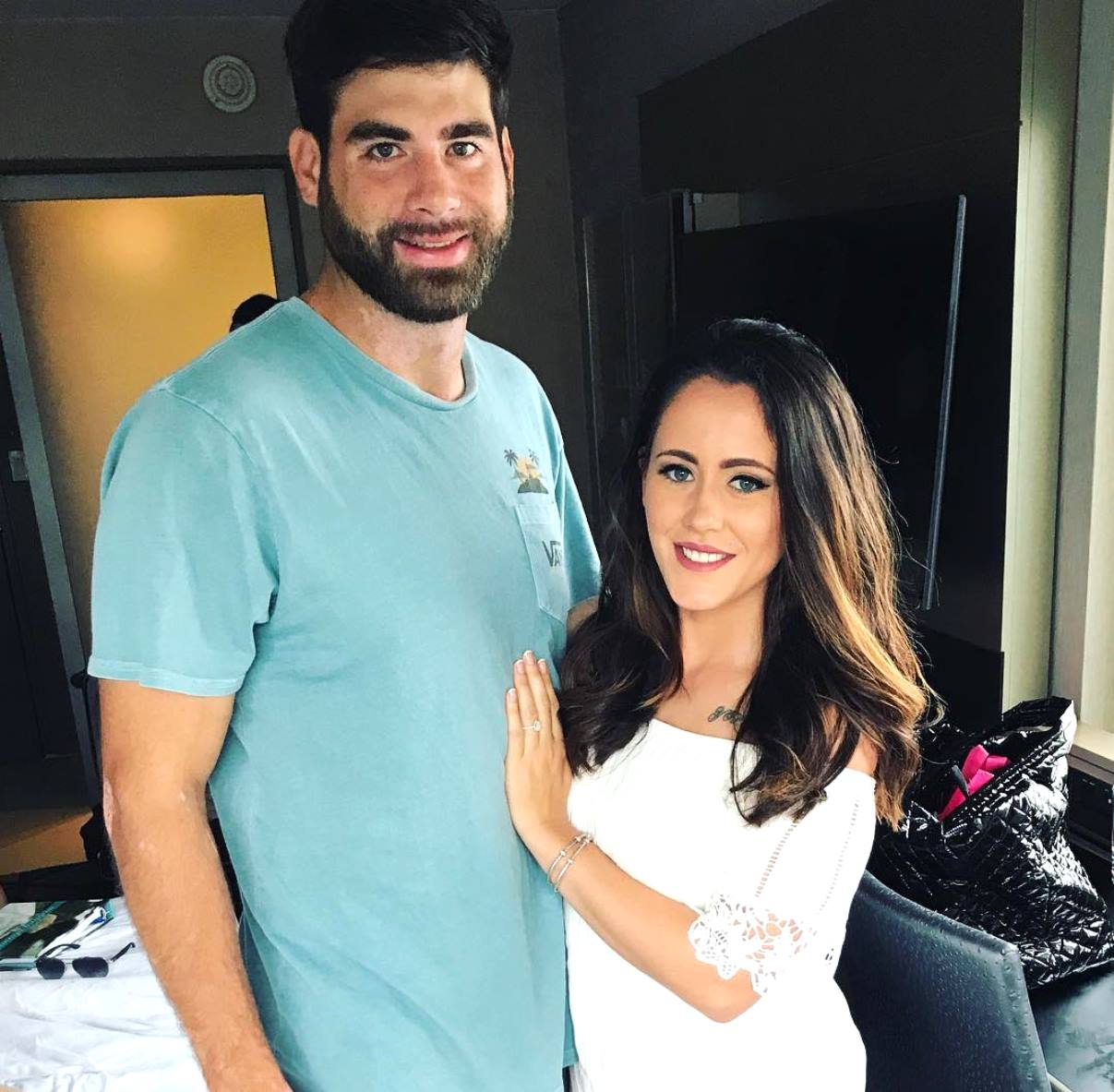 Jenelle Evans and her husband, David Eason are both in hot water ahead of the new season of Teen Mom 2.
Days after David illegally towed a vehicle, police have confirmed that the mother of three broke the law when she burned a peace offering sent to her by her co-star and nemesis, Kailyn Lowry, and is now facing up to $25,000 in fines.
Earlier this week, Jenelle shared a video on Instagram after receiving Kailyn's gift that featured the reality star pouring gasoline on a set of hair products and explaining why she had no plans to forgive Kailyn amid their years-long feud.
"Hey Kail, this is to your peace offering," she said as she lit the items on fire.
"Kail Lowry, for years you've been super jealous and envious of all us girls on the show. You try to make your way into the group, then turn into a mean a** person when it came down to me," Jenelle wrote. "You apologize on/off, claim I need to be apologizing sometimes, then talk s**t constantly about me and my husband to the tabloids?! THEN you had the balls to send me a PEACE GATHERING GIFT?! Don't send me gifts and then go talk s**t AGAIN!!!"
On December 21, Columbus County police told Radar Online that it "is always illegal to burn trash and other non-vegetative materials."
"Leaves, branches and other plant growth can be burned under certain conditions," the department explained.
The outlet also revealed that police paid a visit to Jenelle's home on Friday morning after her mother, Barbara Evans, locked her keys in her car.
In response to the diss, Kailyn told Us Weekly, "I knew they would do this. I'm not upset at all."
On the same day that police confirmed Jenelle had broken the law, a second Radar Online report revealed David was facing charges after illegally towing a vehicle.
According to the report, David towed a truck from where it was parked because he felt the vehicle was blocking him from getting to his boat. In a video taken by Jenelle and shared by David on Wednesday, December 19, David was seen towing the truck with his own vehicle and taunting the vehicle's owner.
Days later, the victim, Terry Hill, decided to press charges.
"An officer is meeting with him to assist in paperwork/taking a report. Once completed, [Wilmington Police Department] will take appropriate action to charge Eason," the department said in a statement.
In his video clip of the illegal towing, David had a message to Terry.
"Learn the right way to deal will [sic] a**holes who think it's cool to block you in a parking space," he wrote in the caption of the clip. "Good thing my trailer has a folded tongue that allowed me to get my truck out so I can tow him out of the way, in order to move my boat."
Teen Mom 2 returns to MTV for season nine on Monday, January 14 at 9 p.m.