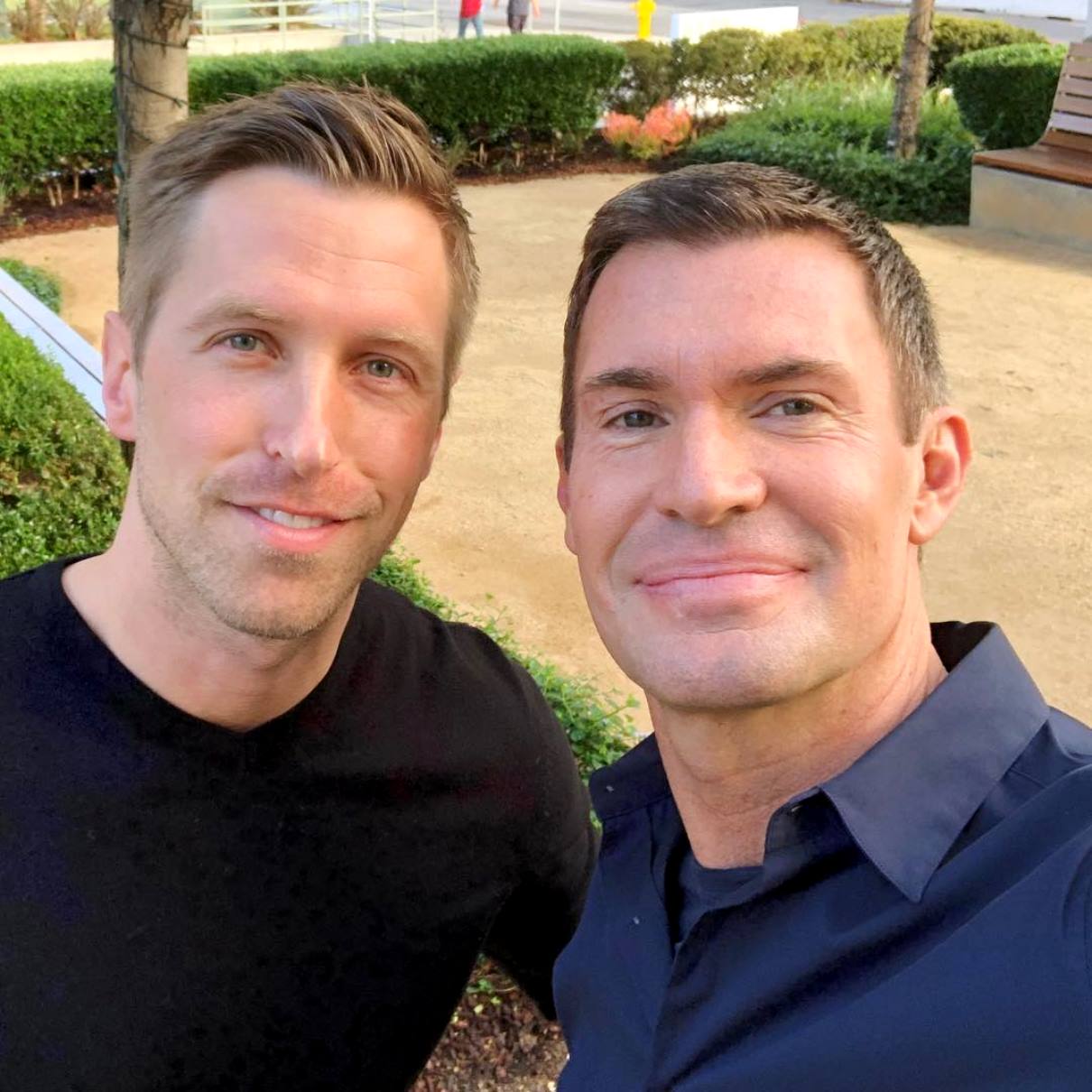 Jeff Lewis is sharing an update on his recent split from his longtime partner Gage Edward as a new report reveals that he is also very 'concerned' about how the break up will impact their young daughter, two-year-old Monroe.
Days after the Flipping Out star announced that he and his partner had gone their separate ways, after 10 years together, Jeff revealed on his Sirius XM show, Jeff Lewis Live, that Gage visited their home on Thursday night.
If you recall, the split happened on Wednesday and Jeff shared the news of the separation on his show on Thursday morning, and it doesn't appear Gage was aware Jeff was going to publicize the news of their split.
"I'll be honest with you. I did talk to Gage yesterday," said Jeff on February 1. "He was at the house and we put the baby down together. And we talked a little bit in the kitchen before he went back to his hotel room. He said, 'You know, I really feel like by you announcing [the split], it made things final.'"
However, despite Gage's remark about the split feeling final, Jeff still has some hope that they might be able to work things out down the line.
"I think that every single person that we know is hoping for a reconciliation," shared Jeff. "I don't think anyone would be upset if we worked it out in a month or two or three or four or five."
Meanwhile, a source is revealing that Jeff is "extremely concerned" about how daughter Monroe will be affected now that he and Gage are no longer a couple.
"Jeff is extremely concerned about how all of this will impact Monroe in the long term and is doing everything possible to keep the family together," a source explained to Us Weekly.
Jeff and Gage welcomed daughter Monroe, via a surrogate, in October 2018 and had been living together in Sherman Oaks, California in the years since. However, after Gage abruptly moved out of the home on Wednesday night, Jeff decided to keep Monroe with him. Meanwhile, Gage has been given around the clock access to the child and has been doing his best to stay civil with Jeff as they adjust to their new arrangements.
"[They] never fought in front of Monroe. She has been completely unaware of any tension between her parents," the insider explained. "She is at such a young age to truly realize what is going on, which is also helpful. They are both fantastic parents [and are] completely devoted to their daughter."
When Jeff first confirmed the news of his split from Gage, he told listeners that the breakup had "been a long time coming," but said he and Gage were hesitant to part ways because "neither one of us want to leave the baby."
"We've been in separate rooms for a very long time … we've had a lot of discussions about it … it was kind of like a roommate situation," he admitted.
In a separate report shared by PEOPLE, a source echoed similar sentiments, claiming that while things between Jeff and Gage are quite strained at the moment, they could ultimately reconcile.
"Jeff and Gage aren't talking about long term custody plans just yet," the source said. "They're still trying to work on their relationship, and Gage will still come and see Monroe."
"Everyone in their lives are hoping they come back together," added the insider. "They've been together for a long time and there's a lot of history there. Unfortunately, they've just fallen into a pattern. Hopefully, this time apart will help them both realize why they were together for so long."
In the meantime, Jeff and Gage are making Monroe their "top priority."
"She's totally unaware of any tension. They're great parents," the source said. "They both want to keep Monroe in the home that she's used to, around the friends that she's used to, and with the routine that she's used to. That's why she's staying with Jeff."
According to Jeff, he blames himself for not fighting to make it work.
"For many, many, many months I was like, 'F**k it. It's happening. We're breaking up. It's a matter of time.' And I didn't help matters any at all," he said. "I didn't fight for the relationship. I didn't work for the relationship."
"I reacted very negatively for everything that was happening last year. I didn't respond well and I didn't handle myself well. But then in January I was like, 'Wait a minute,'" Jeff continued. "Had I [checked in] 6 months ago, it would have been better… I didn't think he hated me as much as he does."
Moving forward, Jeff told listeners on Thursday that he hopes Gage will get the clarity and perspective he needs and move past the anger and resentment he's feeling towards him.
Jeff Lewis Live airs every Tuesday, Thursday and Friday mornings at 11/10c on Sirius XM Radio Andy.