Jennifer Aydin is taking fans inside her massive home in Paramus, New Jersey that she shares with her husband, plastic surgeon Bill Aydin, and their five children.
After gushing over the sprawling 12,000-square-foot estate, which boasts an 8,000-square-foot basement, on a number of occasions throughout her debut season on The Real Housewives of New Jersey, she's showing off her 16 bathrooms by sharing pictures of every single one. See those photos below!
"Sixteen bathrooms, you say? Well, the architect told me that when you build these houses now to keep the value, it's better for every bedroom to have its own bathroom," Jennifer explained during a home tour shared with Bravo's The Daily Dish.
"So you know what? I listen to people who have more experience than I do!" she added.
Jennifer and Bill's Master Bathroom
"Mine is on the left — it's a Toto that is heated and washes and dries for your ultimate freshness!" she revealed.
"I have two water closets for the toilets because when you've been married as long as I have sometimes you and your spouse are on the same schedule if you know what I mean," Jennifer added.
Justin Aydin's Bathroom
Jacob Aydin's Bathroom
Gabby Aydin's Bathroom
Christian Aydin's Bathroom
In addition to the bathrooms that have been paired with bedrooms, there also four bathrooms in the basement alone.
Bill's Office Bathroom
"I wanted a masculine yet modern feel, [so] I chose this crocodile wall covering in black," Jennifer explained.
Basketball Court Bathroom
"[The basketball court is in] the sub-basement, which is under the basement and I had to add this small powder room so we didn't have to climb one flight of stairs to get to a bathroom," she revealed.
Main Powder Room
In this bathroom, "detailed molding and a beautiful 24-karat gold colored Phylrich faucet and ornate mirror" can be seen.
Additional Powder Room
"[It] is closest to the kitchen and the most used," Jennifer said. "It's tiled all the way to the ceiling with porcelain tile that looks like wallpaper, but it's tile to keep it clean and scuff-free."
Jennifer's Spa Bathroom
"I haven't used it yet, only my husband has. I just don't like it when it's too hot!" she admitted.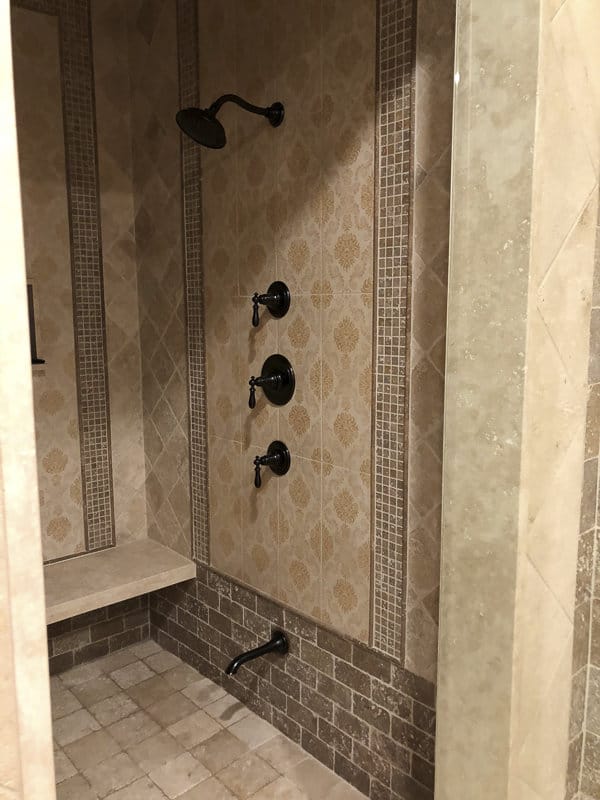 Jennifer's Upstairs Guest Bathroom
To see more of Jennifer and Bill's elaborate home, check out the video below.
The Real Housewives of New Jersey airs Wednesdays at 9 p.m. on Bravo TV.
Photo Credit: INSTARimages.com
TELL US – 16 BATHROOMS EXCESSIVE? OR JUST THE RIGHT AMOUNT?!