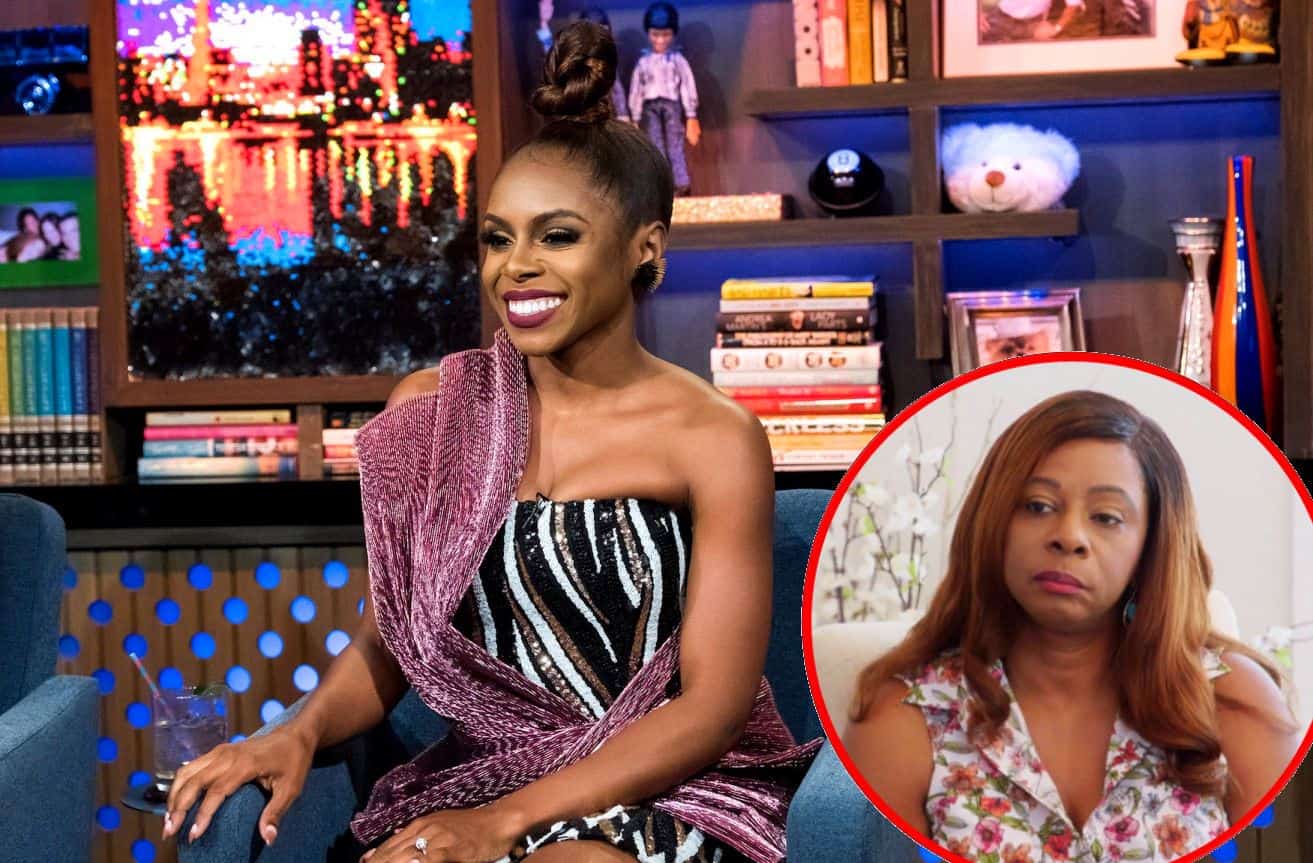 Candiace Dillard Bassett's mom Dorothy is speaking out and responding to the backlash over an argument she had with her daughter on the season premiere of the Real Housewives of Potomac.
During last Sunday's episode, Candiace and her mom got into it after Candiace revealed she had invited her half-brother to her wedding. Dorothy took major issue with that, citing that she felt betrayed that Candiace was trying to form a relationship with her brother, who was conceived during a tryst Candiace's dad had with another woman while he was dating Dorothy in college.
Many viewers were puzzled as to why Dorothy was so upset considering she later went on to marry Candiace's dad, after he had his son, and had Candiace with him before they ultimately divorced.
In a series of posts on a RHOA Instagram fan page, Dorothy defended herself, first responding to a fan who wondered why she had an issue accepting Candiace's half-brother after all these years.
"It is not for me to accept anything or anybody. It had nothing to do with me," wrote Dorothy on May 9. "[Candiace] has been on her own for 14 years. I have no concern with who she has a relationship with. I live in another state."
Dorothy later clarified that the reason she got so upset over the invite news was because she felt Candiace was purposely trying to provoke her.
"I love my daughter very much, I do need a little more respect from her. Besides that, we are good," she wrote. "We are on a TV show, yes, she knows how to bring the drama. She threw that crap in my face because she knew it would provoke me."
Candiace responded to her mom's post by writing: "You need to stop. You're only making it worse."
When it comes to Candiace's relationship with her half-brother today, she shared an update in her latest Bravo blog, stating they are still on good terms.
"Me and my brother are fine. I actually have never shared my mom's sentiments about him WITH him because I just never felt it was necessary. There was never a need for that kind of negativity in our interactions or conversations," said Candiace. "We mostly talk about how we are doing as individuals when we catch up: how his job is going, how his business ventures are going and what's new with me. We keep it light. He's really funny and a very intellectual thinker so our conversations always tend to run a little long!"
A new episode of the Real Housewives of Potomac airs tonight on Bravo at 8/7c.
Photos Credit: Bravo TV