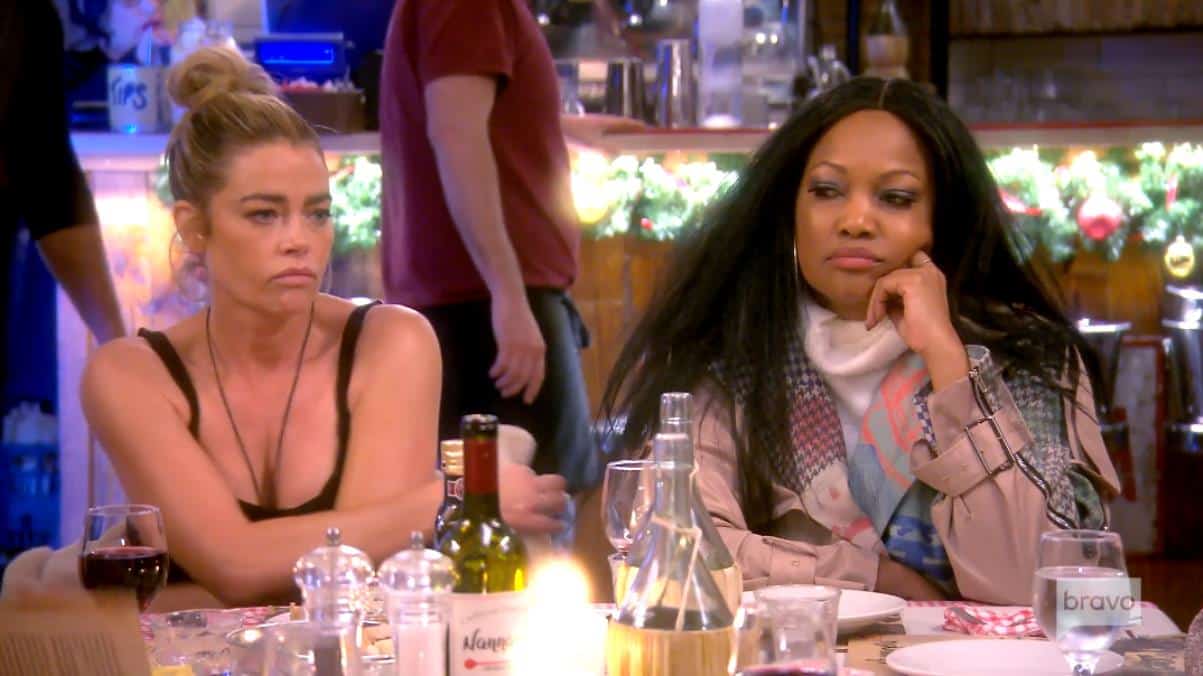 On this week's episode of the Real Housewives of Beverly Hills, we are still in Rome mean-girling Denise. UGH, Denise, hanging with this group is a waste of a trip to gorgeous Rome! Will she go home early to escape this drama? We will have to watch and find out!
We are back at the dinner from hell which I am sure would give anyone indigestion. Kyle and Lisa can't accept that Brandi claimed she slept with one of them. They will believe the truth cannon but only when it is about Denise. How convenient is that? Lisa doesn't want anything like that out in her faux-perfect universe but it is ok to share this crap with the world.
I did appreciate Dorit questioning all of this in her ITM. She comments that Kyle and Teddi aren't very fond of Denise probably because she makes more coins than them like LVP did. Teddi is just one of those people who over-analyzes every word in a conversation. Based on her asinine assessment of a situation, if you answer her calls you must be friends. That is just a stupid rationalization. I answer calls from people I don't particularly care for. That is just another ridiculous assessment from the self-appointed accountability queen.
Denise shares that Brandi had a mutual agent, which as I recall, is how they introduced Brandi back in last season. Production made it appear last season that they were actually real friends. Wow, this sure is convenient, Denise gives Brandi another opening into the show and she stabs you in the back. Typical truth cannon MO.
Garcelle wants Denise to do a better job at defending herself. Me too! Lisa thinks that Denise's explanation of events is dirty. She should know about dirty. When Rinna tells Denise, "If you don't want to be here, just go!" Who the hell does she think she is?
Garcelle can't understand why Brandi's word is freaking gospel. Me either. I did enjoy Garcelle stopping Kyle mid-speech! What Teddi has never been proven wrong? There is nothing to prove, no one wants to be accountable to you or respects you frankly. When she talks, I swear I hear Charlie Brown's teacher speaking!
Denise claims in her ITM that Brandi said these things about the other ladies and she just agreed with her. She said even worse was said about Teddi. Teddi got this job because of her dad, no doubt. Since Rinna wants everyone to be honest, let's talk about the husbands, shall we, Rinna?
Garcelle decides since they are just being honest, she asks Rinna a very loaded question! She talks about Lisa's body image and how it affects her daughter's eating disorder. I loved seeing Lisa squirm when Garcelle was confronting her about her exhibitionism. She was just being honest, Lisa. How does it feel to have your actions smashed in your face? It is really pitiful to see Denise sit there and cry. I love when Dorit in her ITM mentions a dark cloud over us and the camera pans to Rinna. How apropos is that?
Denise meets up with Lisa the next morning. She feels ganged up on. Denise, rightfully so, says that she didn't stand up for her. Lisa doesn't appreciate the comment about Brandi sleeping with any of them. She doesn't like the tit for tat stuff.  Well then, stop treating your friend like a piece of garbage. I don't believe the words coming out of her big mouth or her fake tears. Side note: Lisa looked terrible in this lighting which I see as justice.
Lisa feels bad that she didn't warn Denise. Denise feels blindsided. She wants to go to church so she drags Lisa with her. Lisa needs some divine intervention and needs to say a lot of Hail Marys. How can you be in such a religious city and act like vicious twits?
We then have to endure the random pairing of Kyle and Dorit. They are going on Vespas and are expecting Lisa to join them. Well, Lisa is busy back-pedaling after she ran her friend over with the nasty bus. I love it when Dorit is told she has to wear a helmet. She looks terrified. It will mess up her GLAM! The fact that she had to wear a hairnet under her helmet was awesome. I HATE when I have to laugh with Kyle.
Teddi, the bore, is at the spa with Erika. They discuss what they have going on when they return home. Erika shares that she is having Thanksgiving with Tom's family. His daughter is a chef and surprise, surprise, she is the same age as Erika. I am sure they just love being around the ice queen.
Garcelle, Denise, Sutton, and Lisa go to church. Lisa claims she needs church more than anyone, no duh. She obviously never learned a darn thing from all of the churches that she attended. It sickens me that Denise and Lisa are walking hand in hand. There is a two-hour wait to get into St. Peter's so they try to get as close as possible.
Lisa shares the story of how Harry Hamlin starred in a movie with Ursula Andress in Rome. They slept together and she got pregnant. They share a son. Well, he definitely downgraded to Rinna.
Lisa, in her ridiculous coat, joins Dorit and Kyle after they rode the Vespas. She tells them that she apologized to Denise. Lisa now acknowledges that what was being said was hurtful to Denise's family. Why do these ladies think they are the freaking truth police? She is suggesting NOW that they should have empathized with Denise? Side note: I hate Rinna in her hot pink silk ensemble in her ITM with that awful eye-shadow. Sorry, I digress…
I swear some of the get-ups when these ladies are getting ready are so over the top! For pizza? I am talking to Erika and Dorit. Dorit wants to have Teddi's baby shower at Buca di Beppo? That sounds like it would be in Teddi's wheelhouse. Boring and nothing special…
Denise has decided to come guns-a-blazing to this dinner. Finally! Put these bit*hes in their place! I swear, having to watch this abuse has been beyond painful. This woman has had to put up with Charlie Sheen for god's sake! Cut her some slack on vacation!
Denise wants to thank Lisa for the trip. She then does a toast and talks about being picked apart by these vultures each time she is around this group of wenches. Teddi, in case you didn't know, can't toast since she is pregnant. Erika is rolling her eyes. In her ITM, Teddi, with her strawberry shortcake hair, thinks Denise's speech is too well-prepared. Denise tells them they are mean girls and are way too judgey. Erika owns it in her ITM. Kyle smirks like the mean girl at the lunch table. Denise said this has been the worst trip she has ever been on. She resents that they dragged Brandi's lying carcass in to save this show. Lisa doesn't want the moniker of a mean girl used. Well then stop acting like an a** hat! You all did behave like that last season with LVP, own it, Rinna!
Garcelle can't take another moment and has to walk away. Denise has finally had enough and is done. Garcelle is brought to tears and would rather be home with her kids. She is obviously very uncomfortable with how these ladies are treating Denise. After chatting with Denise, Garcelle then goes back inside to the coven's table.
Denise wants her car to escape this trip from hell. A producer stops her by breaking down that fourth wall, again. He tells her you are making a big mistake? What, they don't have anybody else to step in to be their whipping boy? He wants her to let them have a chance to respond? Denise comes back in and wants to move past this. Finally! We have some pizza served and they put that food into their big pie-holes and actually shut up for once!
They decide to share childhood stories where they got in trouble. Denise shares she snuck down to Tijuana to drink. Erika had sex in the hospital when she was there for a head injury. That explains a lot! Garcelle had sex on a commercial flight. Kyle CLAIMS she had sex at a table of 10 at a black-tie event. Sutton thinks having sex in a sleeping bag without a tent is racy? Lisa had sex in a station wagon with her boyfriend next to another couple. Denise had sex in a church parking lot. Teddi, of course, has no story to tell since she is a total bore. Garcelle finally toasts "they are dropping all of the negativity" for now…
Next week, we have Teddi's baby shower. Brandi claims she has receipts about the hook up with Denise…