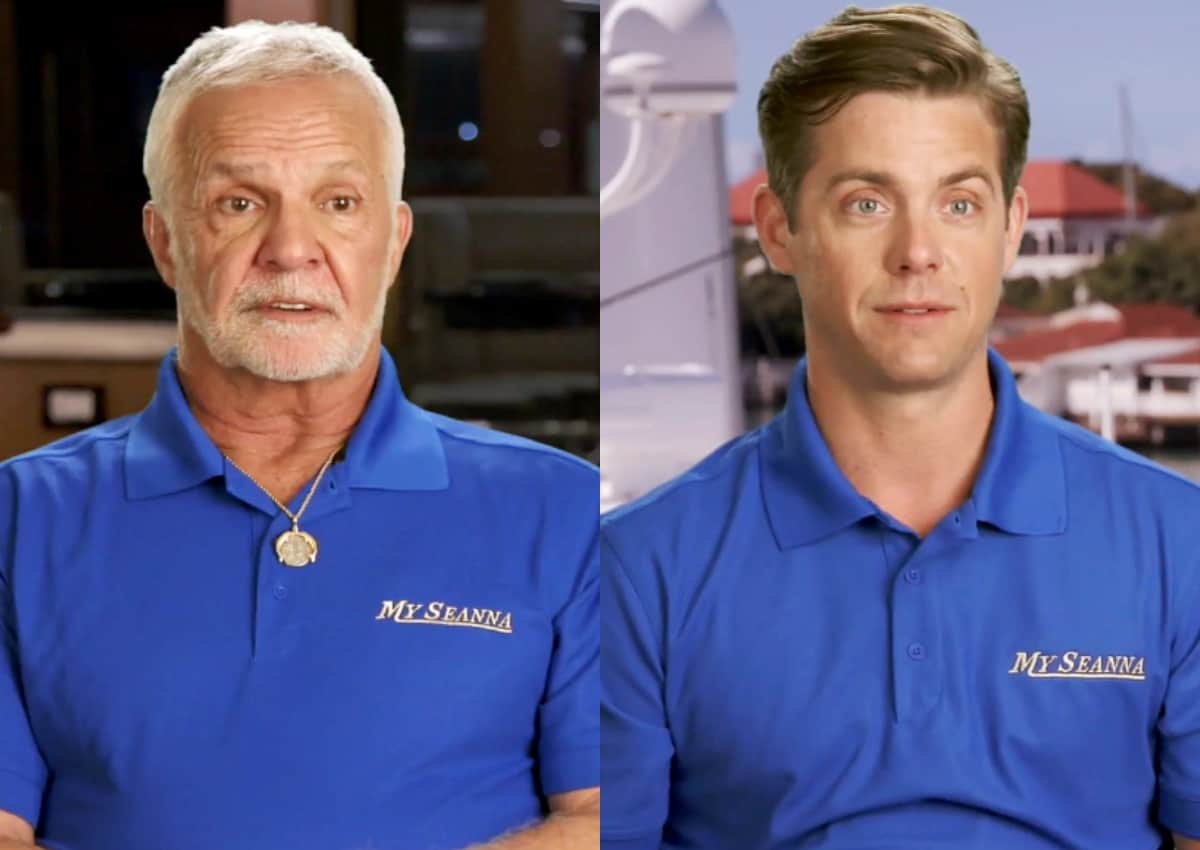 It's a new season of Below Deck in the Caribbean, but according to Captain Lee, "It's like going home again." We find out that Eddie is back after five years, but the rest of the crew is full of new faces. So much to learn and so much to see this season!
Eddie, the bosun, is from seasons' past. He claims he is "older and wiser," but that is yet to be confirmed. The rest of the crew is all new. Francesca, the chief stew (who, if you close your eyes and wish hard enough, sounds sort of like Hannah when she speaks), Rachel, the loudmouth chef, James, the deckhand and his washboard abs…sigh. Elizabeth and her spirituality, and Avery, "the jack of all trades." Izzy is like Aesha on steroids, and then there's Shane, the environmentalist/deckhand. This is some array on the "utopia yacht."
We open in Antigua, pre-COVID. The sun is shining, and Eddie is the first to board the yacht. Except there's one big issue: Captain Lee is nowhere to be found. Eddie calls him only to find out the captain is at the hospital after falling down in the shower. Leave it to Captain Lee to be cool even in the hospital after a fall with his gold bling. Eddie is forced to take on Captain Lee's responsibilities while he is down for the count. And that means Eddie must be in charge of a whole slew of things — including greeting the crew arrivals.
When Francesca arrives, she explains how to be a good chief stew. She learns about Captain Lee's injuries and you can tell she is immediately regretting her decision. Without Captain Lee, this is turning more into the Real World than Below Deck. Everyone's jumping on board and meeting, greeting, and checking each other out (i.e. James and his "fit girls" comment). It's cute to see how nice everyone is on the first day.
Avery explains that yachting saved his life and the deck crew starts getting down to business. While Eddie fills his crew in on Captain Lee's situation, Francesca is doing the same with her girls. We learn that Izzy has a lot of experience. She has quite a colorful past on boats, but I wonder if that will help her navigate service on a superyacht…
Shane is new to yachting and very clearly doesn't know WTF is happening. He is popping into the steward's meeting and wanders around the boat until he makes his way to his cabin that he shares with Eddie. The kid is confused about everything and essentially needs Eddie to tell him when to breathe. Seems like a PERFECT deckhand.
Everyone works as they get to know who is who. Francesca seems like a pretty good chief stew. Even Elizabeth can tell she has good vibes. James, Avery, and Shane discuss how they lucked out this season with the girls on the boat. Typical! And finally, to round out the crew, Rachel, the chef, arrives. She explains that she is not in the right mental space (when are these chefs ever?!) because her purse got stolen a few days ago. Although she feels like a hot mess, her 14 years of experience should help her get through this.
CAPTAIN LEE IS BACK, YA'LL! For a guy with damaged ribs, he is doing an amazing job of greeting the new crew. Wonder if he got pain medication for this, and wonder if he reported it…cuz #maritimelaw. He holds a meeting with his new crew, tells Avery to take his hat off, and lays down the rules. Because he has such a bad taste in his mouth from last season, Captain Lee makes it clear that he's not taking any BS and he refuses to be embarrassed by his crew.
Captain Lee is the best. He lets Francesca know he doesn't like to micro-manage (aka be like Captain Sandy), but he wants to be sure the yacht runs as smoothly as possible. Although Francesca is no Kate, Captain Lee seems to like her…even though his pants are not ironed the way he likes.
It's time to discuss the first charter, Charley, a returning primary who has been on Captain Lee's boats three times now. Rachel claims she is going to "f*ck this charter in the mouth," which I think translates to she will cook incredible meals for these guests. Interesting choice of words, but I digress. The yacht is whirring with excitement in preparation for the guests.
The next morning, Shane meditates while the rest of the deckhands clean around him. When Captain Lee catches a glimpse of this, he mutters under his breath, "f*cking kids," which is exactly what the whole world is thinking, too. Izzy struggles with putting together Captain Lee's breakfast and we all know that his multigrain Cheerios cannot be messed up!
James is quite thirsty as he walks around, showing off his gams. "This is the longest time I've gone without a wank since I was 14." COOL, James. File that under TMI, dude. It's the final push before the guests arrive, and while the interior seems to be killing it, Eddie looks a bit flustered as the time dwindles. Maybe if Shane pulled his weight instead of getting Zen, things wouldn't be so harried?
This group of guests seems like they are ready to rage — makes for good television, but makes for a massive crew headache. It doesn't help that Izzy works as slow as molasses. She is blowing it and Francesca is forced to problem solve left and right. Unfortunately, Francesca is not doing a great job managing. Things get bad. Very bad. Charley, the primary, takes orders for his friends and goes into b*tch mode. He starts making his own drinks and Izzy lets him!!! Izzy begins to question her choice to work the interior, but at this point, it's too late, girl.
When Francesca hears about Charley manning the bar, she is mortified. "This is supposed to be seven-star service." OMG. Talk about embarrassing. Captain Lee is NOT gonna like this… Maybe they should just fire Izzy and hire Charley? At least he knows how to make cocktails and can move faster than a turtle. Luckily, Elizabeth knows what she is doing and is agreeable. Stick Izzy with the unpacking. Drinks are MUCH more important now.
It would be cool if Shane would, like, do his JOB instead of, ya know, worrying about the straw situation onboard. At least supply these gazillionaires with metal or glass straws. Paper? They disintegrate, thus deluding the cocktails. Amateur. All I know is that it's a good thing that the chef knows what she is doing. So far her lunch looks like it's a hit, which is great considering the interior is doing a fine job of diminishing the tip.
Post lunch, it's water toy time. The guests are out of control and giving Eddie mini heart attacks as they are too hell-bent on getting the perfect picture and less concerned about safety. In the meantime, Avery receives some very sad news. His 86-year-old grandmother's health is failing. He finds Captain Lee and lets him know that he will be leaving. It's heartbreaking and Eddie is sad to see him go, considering he's the only deckhand with a brain. Captain Lee is sweating now that Avery is leaving since they are stuck with a "thirsty, high maintenance guest" like Charley. Will this crew get it together with enough time to salvage their tip??
TELL US – THOUGHTS ON THE SEASON PREMIERE EPISODE OF BELOW DECK?