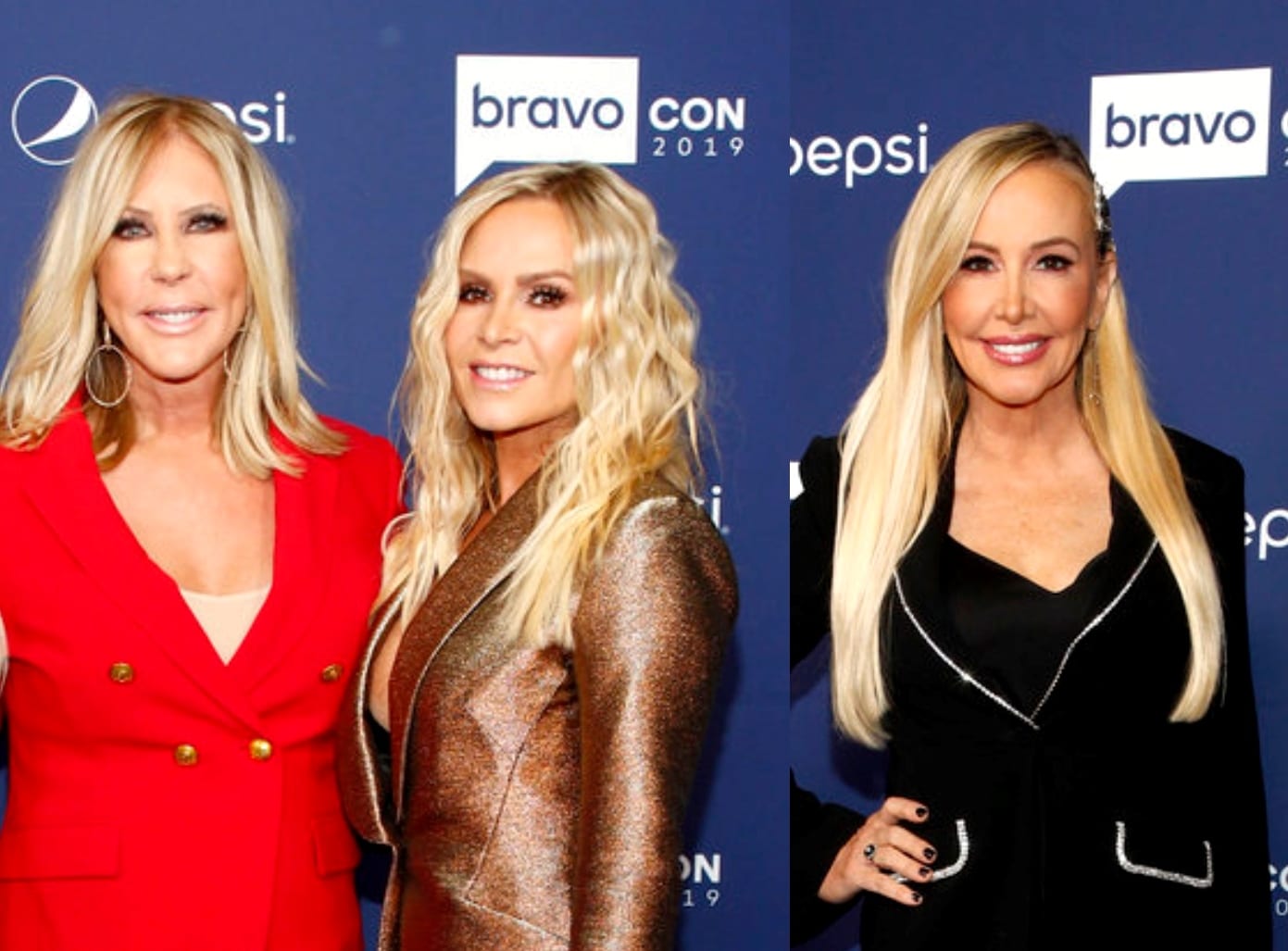 The friendship of Vicki Gunvalson, Tamra Judge, and Shannon Beador is self-described as 'The Tres Amigas.' During their time on Real Housewives of Orange County, the three women formed a strong alliance against the newbies.
When Vicki and Tamra got fired in season 15, however, the pack seemed to break, and Vicki and Tamra felt abandoned by Shannon, who kept her spot. They suggested that Shannon was only interested in being friends when they were on the show.
According to an interview with ET, however, the 'Tres Amigas' are now on better terms again. Tamra also revealed that she refollowed Shannon on Instagram.
"We were on a three-way text, Shannon, Tamra and I, talking about getting together," said Vicki, who was present in the interview. "I Facetimed with Shannon the other night. … She told me she loves me, she misses me, she needs me back on the show… blah, blah, blah. It was great, and then she called me afterward. She goes, 'I really love you,' when she got home. I said, 'OK, I love you, too, but where's the last two years been? Because I wasn't on the show you didn't love me?' She goes, 'I did…'"
"There's a lot to talk about, I think," explained Tamra. "Most of all, our feelings got hurt. It's a hard place to be, where you get fired from a show that you've been on for so long … and then have one of your good friends not reach out to you."
Tamra's new podcast with Teddi Mellencamp played a role in the reconciliation. "We recap Orange County, and at the [season 16] reunion I had mentioned I really felt sorry for Shannon," Tamra explained. "I felt like she was being ganged up on and all that, and then she had told one of my friends, 'Oh my god, that was nice of her to say that…' like, 'Let her know thank you…' and then there was kind of that communication, and then on Mother's Day there was a text, a group text, between the three of us which was very sweet."
Both Vicki and Tamra have discussed the possibility of returning to the show. However, their former castmate Heather Dubrow recently suggested that Tamra's podcast was a conflict of interest.
"[Andy Cohen] was under the impression that I had this [gossipy] type of podcast, behind the scenes, and I'm like, 'No, we don't. We are literally supporting Bravo. We have some of the best guests on the show,'" said Tamra. "I was able to clear the air and, yeah, he didn't say on there, 'Tamra will not be back!' It was just, I mean the press went crazy with it and it is what it is. We'll see what happens."
Interestingly, Vicki is now feuding with Teddi, Tamra's co-host on Two T's In A Pod. "I don't know Teddi Mellencamp, but I don't like Teddi Mellencamp," said Vicki. "I don't know something about her bugs me."
Vicki was actually one of their first guests, but she eventually called the show boring, and she said, "They used me for better ratings."
During their interview with ET, Vicki got angry at Tamra for continuing to talk about the podcast. "This is rude that you keep pitching your [podcast]," she said. Vicki nicknamed the show "Two Twits" and "Two Ps in a Todd." She also showcased her infamous fake snore.
Vicki and Tamra were recently on-screen together with other fan favorites from the franchise for The Real Housewives Ultimate Girls Trip. In the ET interview, Tamra explained how the spinoff is different.
"We talk about our time on the Housewives show," she said. "We break the fourth wall and I feel like people are really interested in that."
Real Housewives: Ultimate Girls Trip season two, the Ex-Wives Club, is currently streaming on Peacock, with new episodes being shared on Thursdays.