Congratulations are in order for Melissa and Joe Gorga's daughter, Antonia, who just received her first college acceptance letter. Also, Melissa is detailing how Antonia is dealing with their ongoing family feud with the Giudices.
Antonia has grown up in front of television audiences, and she is now a 17-year-old senior in high school. Mom and Real Housewives of New Jersey star Melissa took to her Instagram Stories on Wednesday, December 21, to share the happy news.
The story shows an acceptance package from Penn State with Melissa writing, "So proud of you [Antonia]!" She added that this is only "acceptance number one" as more are sure to follow.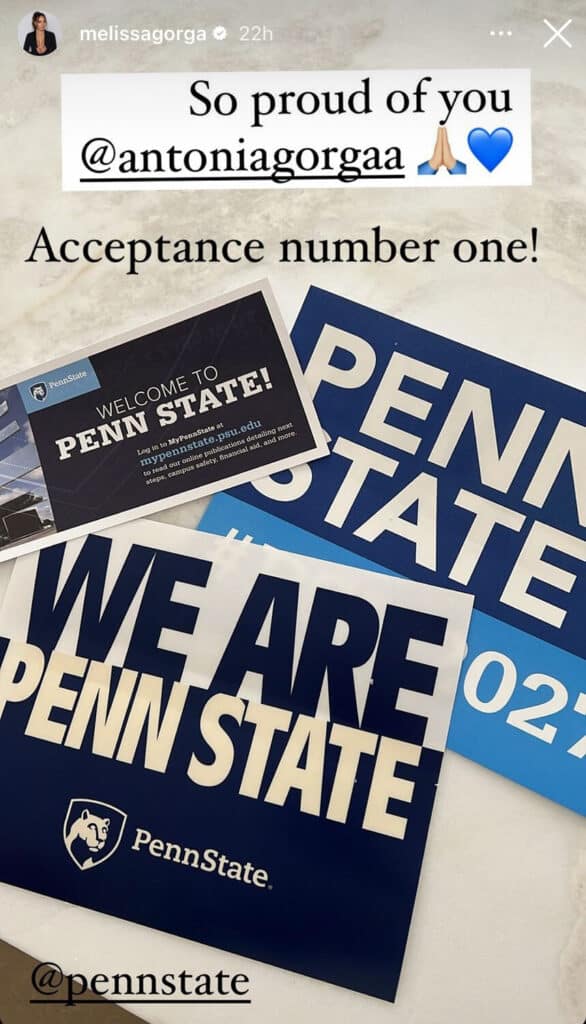 Clearly, Antonia was not embarrassed by Melissa's enthusiasm as she reposted her proud mom's post on her own Instagram account.
The Gorga household finally has some good news to celebrate as Melissa and Joe have been mired in a nasty feud with their family member and RHONJ co-star, Teresa Giudice.
Luckily, Antonia is unbothered by all her famous family's drama, which recently included her cousins Gia Giudice and Milania Giudice unfollowing her dad Joe.
"It's so crazy that [Antonia] is such a drama free – like she almost giggles at drama, like laughs at me, like she'll laugh at me. She'll be like 'Oh mom, please,' like she's unfazed by the fact that even, you know, her cousins unfollowed her parents on Instagram, like she just is like 'you know what mom? Not your problem, theirs,'" Melissa claimed on her podcast, Melissa Gorga on Display, via Heavy.
In fact, Melissa thinks Antonia inherited her "calm manner" from her.
"I think she gets it from me, you guys," she continued. "Yes, I've taught her how to handle situations…"
It seems that all the Giudice/Gorga cousins have decided to not let their famous family's penchant for drama affect their own relationships with one another.
Back in October, while appearing on Two T's in a Pod, Teresa's eldest daughter, Gia, expressed how close she and her cousins are.
"Family is so important to me, and I am so happy about the relationship I have with my sisters my mom, my dad's side is so strong that like I mean, obviously, I don't want the relationship between my cousins and I on my mom's side to be affected and I hope it will never be because of this B.S.," Gia asserted.
The Real Housewives of New Jersey drama is set to resume with the season 13 premiere, which airs Tuesday, February 7, at 9 p.m. EST on Bravo.