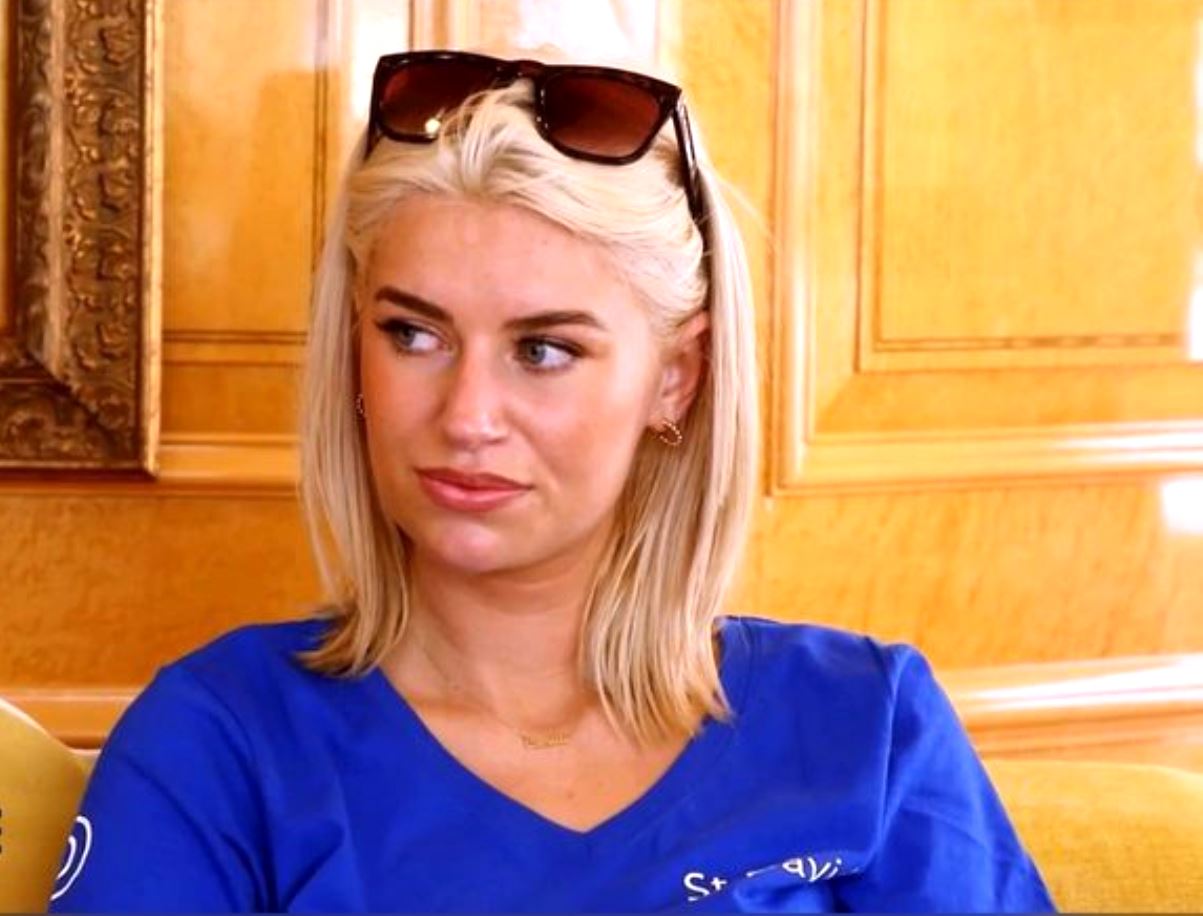 Camille Lamb is clapping back after her Below Deck firing. The star called out both a producer and her former boss Fraser Olender over a drinking confrontation that felt like a "set up" to her.
The deckhand/stew was accused of laziness by crew members and fans, and she fought continuously with co-star Alissa Humber (once in front of guests). Fraser's frustrations with Camille reached a boiling point when he caught her with a large glass of wine on the boat. Following an awkward confrontation, Fraser approached Captain Sandy Yawn, who agreed Camille should be fired.
On her Instagram Stories, Camille released a statement to her followers, sharing what allegedly occurred behind the scenes.
She first challenged the "narrative" of her firing, claiming that, on the day Fraser confronted her for drinking, "everyone" else was consuming alcohol as well.
"That day is designed to appear as if we are working all day," said Camille. "We [were] doing some things but also one by one being taken off the boat for hrs to do interviews 'confessionals' they call them. Where they offer you drinks or better yet truth serum."
Camille wrote she was "already sauced" from her interview, and then she came back to the boat and "finished what I had left … and opened champagne." According to the stew/deckhand, Fraser previously indicated that they "could drink" once they finished their jobs.
"So I open the champagne I saw Fraser use for tip meetings. Since he used it for us to drink I thought that was the one we used," she continued. "I'm no champagne snob so I didn't know [its] worth."
Camille, who was also a contestant on American Idol, confessed she missed "some things in cabins," and she could have been "more thorough in my drunken state." She then threw some blame at Hayley De Sola Pinto, who was "also responsible … yet I took all the fall."
Camille seemed to take aim at production as well, claiming "some of those photos" were of "rooms I didn't do." She alleged a producer asked her to go talk to deckhand Katie Glaser.
"Then Fraser called me out about clocking off early," she said. "Not saying it was a set up but it felt like it."
The star also added, "I'm not saying I shouldn't have been let go. I think it was my time to go. There was going to be no resolution unless one of us went and it happened to be me. I am ok with that. I was fed up anyway."
Camille then addressed accusations that she was "lazy," and she insisted she was working "90% of the time," though they chose "not to show" those clips. She suggested editing played a role when she supposedly "swam right before [a] guest" arrived at the beach, "yet my hair is dry when they show up."
"I'm just not going to accept and claim this narrative," she declared. "I will continue to be accountable for my actions with no shame because at the end of the day I grow from them and … I'm one step closer to success."
Below Deck airs Monday nights at 8 p.m. EST on Bravo.