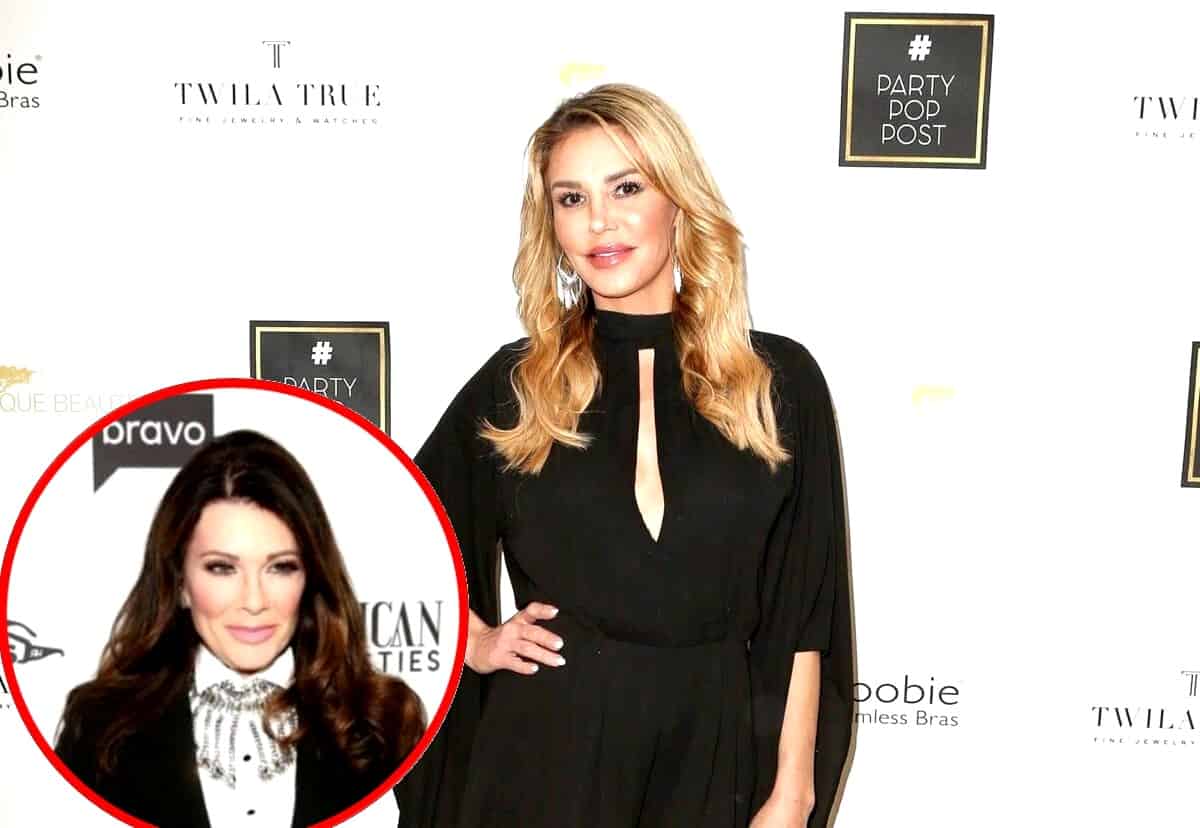 The Real Housewives of Beverly Hills alum Brandi Glanville recently recounted her time as a full-time housewife on the franchise, and she claimed that former friend and co-star Lisa Vanderpump played a large role in her being axed from the show.
While talking with Teddi Mellencamp on her Brandi Glanville Unfiltered podcast, Teddi claimed that the audience began to turn on her after she tried to out Lisa for her role in the "Puppy-Gate" scandal during season 10.
Brandi, who was once extremely close with Lisa, relayed that she had a similar experience with Lisa after confessing to Kyle Richards that Lisa had put tabloid magazines in her bag during an RHOBH cast trip in season four. The magazines said there was allegedly trouble in Kyle and husband Mauricio Umansky's marriage.
"I feel you on like once I crossed LVP, I was fired after that because I had lost my audience, no one liked [me] – I was the enemy and I agree with you, like you can't win after that. I mean I had other issues happening but crossing LVP was like pretty much the end of me," Brandi said.
Brandi has never wavered from her accusations that Lisa was part of the reason she was let go from RHOBH. Back in 2019, she took to Twitter to air out even more grievances against the restaurateur.
"My truth about LVP Is that she tried to ruin my life! She had employees trash my wine, she gave ultimatums on the show it was either her or me, she conveniently lost her memory during my lawsuit which cost me all of my savings. So yes, she is my own personal devil," she tweeted at the time.
Since Lisa's departure, Brandi has shown interest in returning to the show as a full-time housewife on multiple occasions.
In October 2022, Brandi told Us Weekly that she believes she can lighten up the cast as the show has become "Big Brother-ish."
"I feel like it's kind of turned into Big Brother-ish, like where everyone has their final two and that's not what I want to watch. I want to watch, like, real-life things, like, happening and not 'let's take down one person.'
Most recently, Brandi sparked rumors of a return after posting a video of her opening up her hand to reveal a diamond, leading fans to believe that she had finally convinced Bravo to reinstate her diamond-holding status as a housewife.
However, Brandi responded to the rumors by saying she "knows nothing" regarding casting, though did admit that she is on good terms with many RHOBH housewives, most notably Lisa Rinna and Kyle.
"I keep in touch with [Lisa] Rinna, I keep in touch with Kyle [Richards], I will always love Kim [Richards], but we're not talking at the moment, I don't really know why, but we're just not. But I will always love her. And I know Erika [Jayne], she's friendly with me, I know Sutton [Stracke], she's friendly with me. But as far as keeping in touch, it's mostly just Rinna and Kyle," Brandi revealed.