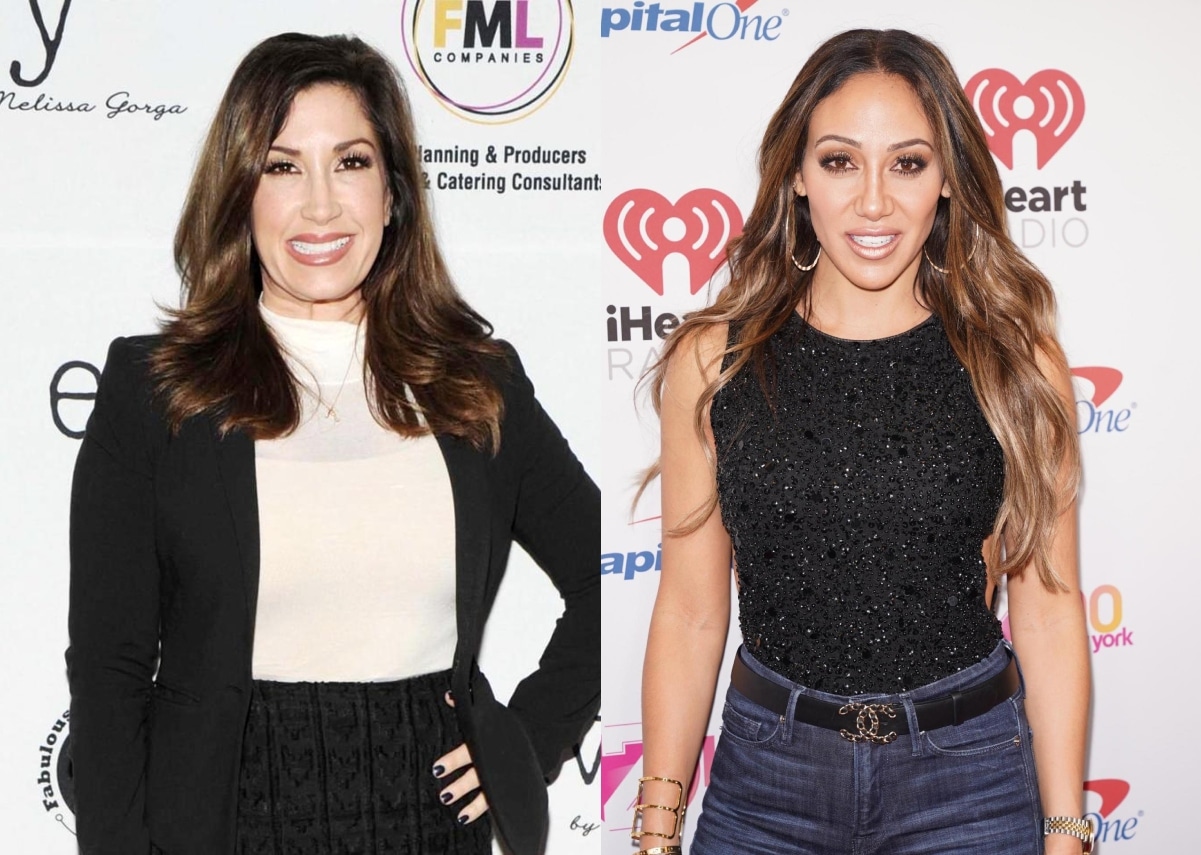 Jacqueline Laurita is exposing Melissa Gorga's alleged behavior regarding sister-in-law Teresa Giudice. According to Jacqueline, an entire series of events took place and never aired on Real Housewives of New Jersey.
Last week, Jacqueline suggested Melissa was trying to form an alliance with Caroline Manzo amid her rumored return to the cast. The alum claimed Melissa said Caroline was too boring and 'old' for the franchise. After Jacqueline's comments, Melissa denied the allegation, insisting she's always loved Caroline.
In an interview with AllAboutTRH, Jacqueline was asked if Melissa ever talked negatively about Teresa — or if she ever liked Teresa in the first place.
"I don't know what's pulling me to answer these questions when I usually stay silent. I love my quiet, private life…" said Jacqueline. "Yet I feel pulled to respond. I guess with the new RHONJ season airing soon, people are asking me a LOT of questions lately."
The alum continued, "Let's be clear…I have zero interest in going back on RHONJ. I live on the west coast anyway. As much as the girls trip sounds fun, I realistically don't see how I could get a sitter for that amount of time for me to go on it. I'm not even here to bash Melissa. I'm just here honestly answering questions from fans…. because I'm an OG and I don't have to silence myself just because I'm not filming anymore."
"So to answer your question truthfully, Yes, Melissa spoke poorly of Teresa when they appeared to be good, and no, I don't believe she ever liked Teresa or wanted Teresa and I to be close again," answered Jacqueline. "Everyone was just playing the TV game."
She added, "I'll give you one example of how Melissa was in my head. There are SO many more instances. The night before we went to Vermont, Melissa was calling me several times during the night because she knew I filmed a dinner with Teresa, Joe, Chris, Dolores and a first date of hers. (It never aired). She wanted the scoop. (We often shared what we filmed that day…or so I thought.) That night, Teresa and the rest of us had stayed out long after cameras went down. The truth is…we had a great night. It was a lot of fun. There were a lot of belly laughs! I enjoyed Teresa that night and it seemed genuine."
Jacqueline then shared, "When I told Melissa about it, she acted weird and reminded me not to trust it because Teresa really hated me and I needed to remember that. I told her that she was probably right, but I'd rather have her fake it and be fun like that, rather than fighting with me."
The star went on, "I believe Melissa was jealous that Teresa and I were getting along and she knew that producers were pushing for us to be friends again. That's why I believe Melissa twisted the narrative on camera into steering the viewers into believing that I was the one jealous of their relationship. The truth is…I was never jealous of their relationship. I knew how they really felt about each other and I always told Melissa (& Teresa as well) to fake it until they make it work, if they don't want to fight on camera and/or are unable to resolve it off camera. (I had to accept that 'reality' wasn't really 'reality' on our show anymore.)"
She explained, "Right after that, Teresa seemed to turn on me again. We were good that night at dinner and even right after I was mocking Robyn for trying to have her tv moment by coming after me. What happened after that, I still don't know. Was someone in her ear too?"
"I was also upset and confused about the way Melissa turned her back on me on camera after I was a good and supportive friend to her. I felt used by her. She planted seeds that I was being paranoid, when she was the one paranoid and also making me feel paranoid with the things she would tell me," Jacqueline shared. "Melissa didn't do that to me to be loyal to Teresa like some viewers thought, it was for how the fans would view her and to also keep a wedge between us. That's when I realized who she really is and I had no interest in ever talking to her again from that day on. She did the same thing to her cousin Kathy [Wakile] so I should have known better."
Jacqueline also revealed details behind her 'four nose jobs' comment.
"It wasn't her 4 nose jobs that I was calling out at the dinner. That was already obvious to everyone. Who cares that she did procedures. Everyone on the cast does stuff," said Jacqueline. "The part you missed was that I was giving an example of how she can lie with a straight face, like she did when Andy Cohen asked her the first time on WWHL if she had a nose job and she lied straight to his face and said it was 'contour'. I said 'You and your 4 nose jobs' meaning…that's how easy it is for her to lie with a straight face, as she was doing again that night in Vermont."
"A lot of whole conversations are missed with editing and sometimes people's reactions are to things you aren't seeing or getting the complete picture of in that moment," Jacqueline added. "That's what happened in Vermont and countless other times."