Real Housewives of Beverly Hills star Kyle Richards can't stop or won't stop sharing photos of her new svelte figure to social media, and who can blame her?
The mom of four took to her Instagram Stories on Monday morning to share a new gym selfie as well as a clip of her working out on a leg machine before heading out for a trip to Disneyland.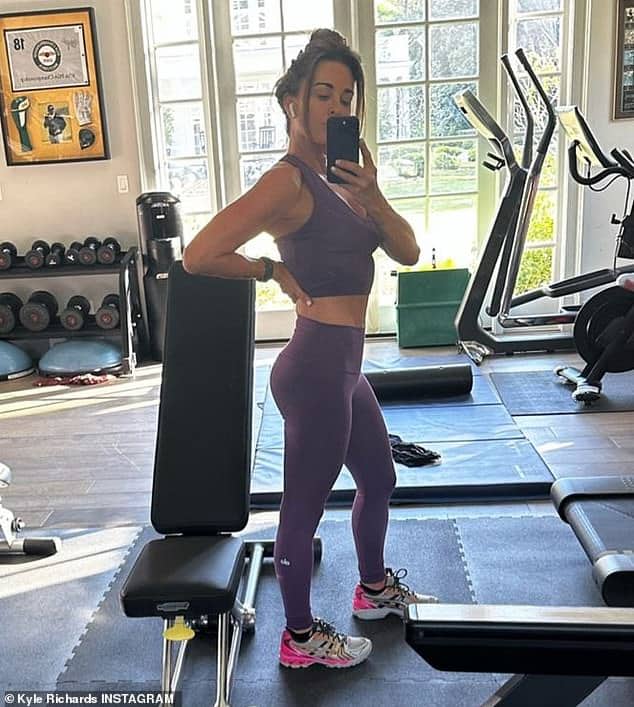 In her new share, Kyle can be seen wearing a mauve outfit, which hugs her new and leaner figure, as well as neon pink and yellow trainers. She wears this outfit as she hits the treadmill and leg machines in a video captured by The Daily Mail.
The RHOBH star has come under media scrutiny and social media backlash after many fans accused the actress of "cheating" and using the diabetes drug Ozempic to help her lose weight.
According to Kyle, the accusations couldn't be further from the truth, and her success is credited to cutting out carbs, sugar, and alcohol as well as a rigorous workout regimen. Fans know how much Kyle loves a good margarita, but she says she doesn't even feel tempted to imbibe.
"Truth is, I don't miss it at all," she responded on her Instagram Story to a fan's comment about saying no to booze. "I feel amazing so don't see the point right now."
As for the Ozempic drug rumors, Kyle explained to the outlet that the accusations are hurtful.
"When people try to blame my appearance on surgery or Ozempic, which would be completely irresponsible to use when diabetics can't get their hands on it, it's really frustrating to me," Kyle told the outlet.
"It bothers me. I'd rather just inspire people with what I'm doing so they can try the same things I've been doing and see what happens to them," the reality star concluded.