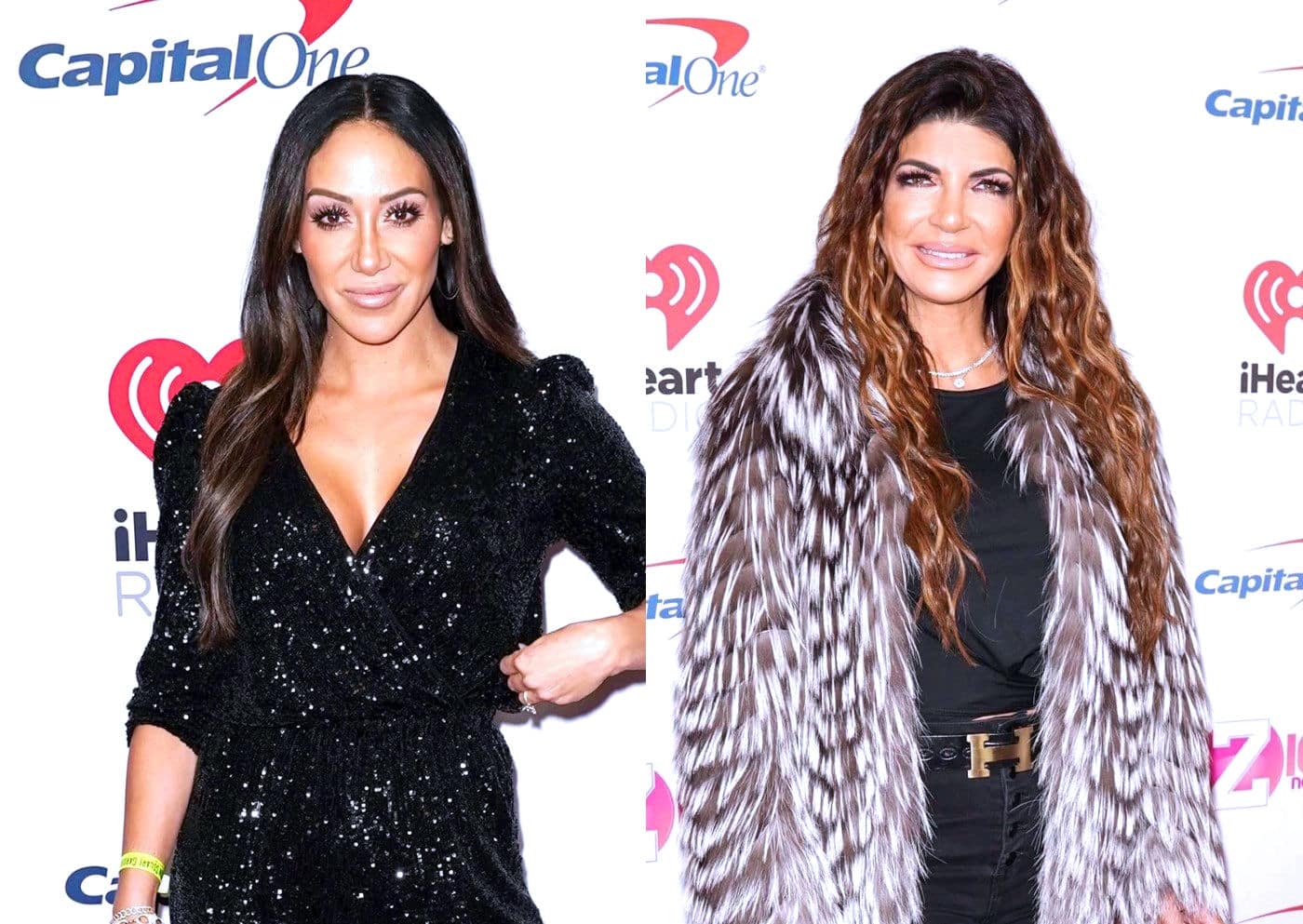 Melissa Gorga claimed her sister-in-law Teresa Giudice had surgery on her forehead in a past procedure after watching herself on Real Housewives of New Jersey.
The stars, who have both been open about other procedures, began feuding after Teresa allegedly discussed a rumor that Melissa cheated.
On the RHONJ: After Show, via Page Six, Melissa claimed her sister-in-law extended the length of her forehead.
"Everybody gets a little tune-up after the first time [they see themselves on TV]," said Melissa. "Teresa did her forehead. She went back a little further [with her hairline]. Everybody does something."
Castmate Rachel Fuda, who was also present in the episode, added, "I need to go a little forward. I got a little bit big of a forehead."
Melissa then expressed, "Me, too … I could give half of mine."
"Pretty girls have big foreheads," Rachel continued.
Melissa also addressed the rhinoplasty she underwent a few years ago. "I watched myself on TV; I went and got a nose job," said the star, who also shared that she got work on her "boobies" when she was younger.
Rachel admitted that she "got [her] teeth done" ahead of the current season, and she got a rhinoplasty that castmate Jennifer Aydin called "terrible."
Their co-star Jennifer Fessler shared she got "a facelift" following the end of filming season 13.
"You look like a walking filter," said Jackie Goldschneider. Fessler then responded, "That is the nicest thing that anyone has ever said to me."
Melissa gave a reminder to viewers that Jackie, who opened up about getting a "mommy makeover" – received "[new] teeth as soon as she saw herself [on the show]."
Danielle joked that Fessler was "the only person that got a season two face in season one."
"I mean, everybody goes for their glow-up, Danielle. You'll find on this show, we all get a big glow-up. Hello!" said Aydin, whose husband is a plastic surgeon, though her own rhinoplasty was performed by another doctor.
Giudice has previously discussed getting a rhinoplasty and having "[her] breasts re-done."
"I watched myself on TV; I went and got a nose job," said the star on the show.
Dolores Catania previously told Page Six that she "probably does the most out of [anyone on] all the 'Housewives' franchises."
According to the star, she's had "full-body lipo," a tummy tuck, a facelift, and "a brand-new vagina."
Margaret Josephs has said she underwent an eye, neck, and face lift before getting veneers — in addition to a breast lift and reduction.
The Real Housewives of New Jersey season 13 airs Tuesdays at 9/8c on Bravo.