Kyle Richards is producing and starring in an upcoming documentary about the career and health journey of country singer Morgan Wade.
As the Real Housewives of Beverly Hills cast member, 54, continues to be spotted with the musician, who she was romantically linked to amid her alleged separation from husband Mauricio Umansky, 53, weeks ago, a new report revealed Kyle's project as she was spotted spending time with Morgan, 28, in Aspen and attending her latest show.
On July 31, Kyle took to her Instagram Story, where she reshared a video clip of Morgan's concert at a venue called Belly Up.
"Best show," read a caption, along with five stars.
Kyle also shared a slideshow of photos on her Instagram page.
"Best time with the best people," she gushed, along with a photo of a group that included Morgan.
Meanwhile, while they were out together in Aspen, where Southern Charm Savannah alum Brandon Branch said they were "clearly together" and "clearly a couple," a fan snapped a photo of Kyle and Morgan at what appeared to be a deli.
"Kyle and Morgan in Aspen," Bravo Snark Side wrote in the caption of a photo shared to their Instagram Story.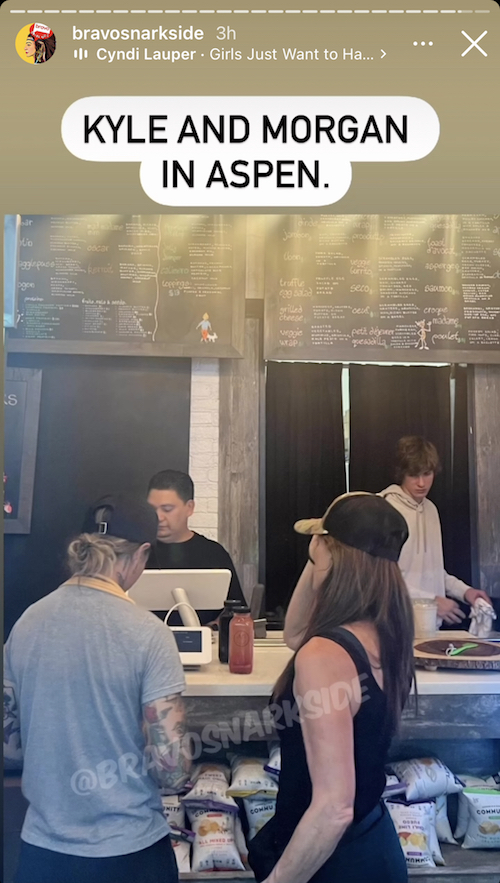 While many believed that the ladies were simply enjoying a friendly getaway amid Morgan's visit to Aspen, a July 31 report from TMZ confirmed that they were doing business as well. As the outlet shared, Kyle will act as both an executive producer and a cast member in the documentary on Morgan's life, which will highlight the ups and downs of the singer's career and personal challenges.
The outlet also revealed that audience members attending Morgan's show over the weekend were required to sign releases allowing footage to be used in the future production.
On Instagram on Tuesday, Kyle and Morgan were seen posing alongside another woman that had sound equipment hooked onto her belt, seemingly confirming the moment was filmed.
TMZ went on to state that Morgan's rise to fame and substance abuse issues would be chronicled and noted that her cancer challenges could also be featured.
As fans of the country star may know, Morgan has a gene that puts her at high risk for both ovarian and breast cancer. And in an effort to protect herself from a potential diagnosis, she'll be undergoing a double mastectomy this November.
Although numerous reports have suggested Kyle and Morgan are romantically involved, Kyle has continuously shot down the claims, most recently telling Page Six that they are no more than "very good friends."
As for her marriage to Mauricio, Kyle said on Amazon Live last week that she would like to be able to work through their issues privately.
The Real Housewives of Beverly Hills season 13 is expected to premiere on Bravo later this year. No word yet on a release date for Kyle's documentary.