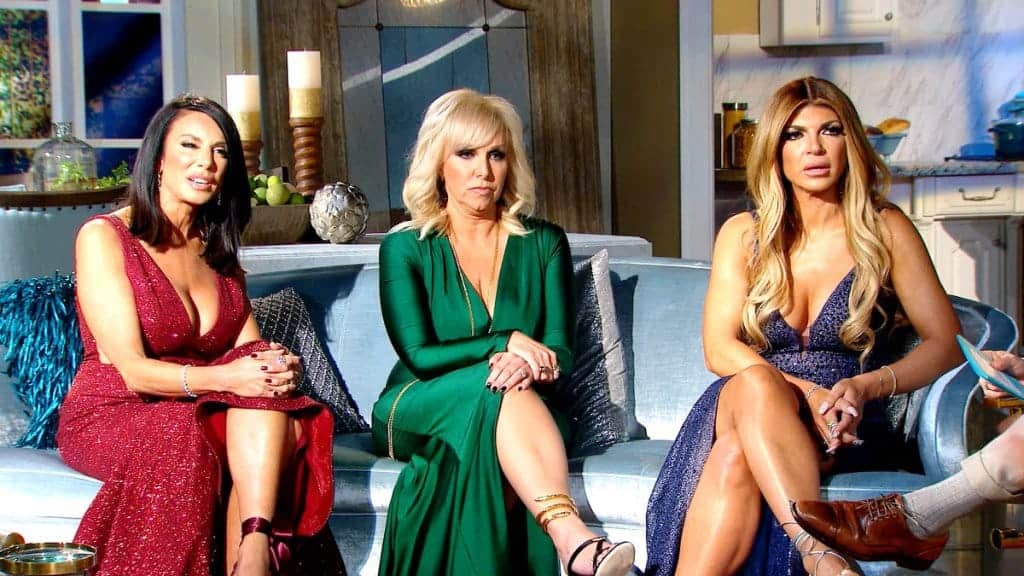 Well, the ladies of the Garden State got together one last time for the explosive second, and final, installment of the Real Housewives of New Jersey, and it was….a LOT!
If you watched the first part of the reunion, you know that Kim D., much to the disgust of Teresa, made an appearance on the couch, and when we picked up with the drama,  Andy was warning Teresa not to get out of her seat. She's gotten up before, and well, let's just say it didn't turn out well for Andy (he got thrown! It was hilarious!).
Kim D. has always stirred the pot, but this season, she took it to a whole new level by spreading gossip about Teresa, of all people. Teresa is not to be messed with, and if you try, you'll likely regret it…especially when it affects her family.
Earlier this season, Kim D. told Siggy and Dolores…on camera…that Teresa was "reigniting old flames", implying, in her not at all subtle way, that Teresa was being unfaithful to her husband, Joe, who is currently "away" (in prison for four years).
Siggy and Dolores defended Teresa, but she was rightfully angry, considering that her husband and four daughters would likely hear the accusation.
Kim. D's rumors are usually pretty salacious, and as Melissa said, she has a tendency to "go for the jugular". Melissa's no fan of Kim D's either, of course, after she used one of her previous fashion shows to "out" Melissa for her alleged past as a stripper, a claim Melissa has denied.
Kim D. said that she did enjoy causing trouble, but certainly wasn't  "evil". Teresa disagreed, and trotted out a whole litany of ways in which  Kim D. is less than virtuous.
Teresa said that as it turned out, Kim D. had raised far more money for herself from this year's "charity" fashion show than the people she was supposedly trying to help. Kim D. defended herself, saying that there were costs involved, and she had to recoup some of the expense.
But Teresa wasn't finished. She said that Kim D. was a "home wrecker", and began discussing Kim D's past relationship with a man, who wasn't yet divorced when he became engaged to her. Kim D. said that the man was now deceased, and how dare Teresa talk about someone who has passed away.
And then Teresa dropped the biggest bomb of all! She accused Kim D. of being a "magnum"—that's Teresa-speak for Madame. According to Teresa, this is the only explanation for how Kim D. can afford her lavish lifestyle.
Kim D. denied the claims, of course. Although I must say her denial was a little less vehement than was completely comfortable, and she was also quick to say that she it wouldn't be so bad if she was. But Teresa claimed she got the information straight from the horse's mouth, when Kim D. told her about her "prostitution company" years ago. Melissa also piped up to say that she'd heard similar rumors about Kim D.
Throughout all of this, Siggy was not the center of attention (didn't we get enough of that last week?), and she couldn't have that, so she began an elaborate prayer, as she sat on the couch. When Andy asked what was on her mind, she said that the rumor spreading and fighting were hurtful and damaging, especially since the ladies all live in the same small town, and that yes, she was indeed praying for them all.
Ugh! This was just too rich coming from Siggy!   She has stirred up  more turmoil and incited more arguments this year than anyone…and that's saying a lot.
With "cake-gate" monopolizing the first part of the reunion, it was now time to discuss what will forever be known as "The Hitler Debacle of 2017". This is not an overstatement.
Part of the collateral damage from Teresa and Kim D.'s fallout, was that Melissa, Teresa, and Danielle became angry at Siggy and Dolores for walking in Kim D.'s show even after her lies about Teresa.
When Siggy said that she wasn't going to stop being friends with Kim D. because of her treatment of the other ladies,  Margaret made the analogy that Hitler wouldn't have killed her, but that didn't make him a good person.
Siggy is Jewish, and the daughter of a holocaust survivor, and took immediate offense  to this, although she took weeks to confront Margaret about it. But when she did? Wow! The ladies were in Milan, and the confrontation led to screaming, plate throwing, and Siggy accusing Margaret of being an anti-Semite.
All of the other ladies, and Siggy's father disagreed. They felt that while it may have been an insensitive remark, Margaret wasn't trying to cause offense, and certainly didn't deserve to be labeled a bigot.
When the issue was revisited last night, Siggy said that she was still hurt, and yelled "shame on you!" over and over while pointing at Margaret. Andy Cohen, who is also Jewish, said that he did not agree with Siggy either, and didn't see the comment as being all that bad.
Siggy was outnumbered, so she just shut down completely, and said that it never should have been said, and she didn't give a s*** what anyone else thought about it! Of course not, because ONLY Siggy's feelings matter.
And Siggy wasn't finished with Margaret, either. She asked Margaret "how many lawsuits" were currently filed against her. Margaret said that her business was being sued for copyright infringement, but that it's "common business practice". Is it?!
Siggy said that Margaret was everything she taught her children not to be…cheaters, thieves, and liars! That may be overstating things a bit, but no one's going to accuse Siggy of living in reality.
Now with all that drama, what could possibly be left? Oh, honey! We're only at the halfway mark. Dolores and Danielle had unfinished business to discuss, as well.
These two did not get off to a good start. Dolores only knew Danielle from what she'd seen on the show, and heard from her friends, and former cast members, Jacqueline  Laurita and Caroline Manzo. And what they had to say about Danielle wasn't good.
Dolores felt that Danielle had only returned to the show to cause trouble, and to put a wedge between her friendship with Teresa. That might have been a little paranoid, but Danielle WAS humiliated when she was on the show before, so Dolores may not have been too far off.
Danielle told Teresa that Dolores said that Teresa put money above everything. When confronted by Teresa, Dolores denied she'd said any such thing, and that even if she thought it, she certainly wouldn't confide in Danielle.
Teresa wasn't sure who to believe , but Dolores had a point. Why WOULD she say that to Danielle of all people, a person she believes to be a "liar and scum bag".
As this issue was revisited, Dolores again started calling Danielle names, and then said that she thought maybe Danielle was on "Xanax, or something", because "something about her seems off"!
Another damaging allegation. These women absolutely love to accuse each other of horrible things that have no basis in fact. Dolores freely admitted she had no proof. Danielle was understandably outraged, and stormed off the set, yelling the entire time about not wanting anything to do with Dolores, and threatening to "tear the whole set apart this time" (this isn't Danielle's first rodeo)!
Teresa and Margaret rushed after Danielle, comforting her, and advising her not to "give life" to Dolores' lies. Dolores, still out on the couch fully enjoyed this scene, and laughed and said "I love getting her to this point".
So yes, this reunion was a lot! The ladies seemed physically and emotionally exhausted from rehashing all of that drama, but all agreed that it had been a good season, with some friendships tighter than ever, and some to be determined…maybe. And so they said goodbye in the most fitting way possible…with cake!
But we don't have to bid them farewell just yet! We'll get one final RHONJ fix next week, when Bravo presents an episode of unseen footage, and some of it looks juicier than the things that made the cut!
TELL US – WHAT ARE YOUR THOUGHTS ON THE RHONJ REUNION RECAP & EPISODE?