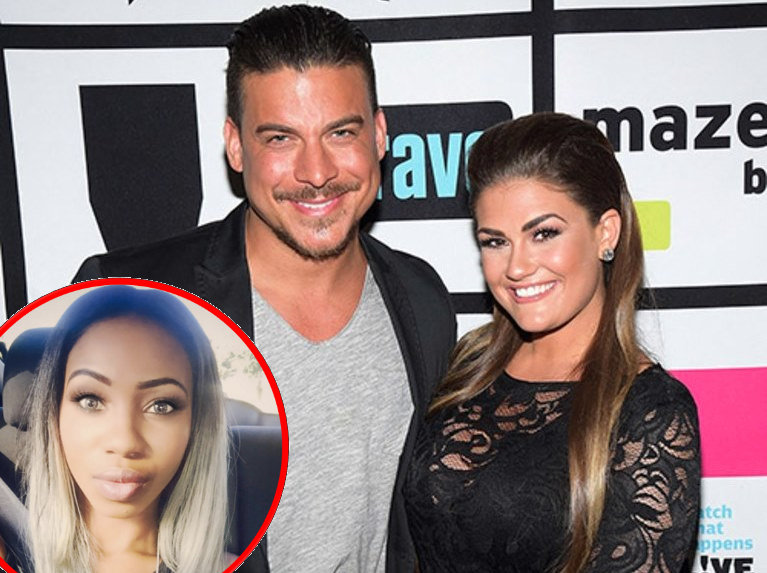 Brittany Cartwright has been seen enduring a shocking cheating scandal with her boyfriend, Jax Taylor, throughout the first several episodes of Vanderpump Rules, but she hasn't been watching.
During a recent interview on The Daily Dish Podcast, Cartwright opened up about why she can't bear to watch the show, and also spoke out about  Faith Stowers, essentially calling her fame hungry while stating she tried to sleep with three cast members to get major air time on the show.
According to Cartwright, she went through a lot of emotions after learning Taylor had slept with their friend and former SUR server, Stowers, in early 2017 and was only further hurt by an audio tape made directly after. As fans saw on Vanderpump Rules, Taylor enjoyed a post-hookup chat with Stowers and informed her that he wasn't sexually attracted to Cartwright. He then said that his alleged plans to get married and have kids with Cartwright would never happen.
"I don't want to see it again. I know what's happening and I know the whole world is watching it, but for me it's like if I'm not seeing it, it's not there," Cartwright said. "I know that sounds crazy but it's just too hard."
Cartwright further explained that because she and Taylor have decided to work through their issues, it didn't make sense for her to watch everything play out. After all, she would likely end up frustrated and go back to the place where she was when it all started.
Cartwright then addressed Stowers but refused to mention her by name. "I can't stand the thought of her. She doesn't exist to me," she explained.
When asked if she believed that Stowers hooked up with Taylor to get on the show, Cartwright agreed with the idea, noting that she likely wouldn't have made a recording of her and Taylor if she didn't have intentions to release it.   "Yeah why would you have a recording? Let's be real," she said. "Just a horrible person, horrible person. That's all I'm going to say."
Cartwright then pointed out that Stowers has a history of fame-hungry behavior.
"Let's be real. She tried to date Max [Todd], who's Lisa's [Vanderpump] son. She tried to hook up with [Mike] Shay. There's just so much stuff," she noted. She does add that the attempted hookup with Shay happened after he was no longer with Scheana Marie.
Although Cartwright and Stowers are no longer friends, and understandably so, Cartwright said that she's gotten quite close with her other co-stars, and applauded them for supporting her throughout her drama with Taylor.
As for why she decided to take Taylor back after he was unfaithful, Cartwright said that Taylor is her best friend and for years, she's given up a lot for him. She also slammed those who say she's with Jax for all the wrong reasons.
"I hate when people say she's only staying with him because of the show or because she doesn't want to leave L.A. And I'm like 'oh really? Are those the only two reasons?' said Cartwright. "It can't be because I love him. Because I put my whole entire life into this. I changed everything for this person and I want to make things work? But whatever."
Photos Credit: Instagram
TELL US – DO YOU BELIEVE FAITH SLEPT WITH JAX TO GET ON THE SHOW?