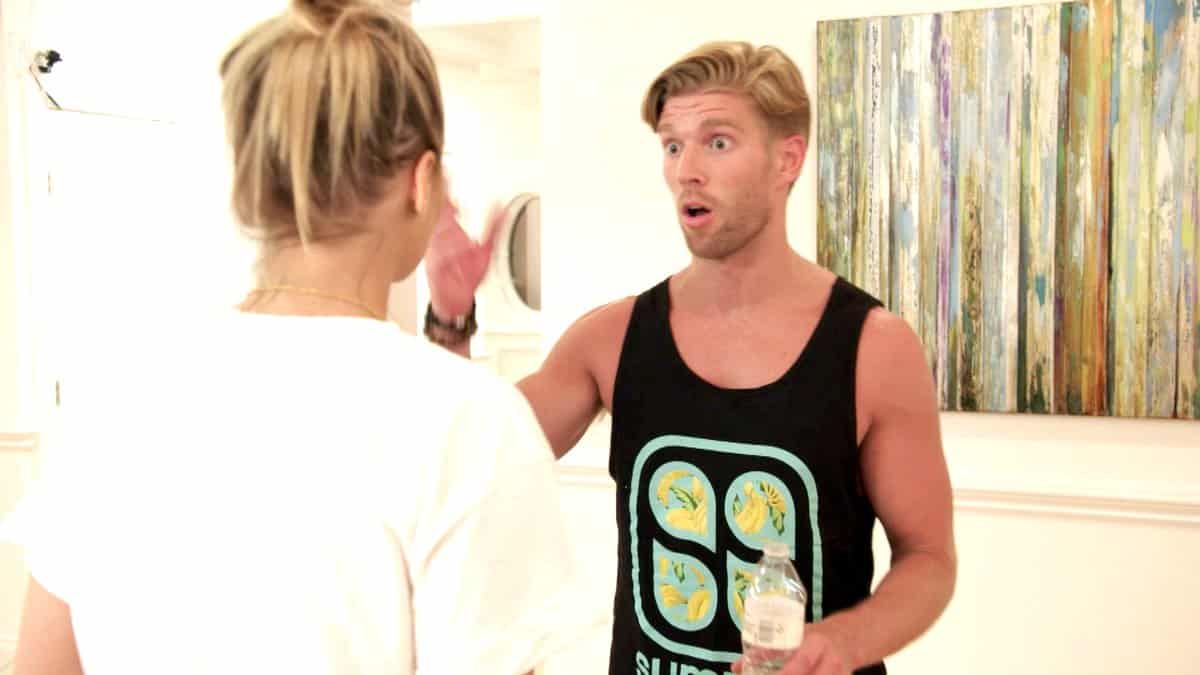 Lindsay's birthday weekend seems to have kicked everyone's a*s in the Summer House.
The boys are doing weird dance moves in the kitchen late-night and Kyle is ULTRA wasted. He falls asleep with his sneakers on and I'm about to grab a sharpie and show him what happens. That's like party rule #1! #amateur.
The next morning, Kyle cannot even remember if Lindsay got the flowers from Everett. Amanda is displeased and straight up states he "was embarrassing." It seems as though ever since the moms met, Kyle has gotten worse with his boozy ways. Amanda is confused and annoyed and it appears as though every day is ground hog's day in this relationship. Same fights. Different day. Speaking of moms, Carl FaceTimes with his mother, his main priority this summer. His mom is going through a messy divorce and he just wants to make sure she is ok. Very sweet of him, but I still don't like the guy.
Lauren hops into Lindsay's bed in the morning and Lindsay reads Everett's love letter out loud. It's "bullsh*t," yet brings Lindsay to tears. Lauren claims that Everett brings out the worst in Lindsay and Lindsay knows it, but get a couple of dranks and in her and BOOM. The girl wants him bad.
Kyle apologizes by giving Lindsay her birthday cake and it seems as though everything is a-ok again. The hung-over crew heads to brunch before traveling city-bound and all the girls have hats jauntily placed on their heads. Let's hope for no wind! When the topic of Amanda's lease comes up, Kyle dances around the subject the way he danced in the kitchen the night before. Again, Amanda is embarrassed and the cycle starts over.
Back in NYC, the weekdays just FLY by. Must be nice. Danielle and Lauren decide to meet up for a double date. Except Danielle actually KNOWS her guy and Lauren is essentially on a blind date. Kiiiiiiiiiiinda awkward. But, according to Lindsay, "Stella's gotta get her groove back." And Lindsay isn't the only one on da prowl. See: Stephen hanging with the Hamptons guy, Travis. He's "invested in it."
I'll tell you who ISN'T getting their groove back…Kyle and Amanda. Their relationship is very clearly strained after the past weekend and Amanda is upset that the "apartment conversation never happened." Kyle makes some stupid excuses and ends his motivational pep talk with a hand shake and somehow, the relationship is fully mended.
Andddd before ya know it, it's Friday just like that!
The gang is back together and ready for another weekend of partying…that is until they are greeted with a stank a*s smell. They decide to just close the affected area and pretend that nothing is wrong. Which seems to be the mantra of this summer house. Take Stephen's parents, for instance. They choose to act as though Stephen is not gay and when Stephen shares this info with Danielle, there is a brief tear fest.
PHOTO – SUMMER HOUSE'S LINDSAY SHOWS OFF HER NEW BOOB JOB!
Later, half the group decides to head to a burger joint and the other half stays home in the stanky house. The burger crew seems super awkward as Carl and Stephen are fighting and Amanda and Kyle have tension and Danielle and Carl use to date and…and…and…just take me back to the house. Sushi, red wine, and Amit seem like a way better route. The sushi gang heads out on the town with Amit as wingman and one of the crew doesn't come home til 9 in the morning! Lindsay walk of shame's her way into Lauren's bed after a late night of "hanging" with a polo player from Argentina and Lauren hopes that the polo peeps come to their house for the next party. I'm gonna go with a yes.
Meanwhile, Carl awkwardly asks everyone if it would be cool for his "friend Lindsay" to stay at the house, as he is "trying to be transparent." Carl isn't the only one bringing a lady to the party…Amit's got Gabby, an ex that he hasn't seen for two years. The "other Lindsay" rolls up and the mean girls self-tanning try to pretend that its cool Carl has a new lady friend. That issue doesn't linger long, as surprise! The polo players showed up to the party! No shock there- hellooo Bravo! Not everyone is smiling in this house. Stephen's once heart emoji eyes have now turned to tears. Travis, his newest love interest, is having a birthday party…but he isn't responding to Stephen. Poor guy.
"Single Lindsay, Positive Lindsay…we're all aligned." Once Marcos, the polo player from the night before, rolls up to the party, Linday's like Everett WHO?! Everyone is legit in it to win it and the sexual tension throughout the house is palpable. The only one moping around is Stephen as his newest love interest has STILL not texted him back. Hey, at least he's not dating Kyle, amiright?
Now THERE'S a guy who wins hot mess of the year award. Kyle does NOT like it when Amanda calls him out on his behavior. Kyle states he has had "so little fun these past two weeks" because of Amanda. Um, ouch? Amanda states that this is not "fun" for her anymore. As he stumbles around, he says mean and hurtful things to Amanda such as, "I don't think I'm gonna marry you." Now this is NOT a conversation to be had after a day full of heavy drinking. Don't these people ever learn?
Kyle is "incohesive" and more and more people head out of the party to go their separate ways. Lauren pops in to check on Stephen who is very clearly not okay. Travis FINALLY wrote back, hours later and Lauren suggests they just show up to his party. Hooray! Stephen's pity party is averted!
In the other room, Amanda is hyperventilating and Kyle screams in her face that she is "NOT FUN. Amanda- not fun!" I'm sorry. I wasn't aware that Kyle was the FUN POLICE. Dude, check your 35 year-old self. Byeeeeee.
TELL US – THOUGHTS ON THE LATEST SUMMER HOUSE EPISODE?