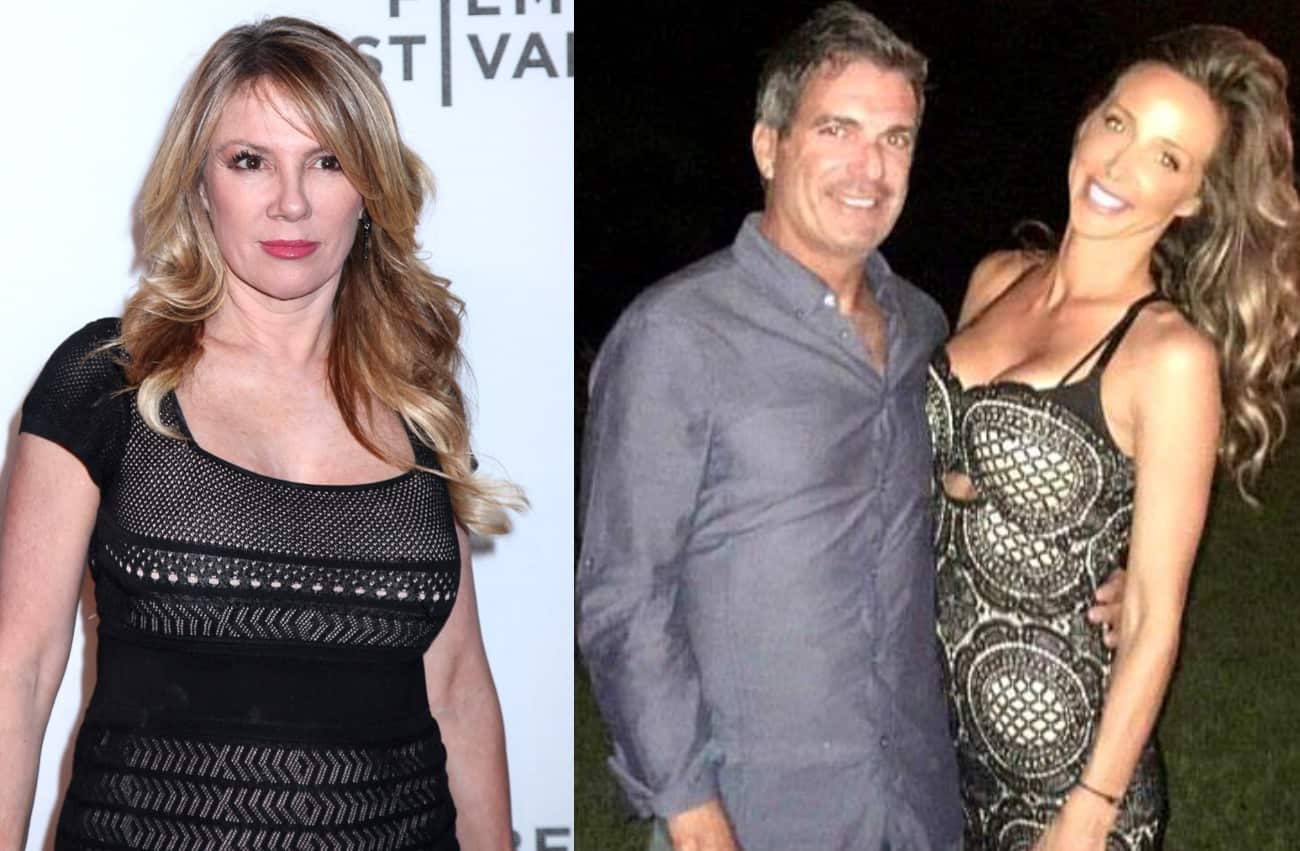 Kasey Dexter, the former mistress of Mario Singer, is speaking out.
In a new interview, Kasey opens up about her affair with Mario, and how Ramona Singer, star of the Real Housewives of New York, ultimately caught them cheating. She also discusses her 3-year relationship with Mario following the affair and how Avery Singer never accepted her. Additionally, Kasey reveals the messages Ramona sent her.
First, Kasey, 36, shares how RHONY star Ramona caught Mario, 64, cheating.
"She followed us heading to their South Hampton home," said Kasey during an interview with Becky In Boca. "We had just picked up some food at the restaurant to have dinner. We had the dog. I went upstairs to start putting my clothes away and she just barged through the door, and Mario slammed the door."
And yes, that means Mario was taking Kasey regularly to the Hamptons home he shared with Ramona.
"I did sleep in the marital bed. Just telling the truth," admitted Kasey.
What did Ramona do after catching them in the act? Well, she called the cops!
"Yes, she did [catch me in their marital bed] red handed. South Hampton police came. I just had to grab my stuff. I'm sitting at the top of their stairs, like shaking. I remember calling my mom," she shared. "So we left. We went to one of his friends' homes."
After that incident, Mario and Kasey continued their relationship… at the same time he was apparently trying to fix his marriage to Ramona, which led to Ramona sending Kasey some messages.
"They tried to get back together. They went on a trip to St. Barts I think twice. It was tough for me even though I had a boyfriend at the time," said Kasey. "When Mario got me an apartment, she kept texting me about 'how much is the rent? How much is he spending on you?'"
Ultimately, Ramona filed for divorce as Mario would not end his relationship with Kasey. And Kasey says that while things were great with Mario, the fact that Mario and Ramona's daughter, Avery, wanted nothing to do with her affected their relationship.
"He did spoil me. For a few years, everything was fine. She was out of our lives, Ramona was," revealed Kasey. "Obviously Avery, his daughter, was in his life but you know, it was hard. Mario would say, 'You know, the two most important women in my life will never have a relationship. She'll never accept you."
After a while, certain issues started to come up for the couple such as the topic of marriage and kids.
"He said at first that marriage is not off the table. He's been married twice already. But he said he would never have kids with me. He had a vasectomy behind my back," she revealed.
The couple did call it quits earlier this year after Mario caught Kasey cheating… red-handed in the home they shared together. Even worse, Mario found out about Kasey's affair by installing a hidden camera in their home. And then, he called the cops on Kasey when she wouldn't leave after he evicted her.
"I never really had to worry about anything. Our life was great. When I became his girlfriend, he started to get more comfortable. He knew that I would never leave him cause financially [I was dependent on him]," said Kasey, before going on to explain why she cheated on Mario. "He wouldn't tell me I'm beautiful all the time. And that's another reason I cheated on him with my boss. He made me feel beautiful and wanted. And I fell in love like crazy."
Ultimately, things didn't work out with Kasey and her boss as well. And Kasey revealed she is somewhat upset as she now has no job and no money because Mario left her with nothing following their relationship.
"I kind of resent Mario, even though I cheated on him, for evicting me. I almost feel like we got a divorce. What did I get in this settlement? Nothing," she stated.
Despite her comments, Kasey makes it clear she is sorry for her actions which led to the demise of Ramona's marriage.
"I'm very apologetic and sincere," she said. "I know I come across that I don't care but I do. I just try to make light of it even though it's not."
She also had a message for her "haters."
"If I could say anything to all these haters, [it's that] if it was not me, it would have been anyone else. He was not happy. So we just developed this connection and I fell madly in love with him," she added.
The video of Kasey's interview is below –
Photos Credit: Shutterstock, Facebook
TELL US – THOUGHTS ON KASEY'S INTERVIEW?