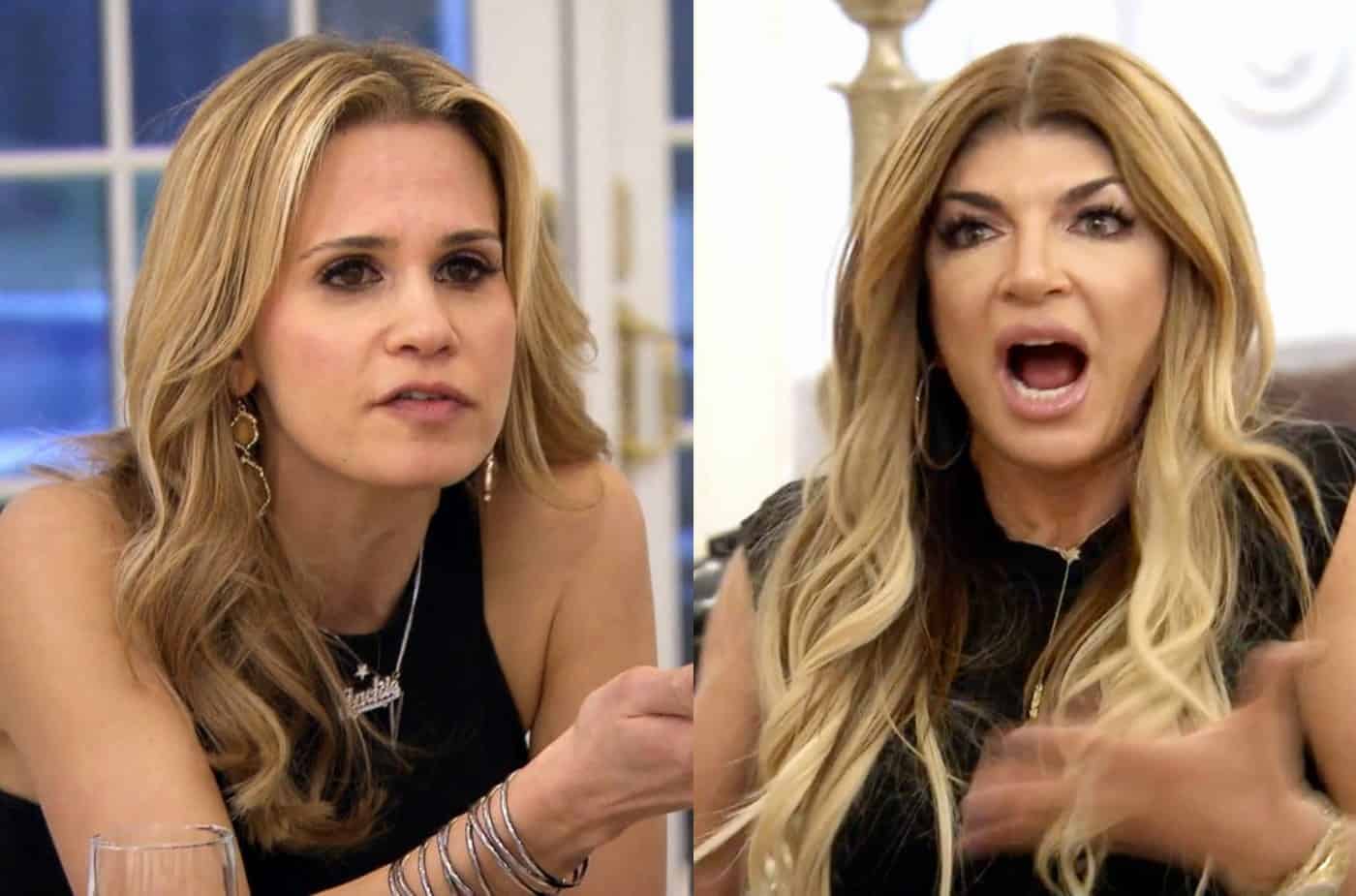 Well, the ladies of The Real Housewives of New Jersey were back in the Garden State last night, and back to their old ways. They brought all of their baggage with them from their trip to Oklahoma and then some, and unfortunately, they unpacked it all at the party Jennifer threw in her fabulous new house.  Here's how it all went down:
Teresa was still angry that her brother, Joe wasn't spending as much time with her father as she would have liked, but was feeling hopeful when he came by to check on Giacinto after he had cataract surgery.  Unfortunately, Joe once again had to "get back to work," and the visit didn't last long.
But Joe was having a hard time understanding what the problem was. After all, he remembered Giacinto working an awful lot, himself, when he and Teresa were growing up, and missing plenty of Joe's football games and other family fun, so surely he should understand Joe's position now.  But he's an older man, who's still grieving the loss of his wife, and was at that moment walking around in an eye patch, so Joe could hardly confront him–so he went off on Teresa instead.
He asked her if they could talk in her garage, and confronted her about the things she'd said to Melissa while they were in Oklahoma.  At first, Teresa gave it right back to him, and said that he didn't spend enough time with their father, and needed to step it up.  She also reiterated that he seemed to have time only when Melissa wasn't around, which by her logic means that she's keeping him from honoring his obligations to his father.  Joe said that wasn't true at all, and that, of course, he had to spend time with his wife and kids, and that he had to work to support them.  He said that Melissa was near tears as she told him about all the way Teresa blamed her, and that he couldn't understand why she would do that to her again.
Of course, Teresa felt that Melissa had simply turned on the water works to gain Joe's sympathy and ensure that he would be on her side, but he was genuinely angry at Teresa, just as Melissa had predicted he would be, and as usual, Teresa faltered under the gaze of her little brother, and rather than take the heat, she threw Dolores under the bus! That's right–when Joe asked why Teresa brought up he and Melissa's trip to the Bahamas, which happened to coincide with the anniversary of their mother's death, she said that it was Dolores who had brought that up, not her.  Okay, that's technically true.  Dolores was the one who brought the subject up with Melissa, but it had been Teresa who had brought it to her attention in the first place.  Joe wasn't really buying it either.  He said "f**k Dolores," but also told Teresa that he knew it was all on her.
He'd had it by that point, and turned around to kick the heavy bag hanging from the ceiling, before stomping off to his car, and peeling out of the driveway with his tires screeching.  Teresa shook her head, and said "here you go with the temper," before also giving the heavy bag a healthy kick, and stomping back into the house.  Oh, those hot headed Gorgas!
Of course, Joe told Melissa about his argument with Teresa right away, and both were happy that Teresa was Joe's only sister.  Melissa, on the other hand, was worried that she may have an extra sibling out in the world.  She was preparing to tell her sisters that a medium had told her that their late father may have had another daughter.  Melissa's sisters were shocked, but once they thought about it, they weren't completely surprised, considering their late father's wandering eye.  However, they all agreed that they needed to tread very lightly about following up with this information, and that they needed to take their mother's temperature on the matter before pursuing any type of relationship with their other sister–if they had one.
Teresa also told Dolores all about her showdown with Joe while they were giving her mom a healthy cooking lesson.  She said that Joe was angry with her for bringing up the trip,  and wouldn't you know it–Dolores didn't blame Teresa for throwing her under the bus. She blamed Melissa! Unbelievable, right?! Well, not with these women, but still.
In the meantime there was also a confrontation in Margaret's kitchen.  Danielle showed up and the two women talked for the first time since their showdown in Danielle's kitchen a few weeks before.  Danielle found out that Margaret was going to Dolores' hatchet throwing party, and lost it! She was still looking a little crazy around the eyes, but she was ready to make amends.  She told Margaret that she didn't "respond well" to hurt feelings.  They agreed to move past the bad feelings, but first Danielle performed a little loyalty test.  She asked Margaret whose side she would take if Dolores ever confronted her publicly, and Margaret assured her that she would have her back.  Danielle was happy to hear it, but warned that if Margaret ever posted pictures of her and Dolores together, she'd "cut a b***h." It was a lighthearted moment, but I'm pretty sure she was only half joking.
When it was finally time for Jennifer's party—a first with her new friends—both Teresa and Melissa were a little worried about how the others would behave, but all went well at first, as they put their issues aside to take a tour of Jennifer's much bragged about mega-mansion.  It turned out she wasn't lying.  The place was huge, if not a little gaudy, and Jennifer beamed as she showed off the home's many features and fancy furniture, much of which she acquired by traveling to China, as the furniture she found in China town was just too expensive, and she's really a practical girl at heart.
As the ladies settled in, Dolores wondered why Melissa was being so nice to her face, despite talking trash behind her back–she hadn't said a word about Dolores behind her back, and while she and Jackie went to check on the kids, Dolores and Teresa told the other women about Teresa's recent blow up with her brother.
When Melissa returned, Dolores wasted no time asking Melissa about whether or not Joe was angry with her.  Melissa said that Teresa would know more about how Joe felt, as she wasn't present for the conversation, and when Dolores said that she'd thrown her under the bus, Melissa assured her that she had not.  She said that she simply told her husband about their conversation in Oklahoma, and never even mentioned Dolores.  Teresa told Melissa that she didn't have to say anything at all about what they talked about in Oklahoma, although Melissa thought that was pretty rich, considering that Teresa had been yelling at her to fix things with Joe and his dad.
Dolores asked if she'd really tried talking to Joe and explaining that he needed to do better by his father, and Melissa said that of course she had, but that just as she'd predicted Joe had gotten upset because it was a touchy subject.  Teresa agreed, and said that it had been Melissa's job to ensure that he didn't get upset, and that she had failed miserably.  At that point Jackie had heard enough.  Melissa was getting dragged, and for what?! Failing to control her husband's emotions?? What woman could do that, she wanted to know.  Dolores said it must be a cultural thing, and that since she wasn't Italian, she wouldn't understand.  But Jennifer's not Italian either, and she was getting in on the act. She said that the husband might be the head of the family, but the woman is the neck, and he turns the way that she does.  Have you ever heard such nonsense in all your life?!
Anyway, Jackie said that any man that was controlled by his wife wasn't much of a man, and said that Melissa could have any conversation she wanted with her husband in any way she wanted to have it, and that they couldn't possibly expect her to control his thoughts on it.  Then it happened: she looked right at Teresa, and asked if her husband Joe would be in jail right now if she could control what he did.  OOOOH! Now anyone who know Teresa knows that you better not bring up Joe, and you really better not bring up where he is! But just as the women were waiting for the hammer to fall, Melania saved the day.  She came in to tell her mother that she was ready to leave, and Teresa collected their things and took her leave.  Wisely, the rest of the women soon followed suit, and the party came to an end.  But trust me, this drama is just getting started.  Stay tuned, viewers!