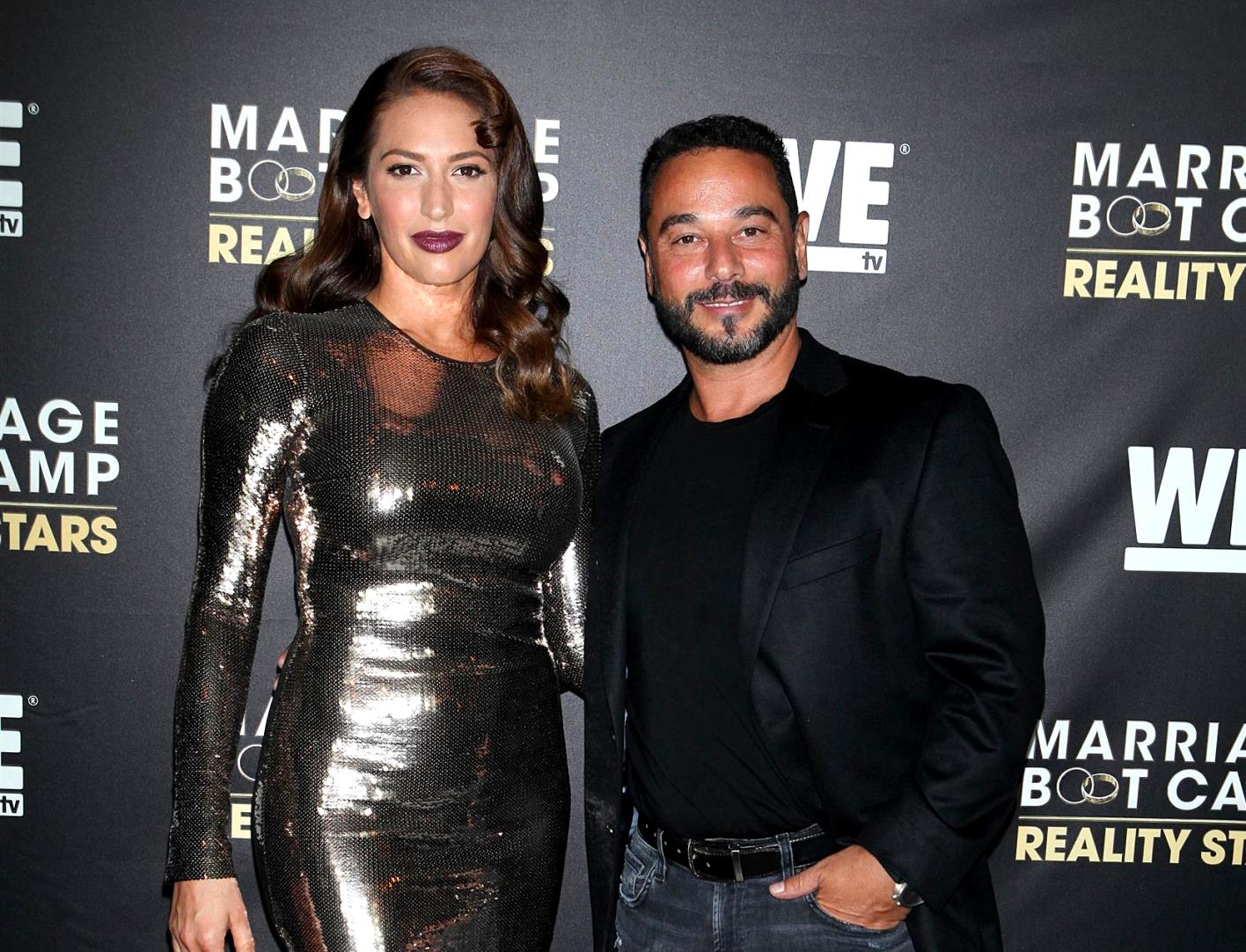 Amber Marchese has finally addressed the slew of homophobic tweets her husband Jim Marchese shared earlier this week on Twitter.
Days after the former Real Housewives of New Jersey hubby lashed out at the LGBT community, claiming that no straight man would want a gay son and suggesting that being gay was a lifestyle, Amber released a statement of her own and confirmed she would not be divorcing Jim due to his offensive statements.
"My husband is the kind of man who wants to stand against injustice. He sees what happened to Kevin Hart as an injustice. In addition, he sees a cultural moment when people with honest views on topics continually get silenced or villainized. His statements were, I believe, his way of standing up for anyone who has an unpopular opinion that has cost them respect or opportunity," Amber explained in a December 13 interview with Us Weekly magazine.
Jim's Twitter comments were prompted by Kevin Hart's decision to step down from his hosting gig on the upcoming Oscars after old tweets surfaced in which he vowed to break a dollhouse if his son were to play with it. As Kevin explained in his years-old message, he believed it would be "gay" for his son to do so.
Below are two of the posts shared by Jim in response to Kevin's Oscar controversy.
https://twitter.com/JLMarchese111/status/1072291238353752066
According to Amber, her husband Jim's remarks "stepped on another kind of injustice" and "in desiring to be bold in pointing out that there can be diversity in opinion, my husband insulted an opinion that differs from his own."
"Everyone on God's green earth has the right to basic human dignity and equality. NO ONE should ever be made to feel less than anyone, in any way," Amber continued. "We are all equal and perfectly made by God. I understand how hurtful his tweet is to many, and I am deeply sorry for any pain that this tweet has caused. Everyone deserves to be loved and I believe that you have a Father in heaven who loves you."
Amber added that members of the LGBTQ community have informed her "that they 'did not choose' their attraction" and "for many of them, they have told me that it has been a burden, that life would have been easier if they had been straight."
So, when it comes to Jim's statements, she believes the "underlying" message her husband was trying to communicate was that he wouldn't want one of his children to "carry that burden."
"The man I know, the man behind the loud and confrontational tweet, would love his child even if he or she was attracted to the same sex," Amber explained. "It is far more important to Jim and I, as parents, for our children to be honest, loving, respectful, honorable, trustworthy human beings above all, rather than any other quality to possess."
While Jim's comments, however intended, created quite the controversy online, Amber said she has no plans to divorce her husband. Instead, she told the magazine it is her "job as a woman and a mother to balance his hardness with a bit of softness."
Amber then encouraged Jim's online critics to "flood his Twitter feed with nothing but love and understanding!"
"Show him how beautiful, kind, patient and loving everyone in the LGBTQ community can be," she added.
In other Jim Marchese news, the agency he was previously represented by, Abrams Artists Agency, confirmed they were no longer working with Jim as of December 12.
"Jim Marchese is not affiliated with Abrams Artists Agency," they shared in a Twitter post days ago.
In response to the agency's tweet, Jim confirmed, "For all asking Abrams represented me until today. I am very happy to report."
https://twitter.com/JLMarchese111/status/1072958937987776513
"Lmao…. So much for equal rights. Guess I will find new agent," he added.
https://twitter.com/JLMarchese111/status/1072953819892514818
Amber and Jim starred on The Real Housewives of New Jersey during season six.
Photo Credit: INFphoto.com/Instarimages