Lisa Rinna appeared on last night's episode of Watch What Happens Live with Andy Cohen and during the After Show, it was revealed that Lisa was actually considered as a cast member for the debut season of The Real Housewives of Beverly Hills.
After addressing the ongoing drama on the series, Andy explained why he opted against selecting Lisa for season 1 and questioned her about a controversial photo of a pill-covered cupcake she shared on Twitter after the 2018 suicide death of Lisa Vanderpump's brother, Mark Vanderpump.
"We talked to Lisa at the beginning, season one, and put her on tape and I felt very strongly, for better or worse, I felt like it was… I didn't get it," Andy admitted during the After Show. "I felt like it should be all unknown people and even though Kim and Kyle had acted years before, I felt like Lisa Rinna was too much of a personality and name and then, by the way, I will say, when you did join, I was like, 'It is time for Lisa Rinna to join.'"
"You had been on this show. I knew that you knew the women. You had a long history. I just felt the show needed to establish itself on its own before, in my mind, I could ever picture it," he continued.
"And I totally agree," Lisa said.
Andy then said that he initially didn't want to cast Bethenny Frankel for The Real Housewives of New York City because she had previously appeared on Martha Stewart's Apprentice and he didn't want viewers to believe she was reality show-hopping.
"I was not in favor of Bethenny coming on. So, I've made some mistakes in my life," he shared.
Also during Tuesday night's WWHL, Lisa spoke about the pill cupcake she shared on Twitter last year and confirmed she meant "no harm," nor was she referencing Mark's tragic passing.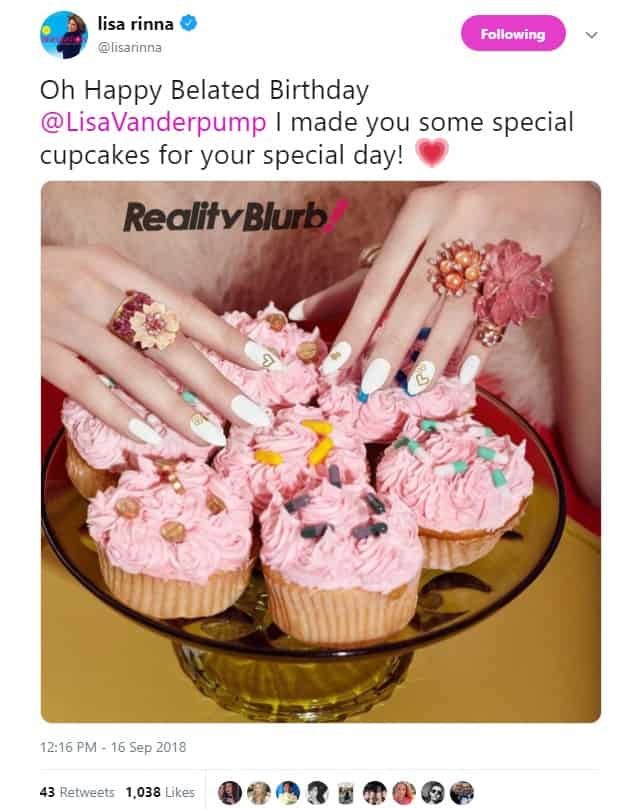 Even though the suicide of Lisa's brother was widely reported in May of 2018, Rinna insists she was not aware he had taken his own life when she made this post in September.
"Alright, let's be really clear about this. Lisa Vanderpump and I have a pill joke. She was part of the whole 'pill bag' situation. We jab each other," she explained during the broadcast. "Here's the thing. I did not know her brother had committed suicide. I had no idea. So, the fact that the day after her birthday, [none of the other women] had wished her a happy birthday on Twitter, I actually felt bad and I thought, 'Well, that's not cool. I'm going to wish her a happy birthday.'"
"That's my cheeky, you know, we have pill humor, and I did it and I got eviscerated for it and I reached out to Lisa. She knows I meant no harm. I would never, ever do that… ever. So, there you go," Lisa concluded.
The Real Housewives of Beverly Hills season nine airs Tuesdays at 9 p.m. on Bravo TV.
UPDATE – Lisa Rinna took to her Twitter page moments ago to once again make it clear that she was not aware of the cause of death of Lisa's brother.
"I did not know her brother died of suicide. She never told me. I would never have tweet d the cupcakes if I had known. My own sister died of a drug overdose when I was 6.," wrote Rinna.
I did not know her brother died of suicide. She never told me. I would never have tweet d the cupcakes if I had known. My own sister died of a drug overdose when I was 6. https://t.co/7WIbOs8cZP

— lisa rinna (@lisarinna) February 20, 2019
Photo Credit: Kathy Hutchins/Shutterstock.com, s_bukley/Shutterstock.com