Lisa Rinna gave a shoutout to her Real Housewives of Beverly Hills co-star, Lisa Vanderpump, on her birthday last month but because of the photo she sent to her on Twitter, many fans lashed out at Lisa R. for being cruel.
After including a photo of a plate of cupcakes topped with pills just months after Lisa V.'s brother, Mark Vanderpump, tragically died of a suspected drug overdose, Lisa R. is fighting back against claims of being mean-spirited and offensive.
"Lisa please shed some light on posting cupcakes with pills on Lisa V.'s birthday," a fan wrote in the comments section of one of Lisa R.'s recent Instagram posts. "I don't believe it was cruel shade about her brother passing, but it's what others are saying. Tell us your side of the story."
"I would never do that," Lisa R. replied. "I had no idea how her brother had passed she did not share any details with us."
In May of this year, Mark was found dead at his home in Gloucestershire, England.
After his passing, Lisa V. released a statement to the Daily Mail about the tragic loss of her only sibling.
"This has come as a shock to us all," she said in her statement. "My brother and I had connected the day before this tragedy and I was completely unprepared for this. He was my only sibling and I am shocked and saddened by his passing. I am trying to be supportive to his two young sons that he has left behind, and help them get through this tragedy. We appreciate your consideration in this private and extremely difficult family time."
A short time later, Mark's fiancee, Gemma Ramsay, revealed his death was a suicide, Lisa V. paid tribute to him on Instagram.
Below is the post Lisa R. tweeted and deleted to Lisa V. on her birthday last month.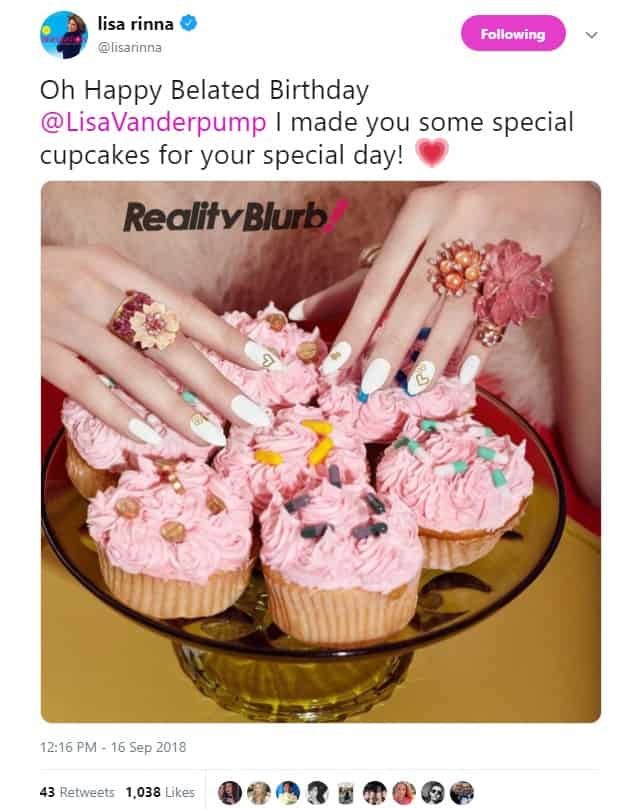 In other Lisa V. news, is it possible she could be fired from the RHOBH by the Bravo network?
According to a new report, that answer is no as a production source reveals Lisa V. would quit first before allowing herself to be axed.
"If Lisa does decide to leave the show, it will be on her own terms," the RHOBH insider said to Radar Online. "Lisa would never, ever be fired from housewives. If she leaves, it is 100 percent by choice."
Even more, the source adds that Lisa V. is indeed considering walking away from the Housewives series amid her feud with her co-stars.
"She got what she wanted out of it, which was a huge platform to create some real change in the world," the source stated. "Saving those poor dogs from being slaughtered and and her worldwide campaign Stop Yulin Forever will always be Lisa's legacy."
The Real Housewives of Beverly Hills is expected to return to Bravo TV for season nine soon.
Photos Credit: Shutterstock, Milla Cochran/startraksphoto.com