Lisa Vanderpump's feud with her Real Housewives of Beverly Hills co-stars keeps heating up.
Just days after it was reported that an accusation by Lisa's castmates, that she leaked a negative story about Dorit Kemsley to the media, is the real reason for the feud, Lisa's castmates are now speaking out. In a social media post, Lisa Rinna calls out Lisa for not filming with the cast while Kyle Richards denies the cast is ganging up on her.
On October 22, Rinna commented under a post by the Juicy Scoops Instagram page about Lisa missing out on their castmate Camille Grammer's weekend wedding in Hawaii.
"Why hasn't Lvp filmed with us for over 6 weeks?" asked Rinna. "I have no beef with her. Who does that? Who doesn't show up for work?"
A screenshot of Rinna's post is below.
Lisa was last seen filming with her castmates on September 8 during Denise Richards's wedding.
Kyle also fired back at one of her followers who accused her of being involved in the RHOBH cast members ganging up on Lisa. A claim she strongly denies, as Kyle insisted Lisa has been invited to every cast event but refuses to attend.
"NOBODY has ganged up anyone. Any report of that is an outright lie," wrote Kyle on Instagram. "LVP has been invited to every single event that we each have been invited to. If she chooses not to come then that is her choice. Anyone trying to "sway" the public to believe anything else is not being honest."
As for what prompted Rinna's post, a tweet that she made last month on September 16, to wish Lisa a happy birthday, began making its rounds this weekend with some RHOBH fans slamming her for it.
If you recall, Lisa's only sibling, her older brother Mark Vanderpump, passed away in April in the UK from a suicide. Mark reportedly overdosed on pills. So, when Rinna decided to wish Lisa a happy birthday last month by posting a photo of cupcakes and pills, some found it rather insensitive.
A screenshot of Rinna's tweet is below. We were able to capture this screenshot over the weekend, but she has since deleted the tweet, meaning she deleted it from her Twitter page within the last 48 hours.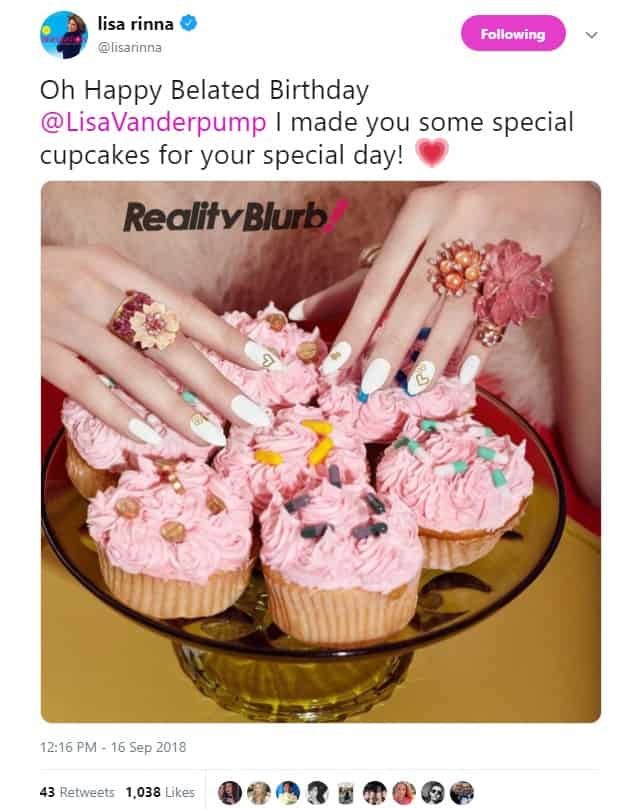 As we reported earlier, with the exception of this post by Rinna, none of Lisa's castmates wished her a happy birthday.
Over the weekend, a report came out that at some point during filming on the RHOBH season 9, Lisa was accused by her castmates of leaking a story about Dorit giving away a rescue dog that she got from Vanderpump Dogs to a friend who then returned it to a different shelter.
The boss of Radar Online, the media outlet who originally reported that story, took the extraordinary step of denying that Lisa was their source, something that Lisa felt vindicated her.
I hear you… thank you for that….Apparently guilty before being proved guilty.
Truth prevails.
Always.

— Lisa Vanderpump (@LisaVanderpump) October 20, 2018
"Apparently guilty before being proved guilty. Truth prevails. Always," wrote Lisa on October 20.
For the time being, Lisa has yet to respond to these latest comments by her co-stars, although she did agree with a fan who stated on October 21 on Instagram that Lisa R's pill post was insensitive and that Dorit and Kyle might be manufacturing drama with Lisa to deflect from their own personal drama.
The new season of the Real Housewives of Beverly Hills is expected to debut later this year.
Photos Credit: Kathy Hutchins/Shutterstock.com, Tinseltown/Shutterstock.com