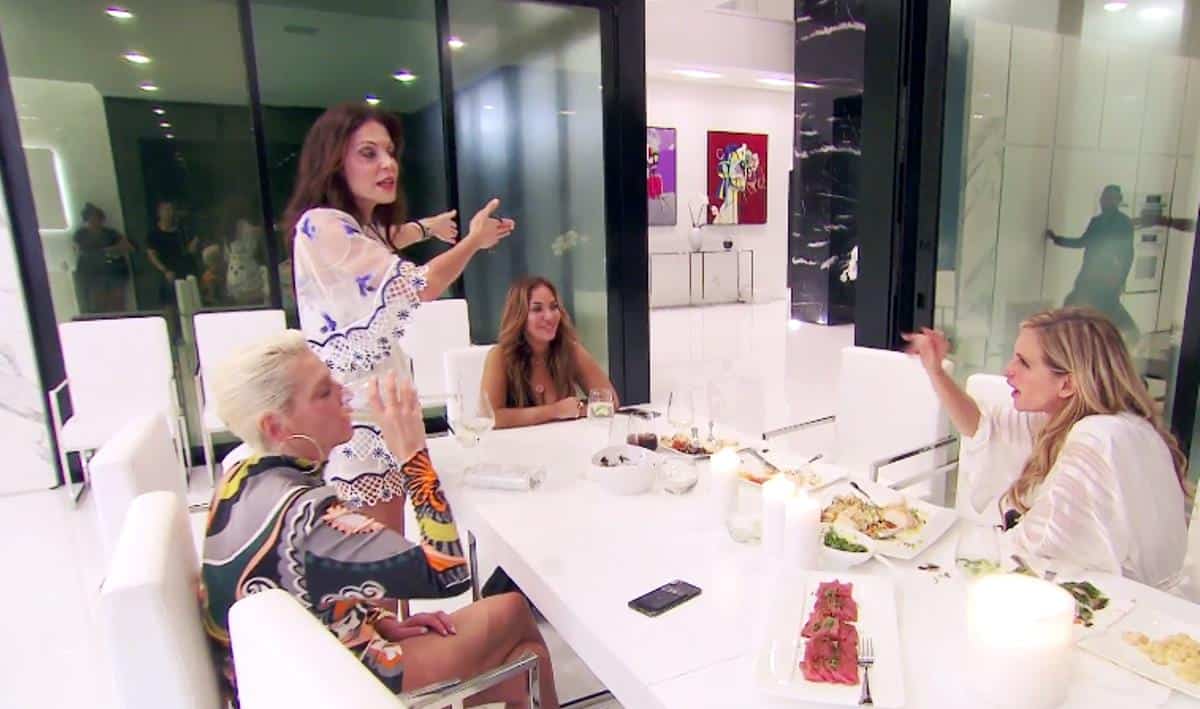 Okay, so I have to say it: I'm over these housewives vacations. Literally nothing good comes from them–ever, and yet these ladies, either insane or gluttons for punishment, just keep on packing their bags, and getting on planes together, hoping that this time will be different. If only they'd ask me. I'd be happy to tell them that it won't. The ladies of The Real Housewives of New York would benefit from that talk more than any of the others.
Last night marked the thirteenth episode and the third girls' trip of season 11. I guess they'll never learn–or maybe they don't want to. Keep in mind, this is the group whose boat nearly capsized during one of last season's trips, and let's just say this one wasn't exactly an improvement.
As the ladies prepared for the trip, they all tied up loose ends at home. Luann was preparing for a special holiday cabaret show, which I can only guess will involve her belting out a rousing, yet tedious rendition of "Money Can't Buy You Class" while decked out in jingle bells, and furry, thigh high Santa boots. I could be wrong about that, but let's face it, I'm probably not.
Sonja decided to come by and watch the rehearsal, and talked a mile a minute the entire time. Unfortunately both the woman, herself, and her opinions on the show were unwelcome and uninvited, and Luann and her cabaret staff, all of whom acted as though they were putting on a Broadway production of Phantom of the Opera, tried in vain to get her to give it a rest.
However, Sonja had one critique that Luann probably should have listened to: she warned her not to make Dorinda the butt of her jokes during the act. You see, Luann intended to bring up the whole Jovanni debacle from last season in an effort to get a few laughs at Dorinda's expense. Furthermore, she intended to present Dorinda with the "Jovanni Award for Magnanimous Glamour." Sonja warned her that this would likely go over like a dead dog with Dorinda, but Luann wasn't trying to hear it. She told Sonja that Dorinda needed to get a sense of humor, and that whether Dorinda found it funny or not, it was her show, and she'd say whatever the hell she wanted. Well, I guess that settles it.
And apparently she wasn't going to wait until the show to express her less than kind opinions of her friends. That very night, Luann would tell the others that she wondered if Sonja may have been 'on something,' as she'd been acting "manic" while at the rehearsal. Of course, it wouldn't take long for this news to reach Sonja. When the ladies met for the tree lighting at Rockefeller Center, Tinsley couldn't wait to report Luann's nasty comments to Sonja. But Sonja, laid back and oblivious as ever, took it all in stride, and chalked it up to more of Luann's diva behavior.
But then, in the spirit of ratting each other out (it was Christmas in NYC, after all), Sonja upped the ante, and told Dorinda what Luann was planning for her show. Dorinda said she didn't care if it was meant to be funny or kind, or whatever, she didn't want to be a part of Luann's show, and if Luann had any difficulty understanding that, she'd have her lawyer make it crystal clear. Sounds serious, right? Yet, when Luann arrived, the two women gave each other a warm, yet faux greeting, and made small talk about the beauty of the season, but that only lasted for about five minutes. Dorinda told Luann that she did not want her mentioning her in her show, but just as Dorinda suspected, Luann was unmoved by this. In true Countess form, Luann told her that life was a cabaret, and she needed to get over herself, adding that it was her show, and she'd talk about whatever the hell she wanted. Well, at least she said it to her face. I'll give her that.
Sonja then turns to Luann, and questions her about telling the others that she was "manic," adding that she's not 'on' anything, and her behavior was just due to being happy, leading Luann to wonder aloud if Sonja was taking "happy pills," a question that, while hypocritical coming from Luann, was also kind of valid.
The following day, Bethenny, Sonja, and Dorinda went shopping to prepare for their trip, and talk soon turned to Luann. Everyone is completely over her narcissistic attitude, particularly Bethenny. The night before, when they'd all been at Barbara's clay party, and when Bethenny, who had arrived at least an hour before the others, said she was heading home to trim the tree with her daughter, Luann had plenty of snide comments to make about it. It was reminiscent of the things Luann had said behind Bethenny's back when she'd left Luann's Halloween show to go home to her daughter, and this time she really wasn't having it. The other ladies agreed, saying there was no doubt that Luann would be impossible to deal with during the trip.
When the day of the big trip arrived, the RHONY ladies traded their galoshes and winter coats for strappy sandals and bikinis. They arrived at the palatial estate they'd be renting for the duration of the trip. It was an absolutely breathtaking beach house, just a few feet from the water. It looked like Miami, itself..stark white with bright, cobalt trim, and plenty of windows to look out into the sea. It was breathtaking–but unfortunately, the view didn't quiet the ladies down.
Tinsley, just clock full of useful information last night, announced that Ramona had made out with Harry Dubin, a man Sonja dated about thirty years ago, when they ran into him during a night out in the city just before they left. Sonja seemed to take the news in stride, but said that she wished she could quit Harry "Dubious," but that she "loved him," and really just wished he would stay away from her friends.
The staff made a batch of Mojitos to welcome the ladies, and Sonja partook in more than a few. She was three sheets to the wind, mumbling about Luann being on her "high horse," correcting the butler on his own name, and threatening to pee in the only bathtub in the house, before they even served dinner, which as you can imagine, got very interesting, very fast.
Sonja was still worked up over Ramona making out with her ex. You see it's not the first time one of the ladies has made a meal out of her sloppy seconds (viewers will recall she also dated Luann's ex-husband, Tom before he and Luann met), and she'd had it. Bethenny said that she understood where she was coming from, as "it's not easy being the curator of c***."
By the time dinner was served, Sonja could only be described as wasted, and when Luann mentioned that she was planning on inviting some men over the following day, Sonja expressed interest in just what kind of men they would be. When Luann asked if Sonja didn't trust her taste in men, Sonja said she didn't trust her because she 'usually f***s her guys,' adding that she could say the same about Ramona, who she then asked to 'throw her a guy' that she "hadn't kissed or made out with. Everyone was looking at her like she was crazy, as she stated again that all the women 'go with her guys.'
At that point, Luann told Sonja to shut up because she was starting to make her angry, but Sonja was already on a roll, and in a deep mojito haze. Ramona, who up until this point had just sat silently grinning, eyes rolling around in her head, finally spoke up. She said Harry was "old news," and tried to remind Sonja that they had broken up nearly a lifetime ago, so Sonja switched gears and went back to talking about Tom, saying that the ladies all 'live in her backyard.'
Things escalated quickly from there, as Dorinda decided to take up for Sonja. She said that she understood exactly how Sonja felt, and said that Luann and Ramona had both broken "girl code." She wasn't wrong, but Luann didn't appreciate it. She told her to shut up and stay out of it. Dorinda, who'd had quite a few mojitos, herself, threw Luann's earlier words right back in her face, and said that she would say whatever the hell she wanted. And although it was wildly off topic, she also let Luann know that she would get her lawyers involved if she mentioned it in her show.
Now it was Sonja's turn to take Dorinda's side, as she asked Luann, again, to please leave Dorinda out of the show. Luann asked why she was getting involved, and Sonja said she had been Luann's "best advocate," and suggested she 'take it down a notch,' stop being such a "diva," and STFU! Well, that did it! Luann told Sonja never to speak to her that way again, and Sonja promptly told her to get out if she didn't like it, and Luann did just that.
It was at this moment that Bethenny, who'd arrived in Miami later than the other women, and had been upstairs getting ready, sashayed into the room wearing what I can only guess was her daughter's romper, and asked what all the commotion had been about (because why would there possibly be commotion during a drunken housewives vacation dinner?!). When the ladies said it had been about Luann, Bethenny said she wasn't going to sit there and talk about her, she was going to talk to her, and went in search of Luann, who was now pouting in her room.
Bethenny came in, and told Luann she wasn't there to listen, she was there to talk! Good grief. Luann said, fine, whatever, because apparently it was pick on Lu day, so Bethenny might as well pile on too. So she did. She told her they were over the cabaret talk, the diva behavior, and the ungrateful, narcissism and backstabbing. I paraphrase–but you know the spiel. Luann barely responded, so Bethenny finally left her in peace, and went back to join the others in talking about her.
But Ramona was clearly bored with the Luann talk. She hadn't gotten wasted, and was still looking forward to the night on the town they had planned. Tinsley was also still down, but Dorinda and Sonja were clearly in no position to go anywhere but bed, and Bethenny was non-committal. She suggested that Barbara go along with Ramona and Tinsley. Ramona stared daggers at Bethenny, and the entire room sat in awkward silence for a few moments until Barbara finally broke the silence and said 'she doesn't want me to go, it's fine.'
Ramona said it was just that she and Tinsley needed to "catch up." It was mortifying for everyone, and Tinsley said they weren't doing the mean girl thing on this trip (lol!). Ramona then turned to Barbara and said, 'well, do you wanna come?,' and while such a warm and welcoming invitation was hard to resist, Barbara managed. She responded with a simple and final, "No thank you."
As Tinsley and Ramona got up to go get ready for their night out, Sonja went back to babbling incoherently, and Bethenny jokingly told her to go to bed, or she'd 'knock her out,' but it would turn out there would be no need for that because as soon as Sonja tried to stand up, she fell flat on her face, and banged her head off the table. It was actually the perfect way to end the episode.
Let's keep in mind, people, that this was only day 1 of the vacation, which promises to get even trippier as it goes on. Stay tuned!
TELL US – THOUGHTS ON THE LATEST RHONY EPISODE?