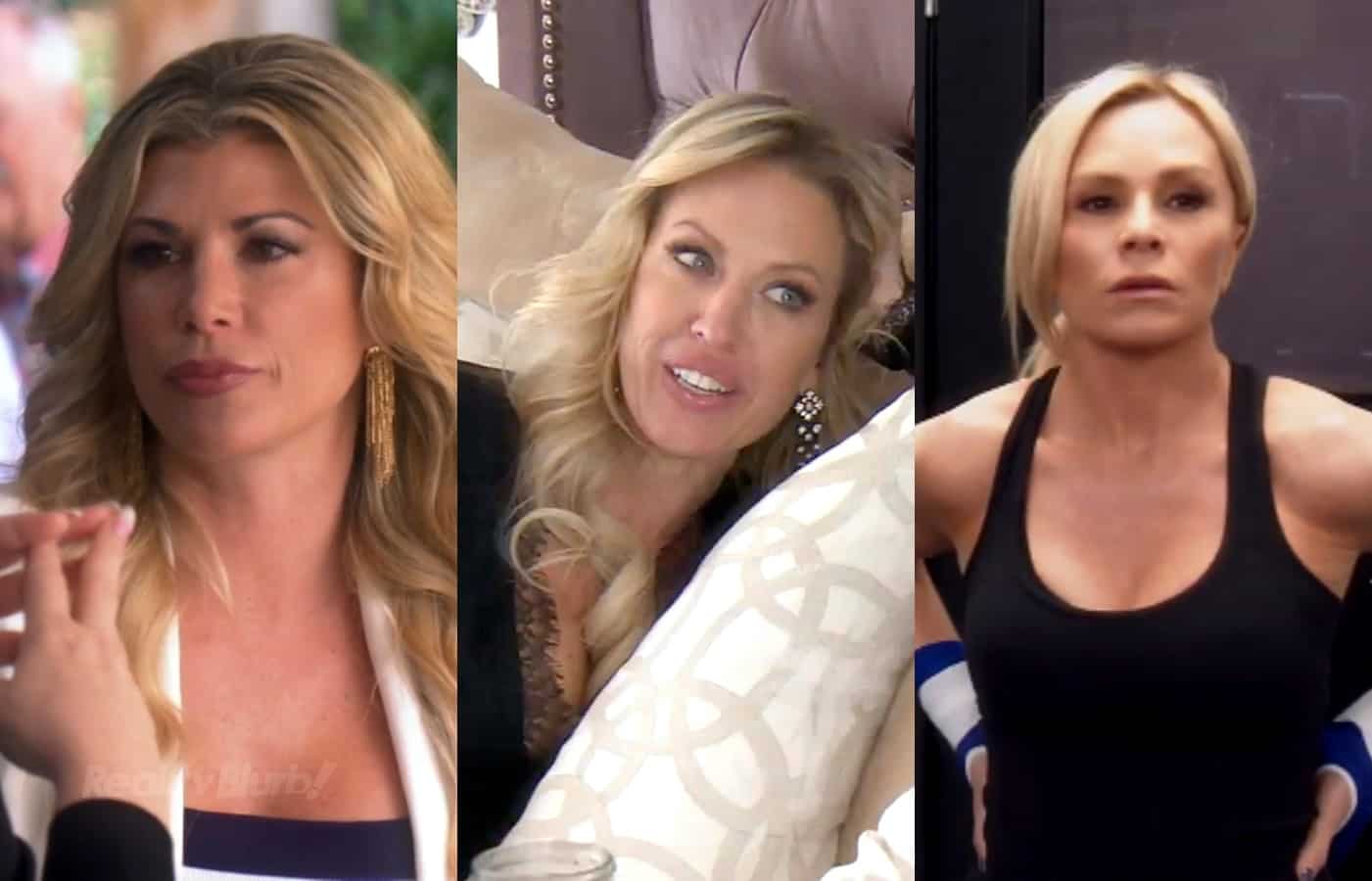 On this episode of the Real Housewives of Orange County, some search for healing, while others can't quite seem to reconcile.
In Scottsdale, Arizona, Kelly meets up with some old pals, the kind that "always have her back." Kelly tells her girls about the Miraval trip and then they begin to reminisce about crazy Kelly's past antics. It turns out that Kelly was always a bit violent…and off her rocker. Kelly then discusses her current dysfunctional family. She is hoping to make amends with her brother and mother while she is home since she hasn't spoken to either of them in nearly two years. It seems like a bad attempt to make Kelly have a storyline that doesn't make her seem certifiably crazy, but I digress…
Over at Shannon's house, Vicki pops over in her presidential skirt suit, and Emily and Gina join in on the visit. I just have to wonder how these busy working professionals (sans Gina) find the time to hang out and taste test Shan's new food passion project. Gina shares that she is going out on a double date later with Emily and Shane, but it turns out the dude canceled.
This dude happens to be Shane's cousin. I hope the family genes skipped over him cuz if he's anything like his cousin Shane, Gina shouldn't be upset over said cancellation. I feel bad for Gina–I mean, can this girl catch one little break? First, the cheating. Then the DUI. Now this?! At least she made up with Emily on the Miraval trip. Emily feels as though her relationship with Gina is good now. But all she has to do is smooth over this date debacle and things will be perfect.
The life of Braunwyn makes my head hurt. First of all, what the actual f*ck is she wearing for her family photos? If I didn't see her 27 kids, I would have thought this was a boudoir photoshoot for her husband. Post-pictures, she fills her hubby in on her girls' trip whilst sitting on the bed (no wonder they have so many kids…) and they discuss Tamra's beauty. I see a potential threesome in their future… Wait, did Braunwyn say that Tamra and Eddie do threesomes, too? She cackles about how it would be fun to do one again, and her husband buries himself into the gigantic necklace around his neck cuz he is so embarrassed.
Gina should prepare herself for a wild night out with Shane and Emily. Oh, Gina. If your date canceled, you should never, ever choose to go out on the double date anyway, especially with those two! Gina would have been better off hanging out in her casita solo than sharing apps with Shane and Emily. Gina and Shane tag-team Emily and discuss her weight gain. They talk about how she needs to go to the "doctour" (picture Gina's NY accent repeating this over and over again) so she can try and fix her arthritis. But Emily just shoos them away.
As the dinner wraps up, Gina's ex Matt texts her. He calls her out for missing their son's baseball game and Gina becomes instantly upset. Shane and Emily remind Gina that she isn't doing anything wrong by taking a night off for herself. Is it me or does Gina look effed up in this segment? Let's hope she isn't driving…
Another trip to the plastic surgeon for Shannon…but this time, she isn't getting anything done to her face. Instead, she is getting her own blood injected into her privates. Since ya know, she is turning 55 and she is out in the dating game. Homegirl's gotta get her groove back and she's starting with the parts that matter, if you catch my drift.
Braunwyn is hosting Tamra and Shannon at her sex cave, I mean apartment. I am still unclear why and how Braunwyn owns such a property, but whatever floats your boat. She is chatting about her daughter Rowan's upcoming fashion show at Orange County fashion week (that's a thing?!) and they congratulate Shannon on her "o-shot." What is happening?
Get a load of THIS threesome: Tamra, Shannon, and Steve. Tamra decides that since Vicki and Shannon always celebrate their birthdays together, she is planning on setting up a tea party for the birthday girls. On a train. Get it? A train? Take that, Kelly. To mix things up a bit, Tamra has extended the invite to Meghan Edmonds. That's a name from the past. I miss her. Sigh. Side note: Vicki and Steve are not engaged yet, and Vicki demands Tamra find out Steve's proposal plan by putting the guy right on the spot to spill. Awkward.
Later, Emily visits Cut Fitness. She explains to Eddie and Tamra that since her weight gain, her arthritis has become unbearable. Emily tells them her "diet," and Tamra judges her, hard. Tamra asks her to step on the scale and Emily panics, but obeys. She cries that she has been in a "land of denial" and Eddie tells her that she is considered obese based on her fat count. Tamra feels closer to Emily after seeing her so vulnerable, and Em is prepared to make big life changes to get her weight down, as long as she can still eat tacos…
While in Scottsdale, Kelly heads out to lunch with her brother, JR. They talk about not having familial regrets, so therefore, she calls her estranged younger brother and attempts to set up a date to work things out. The goal is to mend these relationships, and all I can say about that is that if Kelly can rekindle her relationship with Vicki, ANYTHING is possible.
She's baaaaaack! Alexis, from season's past, is lunching with Emily (the woman who vowed to eat better and make healthier choices is boozing away, btw…). Alexis shares that her new romance makes her so very happy. She also says that co-parenting with her ex, Jim, following their divorce has been going relatively smoothly. Then, Alexis sees the tension in Emily's face, and Emily states that she is fighting again with Gina. According to Alexis, her marriage with Jim had been "really broken for a lot of years" and that they simple grew apart.
Then, the strangest transition happens and we hop from lunch to shopping with Gina and Tamra. They are preparing for Shannon and Vicki's upcoming birthday party, but it doesn't take long for Gina to make the shopping trip about herself. She tells Tamra that she is P*SSED. Gina fills Tamra in on how she was supposed to go on a date with Shane's cousin, but then he canceled. She explains that she texted the guy and said, "Feel free to ask me out on another date." And to that, the cousin responded, "Emily and Shane knew I had a girlfriend." Wait, what?! I smell a pity date. Looks like Emily and Shane are in hot water…
In the meantime, Emily is claiming to Alexis that she had NO IDEA Shane's cousin had a girlfriend, but she cannot even explain herself to Gina because Gina isn't answering her calls. Looks like Gina and Emily haven't quite mended their friendship. Maybe they should talk to Kelly and Vicki. They are pros when it comes to making up, amiright?
 TELL US – THOUGHTS ON THE RHOC EPISODE?