Jim Edmonds' ex-wife, Allison Jayne Raski, was no fan of his third wife, Meghan King Edmonds.
Less than one week after the 49-year-old baseball star and commentator filed for divorce after five years of marriage, Allison shared a telling message on her private Instagram page as a source revealed it was actually she who was initially approached for a role on The Real Housewives of Orange County.
"I have kept quiet, kept my head held high, put on a smile when I felt like I was drowning, and cried myself to sleep more nights then not," Allison began, according to a screenshot shared by BeautifulSnarkyMess on Instagram. "The truth will surface."
"I can now raise and protect my children the way I choose, and live my life fearless," she continued. "The nightmare my children, myself, and our entire family have endured over the past 5 years is over. I have learned how powerful social media is and for everyone that believes what they see and read please know that portrayal is not always the truth."
"Bye Felicia your reign is over!" she added.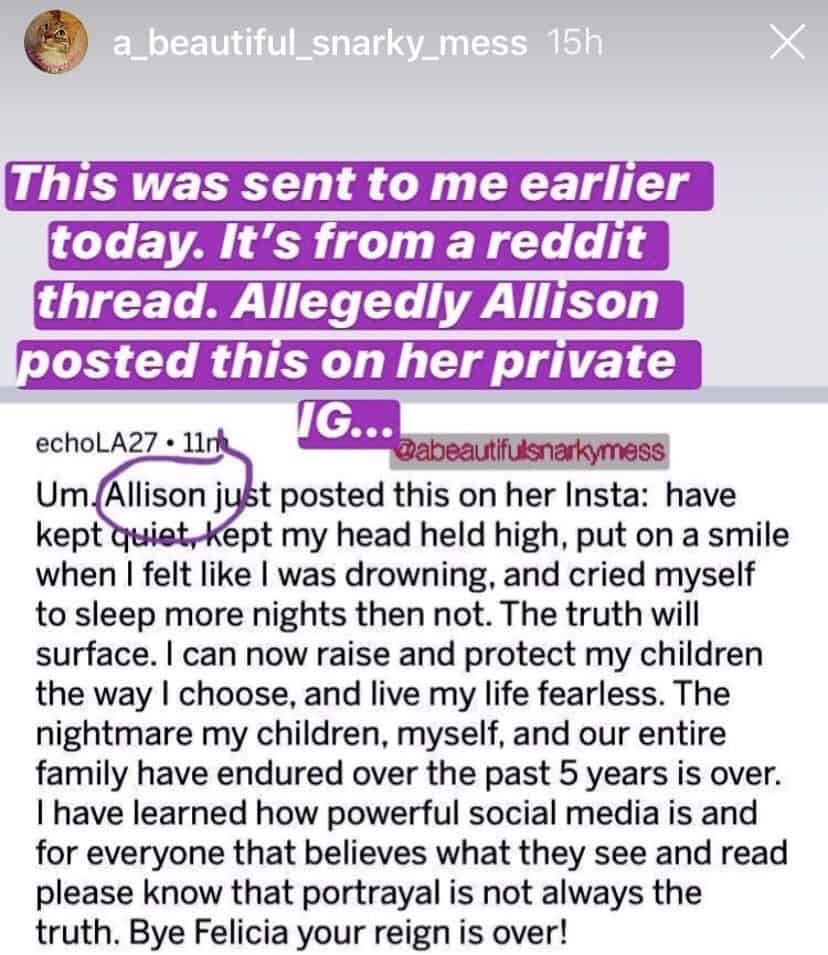 Jim and Allison got married in 2008 and divorced in 2014, the same year Jim married Meghan.
Jim shares two children with Allison, daughter Sutton and son Landon, three children with Meghan, daughter Aspen and twins Hayes and Hart, and two children with his first wife, daughters Hayley and Lauren.
Allison confirmed the leaked Instagram post was written by her to All About the Tea but noted that it was not meant to be shared publicly.
As RHOC fans have surely heard, Meghan accused Jim of cheating on her with their nanny, Carly Wilson, after he filed for divorce, which they both denied.
In other news, Radar Online revealed on October 28 that Allison was approached for a role on RHOC before Bravo TV ever reached out to Meghan.
"The second wife was cast on RHOC and turned it down," an insider revealed, adding that Meghan "knew what she was doing when she married" Jim and always wanted to be on television.
"She knew what she was getting herself into. She also knew that Jim's ex was asked to be on the show. It was known in the area," the source explained. "Meghan was trying to get on a reality show. Meghan was searching for reality fame at the time."
Prior to taking on her role on RHOC, Meghan appeared on Resale Royalty and Say Yes to the Dress.
"Obviously, she was looking for reality fame if you're on three reality shows. Most people don't know that about her. She found her way to fame through Jim," the source added.