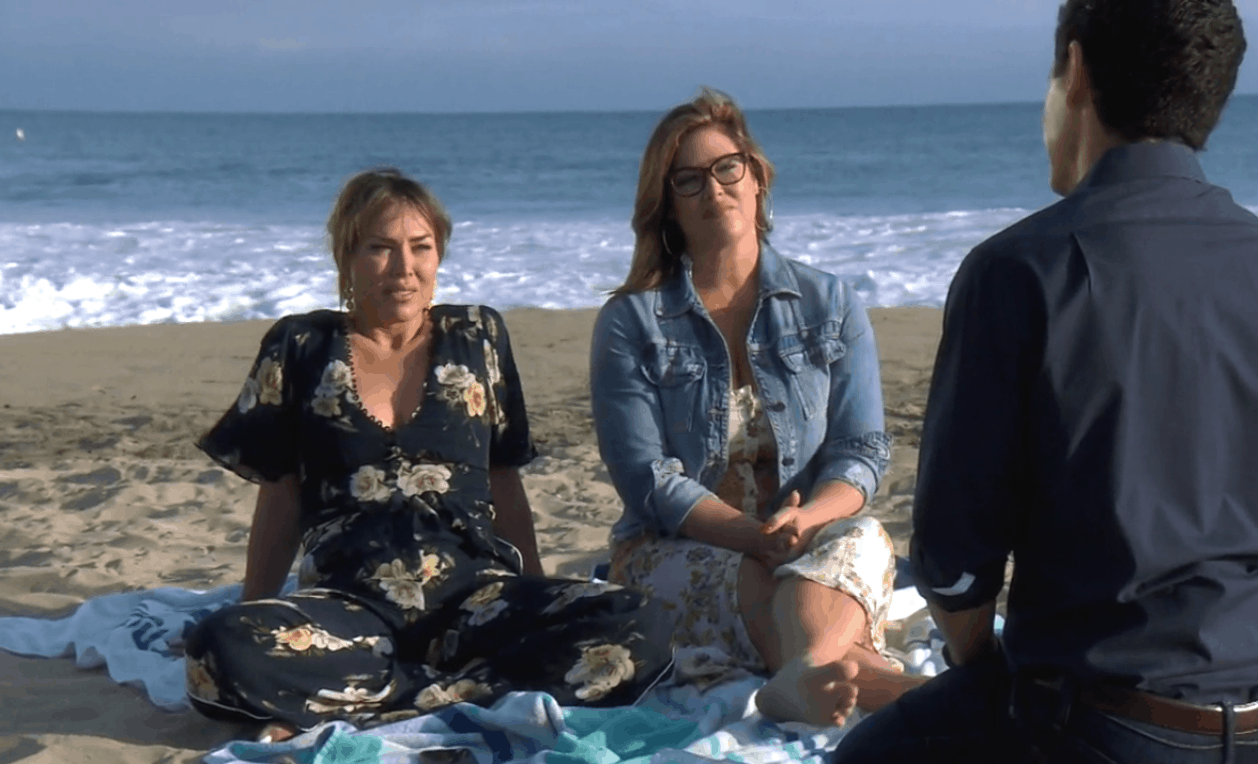 On this episode of the Real Housewives of Orange County, the girls' trip ends, but the drama follows them back to the OC.
It's 9 a.m. in Key West and Vicki is STILL (literally) screaming for attention. She refuses to go to Ernest Hemingway's house for a tour, and that leaves Kelly, Braunwyn, and Emily to go without the "three amoebas." Kelly tells the girls that Tamra, Vicki, and Shannon love to take sides within the group, and Emily states that it's like being in high school and having the seniors hate her, "except this time, the senior citizens hate me." HA!
Back at the senior center, Vicki can't even use crutches, and she falls over in a dramatic fashion, cuz that's her favorite hobby and interest. The OTHER ladies return from the tour, and it's time for some water fun. Half the group is going parasailing and the other half are going jet skiing. #pickaside.
Can we talk about how Gina and Kelly are both rocking the same ridiculous white ensemble? Like, where does one purchase that, and it's popular enough that they BOTH have it?! Kelly, Emily, and Braunwyn (the NEW tres amigas) hop on their jet skis. Emily explains, "I used to date a drug dealer who had a boat and lotsa jet skis." Wow. Is that a far cry from Shane, or what?!
In the meantime, Shannon and Tamra are parasailing whilst Gina legit has a mental breakdown on her jet ski about water creatures. In fact, Gina explains that her experience in the water was just as scary as her experience in the slammer. Who knew?
Braunwyn, out on the boat with the tres amigas for filming purposes I am sure, explains that Kelly knows she has a true anger problem. Tamra states that Kelly pushes people away, but they are hopeful that everyone will be able to behave for the evening's boat ride.
Seems to me that everyone is a bit overdone for the booze cruise, no? I mean, Tamra is looking like a wedding guest with that thigh-high slit! Braunwyn thanks the ladies for coming out on the trip, despite the fact that it didn't go quite the way she thought it was going to go. Vicki begins giving out her bedazzled trucker hats to the ladies and they all have "AF" sayings on them. For instance, Gina's says "single AF" and Kelly's says "crazy AF." Some gift!
Emily finds a chance to talk to Kelly about her yelling at home. She explains that she has to get her anger under control because her kids are mimicking her behavior. Kelly suggests that they go to anger management together (adorbs), and after that sweet moment, Tamra walks over. Kelly and Tamra make up (yet again) and Tamra promises to never repeat anything she hears about Kelly ever again. Right.
When it is suggested that Vicki and Kelly makeup, it is laughable. Neither woman can admit that they are equally wrong and Braunwyn diffuses the situation by suggesting drinks. That should keep them busy.
Andddd they're back home and back to business as usual. That means planning Vicki's engagement party and attending art classes with Gina's kid. It also means a triple date. Tamra and Eddie head out for an evening with Braunwyn and her husband and his necklace. And then, Shannon rolls up with BABE! Her "friend" who doesn't live in California. Shannon explains the cringeworthy way "Babe" got the nickname "Babe" and I wanna die of embarrassment for him.
Of course, the ladies insist on talking about the recent trip and the drama between Kelly and Vicki. They overpower the conversation and the men just sit there waiting for an opportunity to talk. Tamra, naturally, LOVES to spill that Emily and Kelly are attending anger management classes together.
The next topic to be discussed is Vicki's engagement party. Tamra and Shannon are throwing it for their girl and have decided they HAVE to invite Kelly because #ratings.
Kelly and her creepy boyfriend, Dr. Brian, head to the batting cage. Kelly blows her boo out of the water athletically speaking. Post batting, Kelly shares that she has been invited to Vicki's engagement party. Dr. Brian talks to her the way a therapist would and Kelly decides that she doesn't want to attend. Dr. Brian tells Kelly to "think about priorities" and he suggests they start looking for a place together. All I can think about is how awkward it must be for Kelly to watch this, as she is now currently engaged to someone completely different…
Gina's Coto house has been sold and she is packing up the place. She FaceTimes her mom and tells her that she has decided, with Matt, that they are not going to get divorced. I am having a hard time taking Gina seriously with that hairdo, but homegirl is going to "embrace this" and work hard at her marriage. But hey, always remember, "INJS" – marriage IS NOT JUST SEX. Thanks for the words of wisdom, Gina's mom.
Wow, Spencer. Tamra's son broke up with his girlfriend, got four tattoos, dyed his hair green, and got his septum pierced. That's a "different" look. Tamra has invited her other son, Ryan, over so they could talk out their differences. Things haven't been peachy between the step-bros, but now they are claiming that their issues are in the past.
Spencer does a great job of making his mom look like a real a*shole on television by stating that Tamra hasn't been there for him. Tamra tries to save face and states that she has been there for him the whole time he experienced heartbreak, and she becomes emotional while discussing her "dysfunctional functional family."
Over a beach anger management therapy session (how is that a thing?!), Emily and Kelly talk about things that irritate them and how that behavior affects relationships. Emily wishes to stop snapping at Shane (WHY) and blames her childhood for her anger. The ladies share tale after tale until they have a five-minute loving meditation. This seems bogus. Maybe I am in the wrong profession cuz Kelly and Emily are eating this up and it probably costs an arm and a leg to have an hour with this dude.
When Kelly is asked to picture Vicki in her mind's eye, she says she wants to punch Vicki in the face. Yea. It's not working. Emily gets teary and explains that she is hard on herself. The therapist suggests Emily let go and "loosen her grip," and Emily agrees. Kelly jumps back in and states that she actually HATES Vicki, but she wants her daughter to be a better version of herself, so maybe she should forgive.
The therapist relates Kelly's hatred toward Vicki to a phobia, and at the end of his explanation, he has talked Kelly into going to Vicki's engagement party. Kelly is planning to be "more kind and loving," but going to the party is for sure going to be the ultimate test.
TELL US – THOUGHTS ON THE RHOC EPISODE?