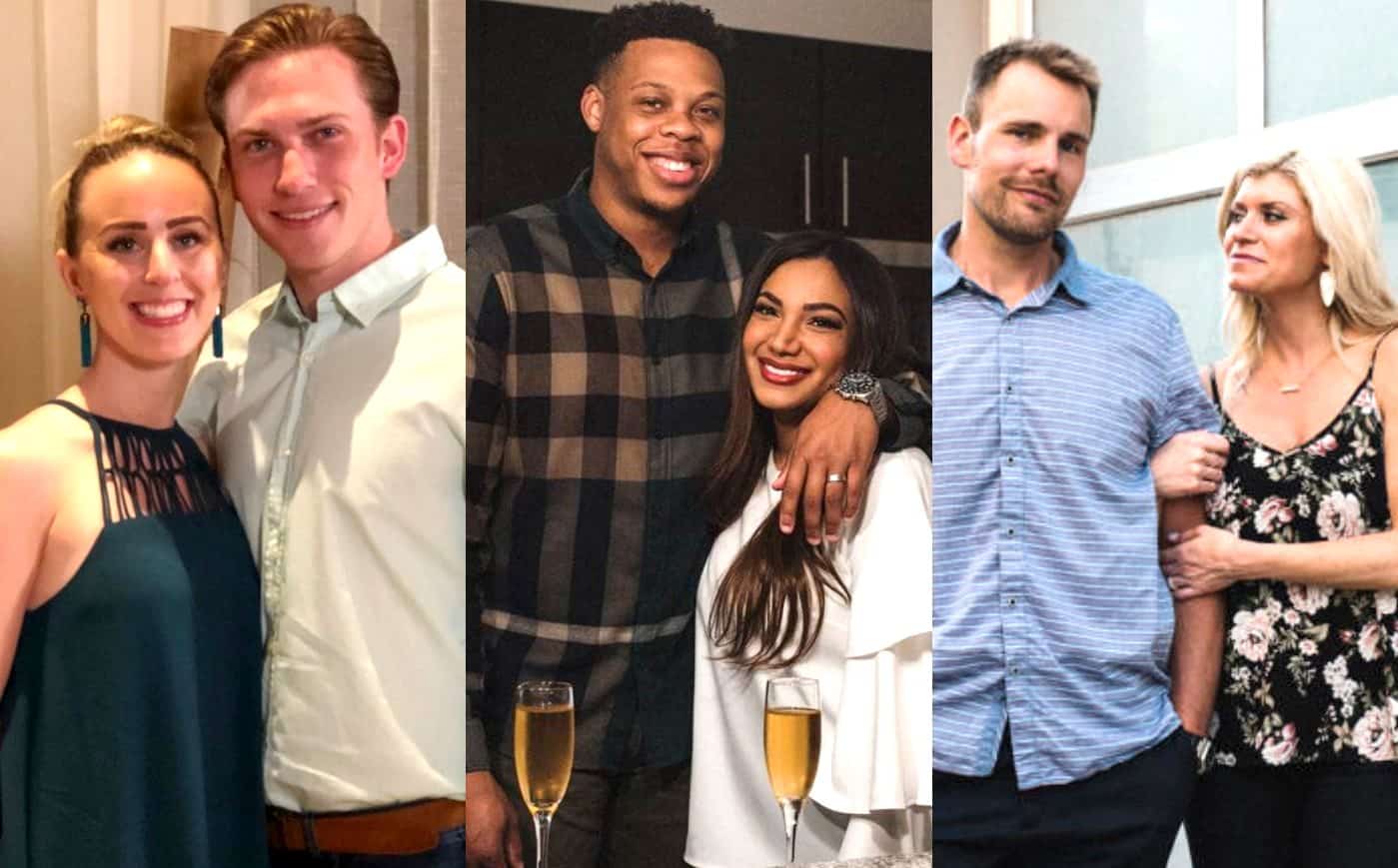 Married at First Sight season seven followed six hopeful Dallas singles as they attempted to marry complete strangers on camera for all the world to see.
And in a rare occurrence, every couple featured on the Lifetime reality show chose to remain married by the end of the season. However, in the tell-all special, fans learned that these promises didn't last all that long. Now that just over a year has passed since the show aired, we're finding out the relationship statuses of the show's lucky — or not so lucky — contestants.
Mia and Tristan
As fans can likely recall, Mia and Tristan's relationship was nothing but drama from the start! Unbeknownst to Tristan and the rest of the matchmaker team, Mia had previously been arrested for allegedly stalking her ex and was accused of misusing his credit card. And since she never divulged this information, Tristan couldn't help but judge his new bride and view her as a liar. Because of this, the newlyweds never were really able to fully trust each other. But despite their issues, the couple both decided to stay married at the end of the season. However, the couple ultimately decided to get divorced as was revealed in the season seven tell-all special.
Mia Bally Update: As fans can remember, the not-so-happy couple filed for divorce back in September 2018. Since the show, Mia has worked hard at clearing her name after her alleged criminal past, and for her, that meant posting about living her "best life" on Instagram. With glamorous selfies and promotional posts on her Instagram page, Mia seems to be doing well these days. And as of now, the reality star appears to be living the single life.
Tristan Thompson Update: Unlike his ex-wife, Tristan has found his perfect match since leaving the show. In June 2019, the Lifetime star proposed to a young woman named Rachel Ashley, a former Miss World America Texas beauty pageant winner.
"We are all created for a purpose. I've identified mine. Loving and serving God. And now loving and leading you. You are a Queen. There's no one else like you. I want to spend the rest of my life with you as My partner. My equal. My love. Thank you Amor. SHE SAID YES! ????" Tristan wrote in his Instagram post along with a picture of him and his new fiancée.
Amber and Dave
While Amber and Dave seemed like a pretty good match at the very beginning of the season, time quickly proved that the couple just couldn't maintain the spark. No matter what the couple did together, everything ultimately led to a fight. From Dave rating Amber a 7.5 out of 10 on an "attractive scale," to Amber continuing to attend the same gym as a former flame of hers, there was no shortage of argument material. While the two decided to stay married and work on things by the end of the season, they revealed in the tell-all episode that they would be separating.
Amber Martorana Update:
Despite claiming she'd be willing to work on things with Dave at the season seven tell-all special, the reality star made her divorce official in December 2018.
Amid the decision to divorce, Amber took to Instagram to explain to fans what exactly had gone down between the couple. And when push came to shove, the reality star wished her ex-husband well.
"There have been some questions about the status of our marriage, so I wanted to confirm @daveflaherty80 and I have filed for divorce," Amber wrote alongside a photo of the couple on set in December 2018. "We obviously had a lot of tough moments but we shared a lot of laughs and fun times together too. In the end we just weren't a good match, but I learned a lot through the experience and can now say I'm thankful for it. I wish Dave well, and I know he wishes the same for me in return. ????"
The former blonde bombshell is now a brunette, and judging by her Instagram account, she appears to be happy and single as she recently joked about spending Valentine's Day alone in February 2020.
https://www.instagram.com/p/B8peLDsnor9/
Dave Flaherty Update: Similar to Amber, Dave also posted an explanatory Instagram post amid the couple's official split nearly 10 months ago.
"As most know by now, @amberdianne82 and I have decided to file for divorce. Although we weren't the right match in the end, I will always be thankful to have gone through this experience with Amber and wish her nothing but the best! •••" Dave wrote alongside a photo of the couple.
By the looks of Dave's social media accounts, he appears to be single.
Danielle and Bobby
Fans noticed the sparks flying within the first seconds of these reality stars meeting each other, and quite frankly, they never faded. Priding themselves on never having a "real fight," this couple was truly a perfect match. However, as all marriages do, Danielle and Bobby's faced some challenges, including Danielle's somewhat large sum of credit card debt. Despite this small bump in the road, the couple decided to stay married by the show's end and announced that they were pregnant with their first child during the season's "tell-all" special.
Danielle Bergman-Dodd and Bobby Dodd Update: Soon after season seven ended, the couple starred in the show's spinoff series Married at First Sight Happily Ever After? in 2019.
The happy couple also welcomed a baby girl, Olivia Nicole, into the world in February 2019.
All you have to do is look at the first couple pictures in Danielle's Instagram to see that she's in love with her baby girl. In fact, Danielle and Bobby recently celebrated the first birthday of their daughter Olivia and shared the photo below with their Instagram followers on February 17, 2020.
And having a baby has only made the couple stronger. Just last week, on February 14, 2020, Bobby shared the Valentine's Day dinner photo below with himself and Danielle.
Wondering about the relationship statuses of other couples from the show? Find out which couples from MAFS season six are still together!